High school students will be dancing — or just goofing off — under the stars on football fields, at amphitheaters, in parking lots and maybe in the street as Nebraska schools create coronavirus-safe alternatives to the traditional formal prom this spring.
Organizers are dreaming up outdoor events that will look a lot less formal, more like celebrations, a year after schools canceled proms, or held virtual ones, in the early days of the pandemic.
But while those plans are taking shape, students in some metro area districts are learning that they won't be allowed to attend.
At the Omaha Public Schools board meeting earlier this week, parents of remote learners complained that OPS is prohibiting their kids from attending proms. Officials in the Millard Public Schools are doing the same.
Leaders of those districts are sticking to the policies they set that prohibited the remote learners from participating in sports and activities. But some districts, including Papillion La Vista, are making an exception.
OPS spokeswoman Bridget Blevins provided a statement saying that since the district returned to in-person learning, it has been consistent in requiring students to attend school in person to participate in extracurricular activities and events.
"This will include prom," the statement said. "This reflects both the importance we place on health and safety and the essential work to educate our students."
Tiffany Hobbs-Banks, whose daughter attends OPS, started an online petition urging OPS officials to reconsider.
During the board meeting, she told members that her daughter attends school every day for eight hours on her computer and has the participation points to prove it.
Hobbs-Banks said OPS officials have asked parents and students to remain flexible during the pandemic.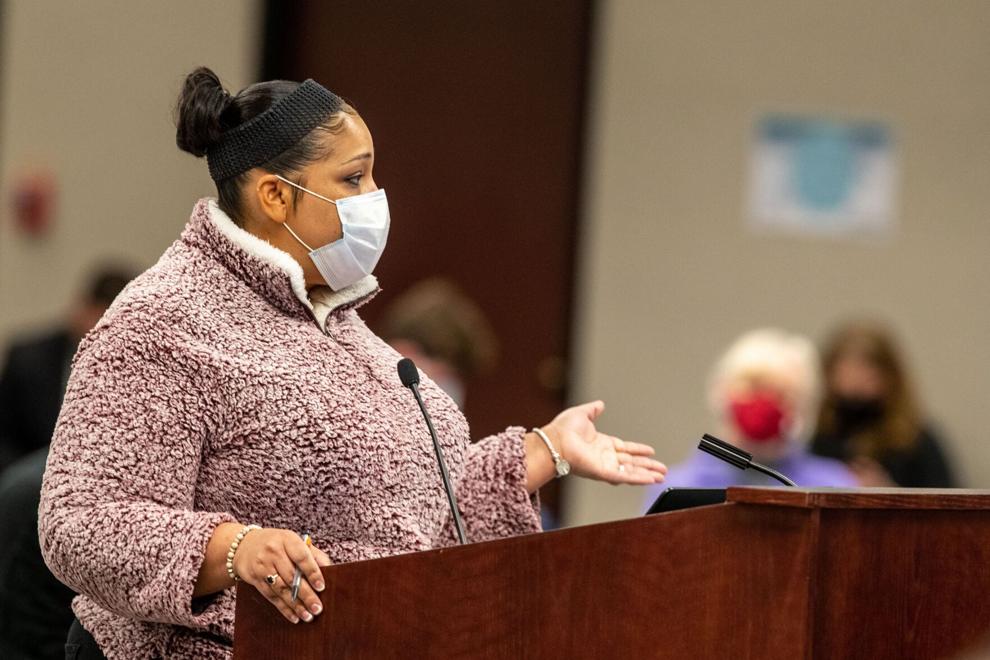 She urged the board to "be flexible," too.
"Please go back to the drawing board and consider these kids and the mental effect that it has on them that you want to take this milestone from them, and you've given it to other people to have the opportunity. Last year we understand. Prom was taken away because of COVID. This year, let's do better."
Other parents told the school board that their students are learning remotely because of family health problems. It has left the students feeling alienated from their peers, they said.
As of Friday, the petition had more than 575 signatures.
Parents of OPS remote learners have also started a GoFundMe to hold their own prom for students.
Papillion La Vista Superintendent Andy Rikli said remote learners in his district will be welcome at prom.
The restrictions were put in place to keep remote learners from jumping in and out of athletics and activities, he said.
"We didn't think that was healthy for kids, for families, and it does put a burden on teachers who are trying to provide a consistent educational program for our kids," he said.
"I believe that was the right decision," Rikli said. "However, there are some watershed moments in all students' lives, in their academic careers, that we believe transcend whether I'm in in-person or remote learning, or anything in between."
About 7% of students in his district are learning remotely, he said.
Beth Kramer's son Joshua missed out on Creighton Prep's prom as a senior last year when schools shut down.
But plans are underway for a Prep prom that her son Benjamin, a senior this year, can attend.
Kramer, who's president of the Prep Family Association, said Joshua didn't really know what he missed out on.
But she knew. Prom is a "milestone" for kids, she said.
"I felt incredibly bad for Joshua when he missed out on what should have been the end of a really fun senior year," she said.
But reflecting back on this year, Kramer believes that Benjamin has missed out on more. Not only did he miss last year's prom, but he also missed this year's homecoming, football games, winter formal and other events.
Kids are craving something fun and celebratory, and prom will bring back a sense of normalcy, she said.
"This is, 'Oh, my gosh, we're seniors, we finally get to celebrate. We finally get to have something fun.'"
Tomas Eby, a junior at Creighton Prep, said, "Everyone's really excited for what we have coming up."
"We're kind of doing a sort of prom hybrid, in a way. We're mixing in a normal prom, a dance, and we're mixing that in with a lot of the post-prom events."
Students will start the evening in formal wear, go out to eat and take pictures. Then they can slip into casual clothes and come to the school, where they will dance to a disc jockey on Prep's baseball field under the lights.
Events will be offered inside and outside of the school, including a casino area, a mechanical bull, inflatables and other games.
The theme for the night will be "The Last Dance," the title of a Michael Jordan documentary. Students will be invited to wear jerseys of their favorite teams.
Prep organizers moved the date of the prom to May.
Several metro area schools also scheduled their prom later in the year to take advantage of better weather for outdoor activities, and they're hoping that by then, vaccinations will be further along.
A check of some area schools found that proms and promlike events will be taking place in a variety of venues.
Both Papillion La Vista high schools will hold proms on the football field — with a rain date.
If the second date doesn't work, they'll move inside.
"We're telling boys not to rent tuxedos because there's no guarantee that the night they rent it for they're going to wear it," district spokeswoman Annette Eyman said.
Music will be playing, but students won't be encouraged to dance, she said.
The Elkhorn Public Schools are eyeing the district's stadium for prom.
The Bellevue Public Schools will go outdoors, with one school considering a street dance-style event with fireworks.
Ralston and Platteview High Schools will hold events at the SumTur Amphitheatre.
Westside High School will hold its event on the football field.
There's quite a variety in OPS. Here's what the high schools are planning: Benson, the stadium; Bryan, River City Star; Burke, Lauritzen Gardens; Central, the high school lot and the Joslyn Art Museum lot; North, the Capital District Courtyard; Northwest, Lauritzen Gardens; South, Lauritzen Gardens.
School officials say that they will have protocols in place and that they will rely on health departments for guidance to safely hold the events.
---
Our best Omaha staff photos of March 2021