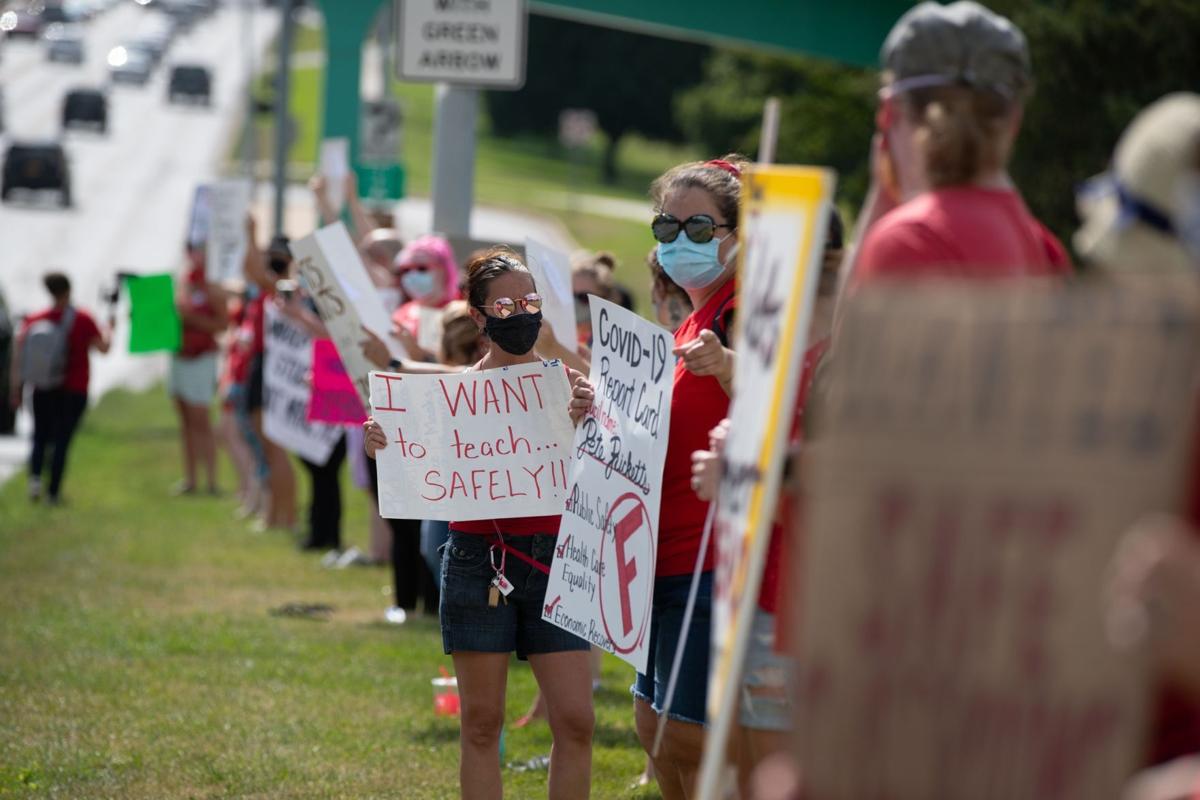 Red ribbon looped through belt buckles and tucked into pockets linked the teachers together but kept them 6 feet apart.
The teachers stood at the edge of Memorial Park and held up signs to the cars whizzing past on Dodge Street eliciting honks and waves.
"I would die for my students, please don't make me," one sign read.
"What do we want?" teacher Halley Taylor yelled into a megaphone.
"A mask mandate," the nearly two dozen teachers responded.
"When do we want it?" Taylor asked.
"Now," the teachers responded.
Teachers from around the metro area gathered in the park Friday afternoon and joined a growing body of health officials and other public figures to voice support for a mask mandate in Douglas County and Nebraska.
The president of the Nebraska State Education Association also signed onto the letter.
The teachers at Memorial Park said their demonstration was not directed at any school district. Instead, the goal was to get people to contact Nebraska Gov. Pete Ricketts and tell him the state needs a mask mandate for community health.
Other signs held up during the demonstration were directed at Omaha Mayor Jean Stothert.
The ribbon looping the teachers together was to show how much space it takes to be socially distant in a classroom.
"Teachers, will this fit in your classroom," Taylor asked.
"No," the teachers responded.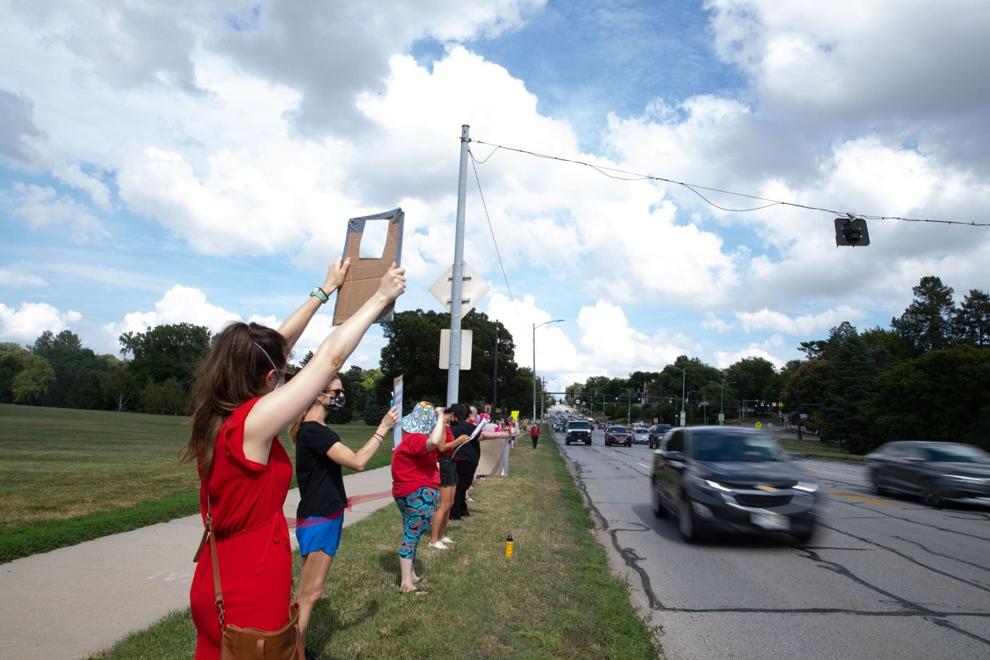 The first day of school for many metro area students is less than a month away.
The Omaha and Ralston Public Schools have both announced their students will be divided into two groups, each of which will attend school in person part of the week when school resumes in August.
Most other school districts in the metro area have announced plans to bring all students back for in-person learning.
Teacher Molly Davies said teachers are not just worried about their health, but the health of families who live in areas of Omaha that have been hit hard by COVID-19, the disease caused by the coronavirus. She said it's not that teachers want to be exempt from any risk.
"If the community is not willing to do the minimum of masking so that we can slow the spread, it is very difficult for us to accept that you're going to put additional risk on us, our students and our students' families," she said.
Taylor said being away from her students has been very painful and to think teachers are speaking up just because they don't want to go back to work "is an absolute disgrace to our profession."
"What we don't want to do is to kill our children," Taylor said.
Teacher Cathy Scurlock said she wants to return to the classroom and teach her students in person when it's safe. Until then, Scurlock said remote learning is the best option.
Scurlock said implementing a mask mandate earlier would've helped, and now everyone needs to listen to the advice of local health officials.
"I believe the people of Omaha and of Nebraska will do the right thing," she said. "They also sometimes need to be encouraged and know what is the right thing to do."
---
Our best staff images from July 2020