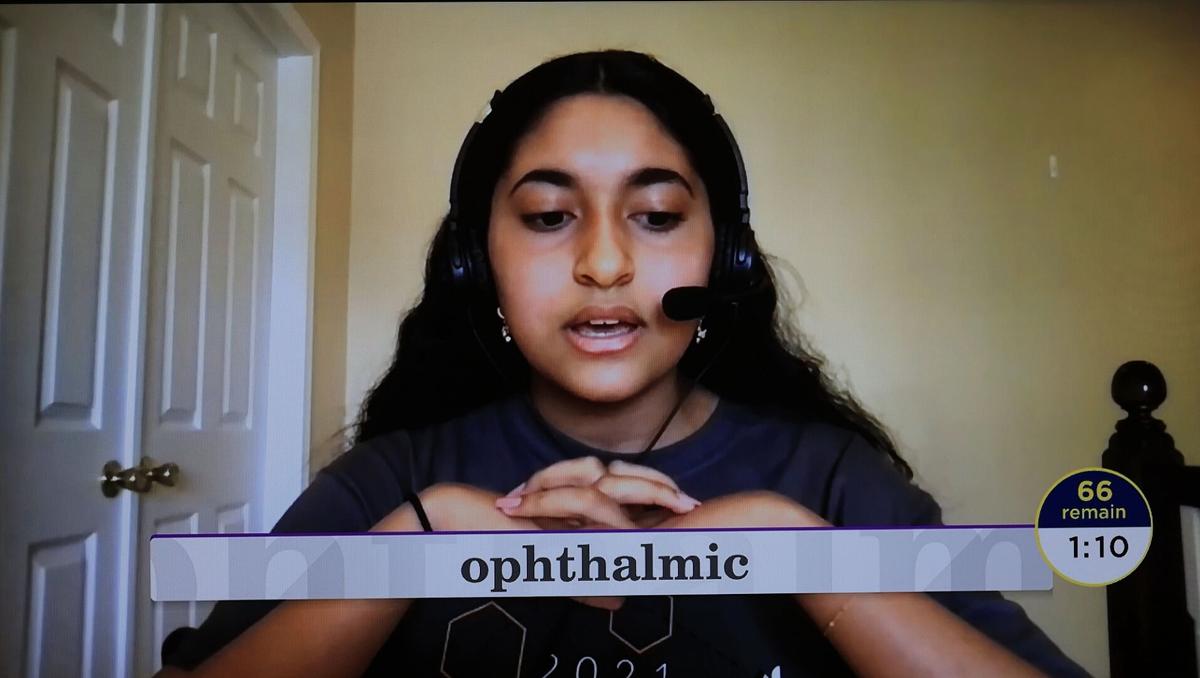 Hannah Fernandes of Omaha made a good showing Tuesday in the quarterfinals of the Scripps National Spelling Bee.
She correctly spelled ophthalmic, a word that according to Merriam-Webster means "of, related to, or situated near the eye."
But her stumble on a vocabulary question ended her quest to make spelling history.
Each speller, on their turn, had to answer a multiple-choice question on the meaning of a word.
Hannah had 30 seconds to answer the following question:
The mores of a particular group are their: a) longstanding enemies, b) fixed customs, or c) trading partners.
Just before the 30-second timer ran out, Hannah answered "longstanding enemies." The correct answer was "fixed customs."
The miss was enough to eliminate her from the contest.
"I was really disappointed," she said. "I really wanted to make it to the semifinals."
Although Hannah didn't win, she accomplished her goal of making it to the quarterfinals. Only 75 of the 209 spellers in the bee made it that far.
She officially tied for 43rd place overall.
Just 30 spellers advanced to the semifinals. The top 10 to 12 spellers from that group will compete in person July 8 at the ESPN Wide World of Sports Complex at Walt Disney World Resort.
Fernandes, a 14-year-old who attended St. Stephen the Martyr Catholic School in Omaha last school year, is one of the most accomplished spellers to come out of Nebraska.
She is a veteran of the national bee. In 2017, she punched her ticket to the national bee in Maryland by winning the Midwest Spelling Bee. At that bee, as one of the youngest competitors, she finished in 189th place.
Last year, the bee was canceled because of the pandemic.
This year, she won the Midwest bee again, but instead of jetting off to compete, the early rounds of the national bee were held remotely.
Spellers competed using laptops and headphones provided by the bee.
For bee enthusiasts and some competitors, the format was strange, but familiar to students who've been learning remotely in school.
Frequently, the pronouncer reminded the spellers to keep their hands where they could be seen on the webcam to make sure no one cheated.
Hannah said the format was different from a normal spelling bee, but the stress was about the same.
Next year, she'll attend Duchesne Academy of the Sacred Heart.
She'll no longer be eligible to compete in the Scripps bee. But she'll take along life lessons from her bee days.
"Definitely how far hard work can get you, and also if you push yourself to do something you can achieve it," she said. "And also I just learned so much about the English language, which is really interesting to me."
Hannah's parents are Sharmila Braganza and Praveen Fernandes. She has two sisters: Rachel Fernandes and Sarah Fernandes.
---