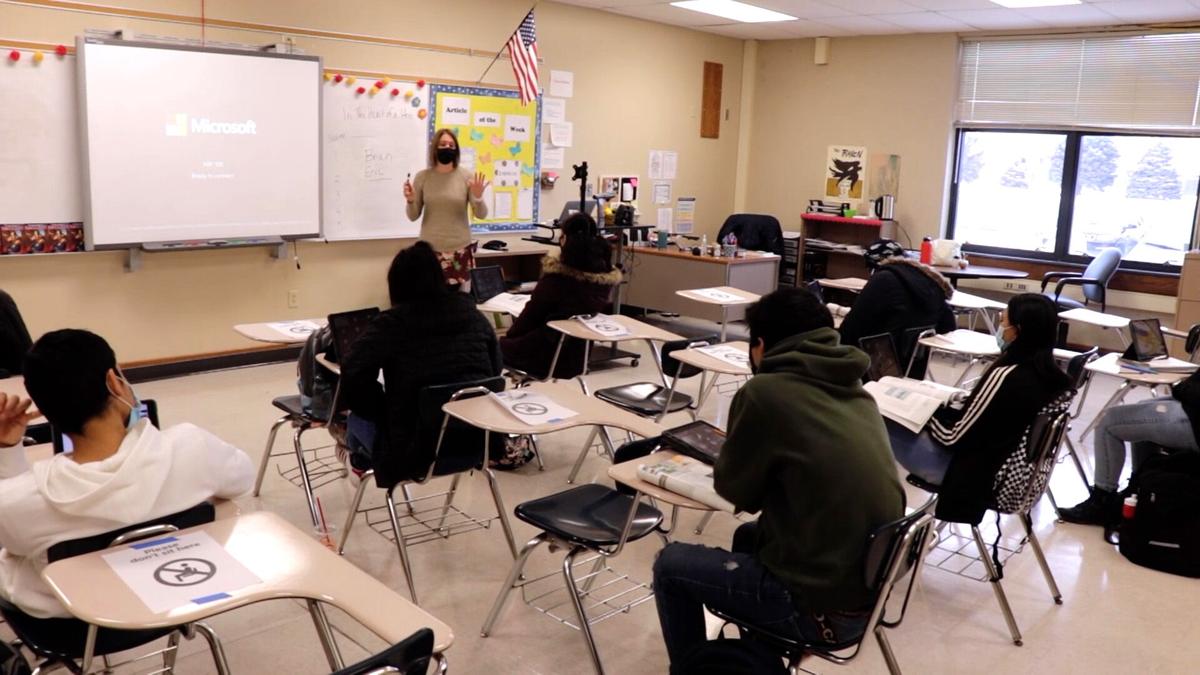 Omaha Public Schools students at every grade level can now attend school in-person five days a week.
High school students on Wednesday transitioned to in-person learning five days a week. They join the district's elementary and middle school students, who returned on Feb. 3.
Northwest High School Principal Thomas Lee said there was a positive energy in his building on Wednesday. Students are back where they want and need to be, he said.
"I feel that our teachers are very receptive, even though there was some anxiety previously," Lee said. "I think everybody has realized this is going to be OK."
The high school students returned to a regular schedule on the same day Douglas County Health Director Adi Pour announced that the health department will begin vaccinating educators in the county next week.
The Omaha Education Association, which represents OPS teachers and staff, wanted staffers to receive the COVID-19 vaccine before students returned to in-person five days a week.
Because the doses available for educators will be limited at first, Pour said, school superintendents will work with their human resources departments to prioritize educators based on age and underlying health conditions and will give those lists to the health department.
The department will vaccinate educators according to the percentage of students enrolled in the district. For instance, she said, if the Omaha school district enrolls 50% of students, 50% of the doses allocated for teachers would be used for OPS teachers.
Although the school day is far from normal, it's the first time since the pandemic started that OPS students will have the option to attend school in-person five days a week.
The vaccines and return to daily in-person lessons come almost a year after rumblings first began about possible school closures due to COVID-19.
Omaha-area school district officials were being told 356 days ago they would need to cancel large gatherings and possibly close schools if COVID-19 began to spread in the community.
Dr. James Lawler of the University of Nebraska Medical Center's Global Center for Health Security addressed a gathering of area school officials at the OPS headquarters on Feb. 27.
After that meeting, OPS officials began preparing for the schools to shut down. On March 12, OPS announced that classes would not be returning after spring break.
In August, all OPS students started the school year by doing remote learning. Then in October, the district resumed in-person lessons in what the district called the Family 3/2 model. Under the model, OPS students were divided into two groups, each of which attended school in person part of the week.
Some OPS students will continue to do remote learning. At Northwest, 1,004 students are attending in-person and 646 students are doing remote learning. Lee said the remote learning number will change as more students request to return to in-person lessons.
On Wednesday morning, Lee said 15 students changed their status from a remote learner to in-person, and requests kept coming.
---
Our best Omaha staff photos of February 2021