The students took the classroom with them.
Outside. Riding in cars. Waiting in line at one of the Omaha Public Schools' food pickup sites.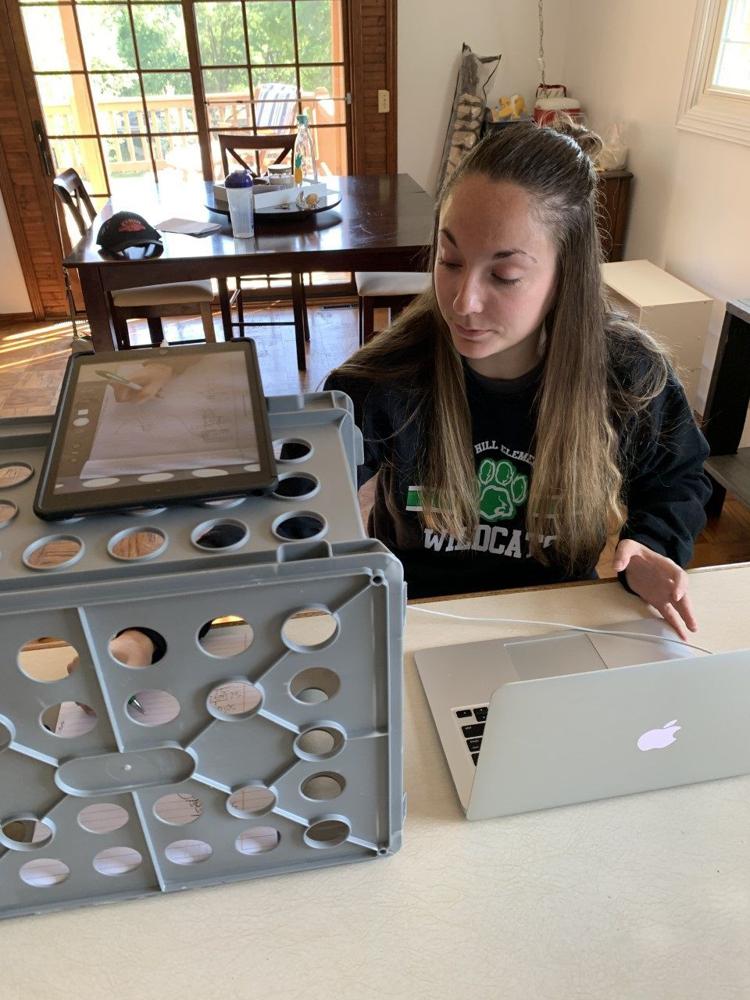 After OPS provided iPads with built-in internet connectivity, the students participating in virtual summer school didn't have a good excuse to not show up — no matter their location.
"You can learn virtually anywhere," said Tony Gunter, principal of Kennedy Elementary School.
Like everything else in education since school buildings were closed in March, summer school for 5,000 OPS students looked different this year.
Elementary school students connected with teachers using OPS-provided iPads. Middle and high school students used their own devices or were provided devices by OPS.
Waiting for students to log on were teachers such as Silas Grothen, who said summer school gave teachers an opportunity to practice teaching remotely.
"So we're all learning together," he said.
Images of students' and teachers' faces appeared in little boxes on screens. Teachers trained cameras on whiteboards to review fractions. Students answered questions virtually, in online polls or wrote their answers on whiteboards that they held up to their cameras.
Other times, teachers used more high-tech apps, such as one that featured an encouraging animated crab to get students to answer questions about a story.
"The content is the main focus, and the technology is the tool," said Melissa Zeiszler, who provided technology support for fifth grade and served as a tech mentor for the kindergarten team this summer.
Several teachers who taught summer classes to elementary school students said it was clear that the students had missed school. The kids hopped onto the video calls on time and wrote messages such as "See you tomorrow."
The classes provided both the students and the teachers a sense of normalcy, teachers said.
OPS will reopen schools in August with a schedule that will have students attending three days one week and two days the next week.
What was offered this summer is not exactly a model of what's ahead in August.
But teacher Rochelle Ramharter said that by teaching summer school, she found several different apps that will engage students while they are at home this school year. Through the apps, Ramharter said, students will be able to ask questions, and she will be able to answer them.
"It's not perfect," Grothen said of remote learning. "I wish I could sit down at a table and do tangible things with them like best practice shows, but it's not a complaint by any means."
The district will also offer students a remote learning option this fall. The program is designed to match students who wish to learn remotely with teachers who need to teach remotely, OPS spokesman Jeremy Maskel said.
Because of concerns about COVID-19, the Omaha Education Association, which represents 2,800 OPS staff members, has asked that the district start the school year in a remote learning environment.
Unlike surrounding school districts, OPS has not yet provided computers to all its students. When schools closed in March, many OPS students struggled to continue learning, either because they lacked devices or they had unreliable internet connections.
This spring, the school board approved the purchase of about 56,000 iPads with internet connectivity — one for each student. The iPads are managed by OPS and have all the apps students will need loaded onto them.
The devices are being handed out in five waves from now through September, so not every student will have their iPad when school starts Aug. 11.
Maskel said the district is continuing to plan for the most effective and equitable distribution of the iPads.
Gunter, the Kennedy Elementary principal, said the hopes is that after getting through summer school, teachers and students will head into a new school year more comfortable using technology and able to help their peers along the way.
---
Our best staff images from July 2020
Be the first to know
Get local news delivered to your inbox!