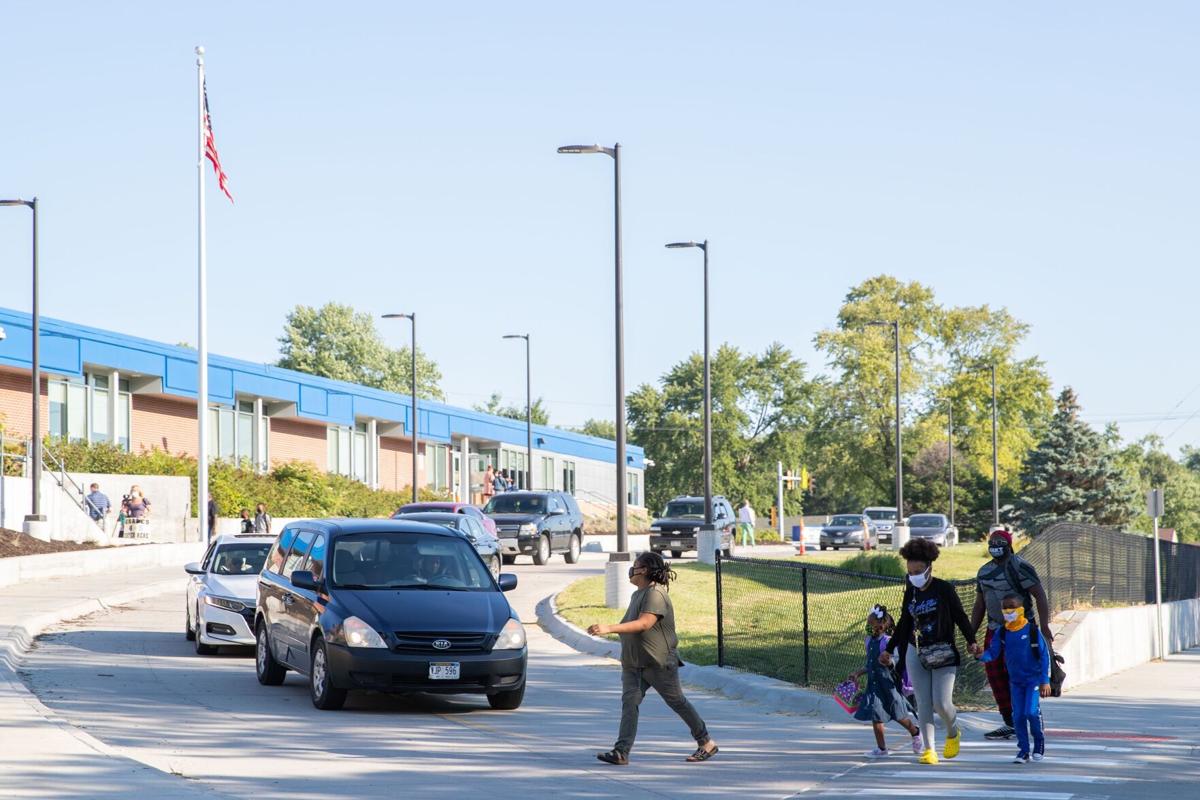 The largest school district in Nebraska will target $280 million in federal COVID-19 relief money toward helping students recover academically and emotionally from the pandemic.
The Omaha Public Schools is receiving more federal relief aid than any other district in the state. Last week, the district's school board approved plans and attached dollar amounts for the federal aid. The plan now will be submitted to the Nebraska Department of Education.
Those plans include frequent tutoring for students in small groups, visiting prekindergarten through first grade students at home to extend literacy support, upgrading and replacing older curriculum at all grade levels and partnering with local mental health partners.
Board member Nick Thielen congratulated OPS staff on putting together a good plan but indicated the school board will be watching as the money is spent.
"Obviously, we have to see how things shake out so we know how it gets spent in the end and how things might need to change," he said.
Since March 2020, three COVID-19 relief bills have been passed by Congress and signed into law.
In all, the three rounds of federal funding will distribute more than $767 million to Nebraska public school districts, as calculated by an Associated Press analysis.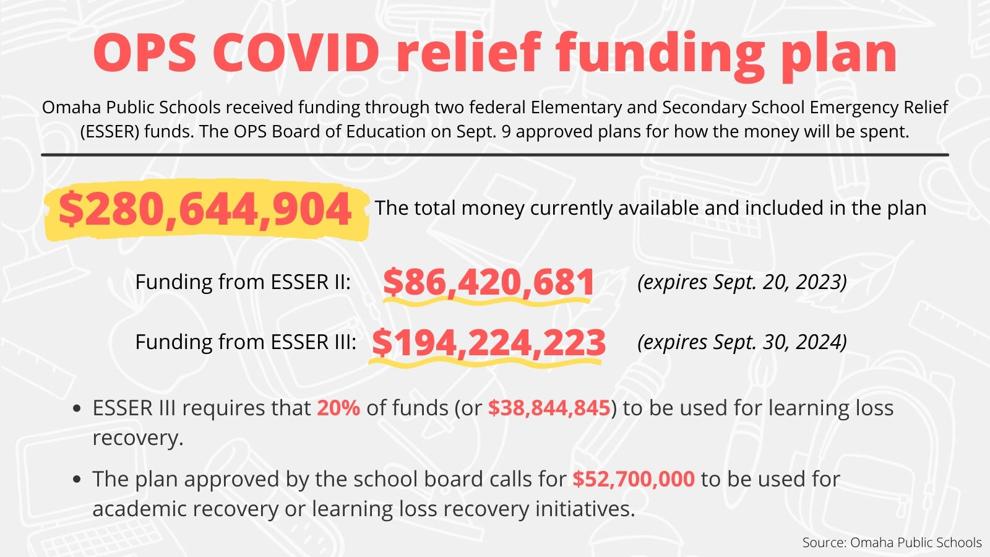 In total, OPS will be receiving $303.7 million.
After the first COVID-19 relief bill passed, the district received $23.2 million. The district used its portion of that money to purchase about 54,000 iPads and internet connectivity for those iPads.
From the second and third rounds of federal funding, OPS has about $280 million to spend on recovery from the COVID-19 pandemic. That's the money the OPS board voted on last week.
OPS was allocated $86.4 million from the second COVID-19 relief bill. That money needs to be spent by the end of September 2023.
From the third bill, OPS was given $194.2 million. Under that bill, schools must reserve 20% for summer programs and other efforts to address learning loss. The money needs to be spent by the end of September 2024.
The district plans to spend more than 20% on academic recovery and learning loss initiatives. It will instead allocate more than 27%, or $52.7 million, to that effort.
This summer, OPS officials sent out thousands of surveys and held about 75 public engagement sessions to find out how parents, students, staff and the community thought the money should be used to help students and staff. Those sessions were a requirement to get some of the federal money.
Board member Ricky Smith said he attended one of the sessions and said parents were very engaged. He said he's proud of the work the district did over the summer.
District officials have come up with four priorities for how the money is to be spent: academic recovery and acceleration supports; well-being of students and staff; infrastructure for the future; and family and community engagement.
After reviewing the dollar amounts, board member Spencer Head said he liked the plan but asked if district officials were confident enough money had been allocated to address the mental health needs of students.
Fateama Fulmore, principal supervisor for OPS, said the plan is flexible, and changes can be made as needs present themselves.
Based on what district officials have seen, Fulmore said, enough money is allocated to meet the mental health needs of students and staff.
Here's a breakdown of the plan approved by the school board:
Academic recovery and supports: $149.9 million
Fulmore said the overall focus is reflected in three areas of support for students: learning loss and recovery; instructional materials and digital resources; and professional learning.
OPS is spending more than $24 million on tutoring because Fulmore said the district realizes the pandemic created a greater need for interventions that address unfinished learning and reinforces grade-level learning.
The pandemic has only magnified the district's need to be responsive to all students, Fulmore said.
"We've kept the academic needs of all students in mind with every project under academic recovery and acceleration supports," Fulmore said.
The category includes the $52.7 million designated for academic recovery or learning loss initiatives and $24 million for curriculum.
OPS plans to upgrade and replace elementary social studies, secondary science, secondary social studies and secondary English language arts curriculum.
This category also includes $63 million for technology, including a refresh for iPads, cases, warranties for student and teacher devices and internet connectivity for all devices.
Student and staff well-being: $8.5 million
OPS wants to create healthy classroom environments that allow for high levels of learning and engagement for students, Fulmore said. The district also wants to address the mental health and trauma needs of students and staff with added layers of support.
Infrastructure: $116.6 million
The projects will allow OPS to maintain the cleanliness of the district's facilities and make needed repairs and improvements to support the daily operation of schools and reduce the risk of virus transmission and health hazards, Fulmore said.
Thielen, one of the board members, asked how roof replacements can be done with the federal money. Superintendent Cheryl Logan said building improvements that improve air quality are allowed, and roofing improves air quality.
All the infrastructure projects are pending confirmation in a facilities study now underway that is expected to be completed by December 2022. Last week, the school board also approved a contract for the facilities study in the amount of $3.2 million, which will be funded by the second round of federal money.
In that study, the district will do a comprehensive assessment of 110 campuses to make a plan for addressing current and future maintenance needs.
Family and community engagement: $4.4 million
Through these projects, Fulmore said, OPS can keep students connected to school by extending academic supports into homes and creating meaningful community partnerships.
This will include home visits to build stronger school and family relationships and support to engage families in academic recovery and acceleration.
Administration and project management: $1.4 million
The district will set aside that money to administer the program and manage the project.
---