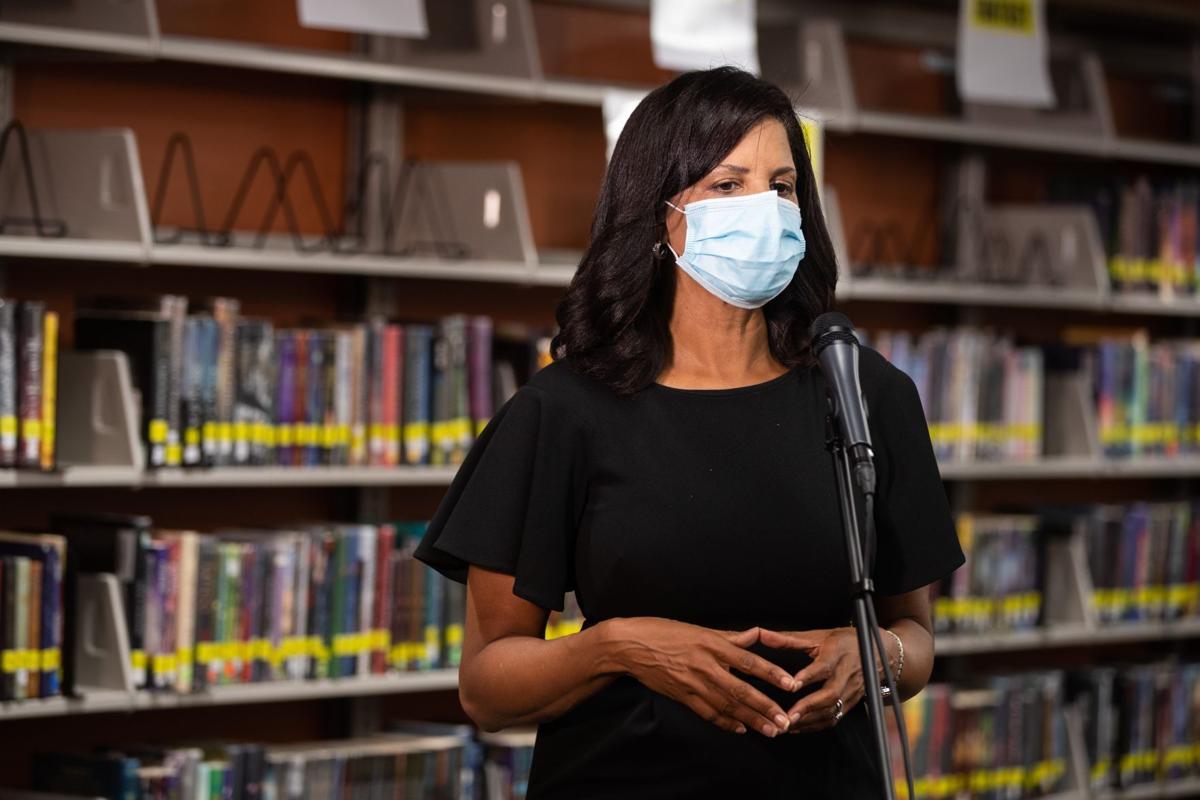 Omaha Public Schools Superintendent Cheryl Logan said she understands how parents will feel when a case of COVID-19 is reported in a school.
"There is going to be some uneasiness and anxiety if it's in your child's school, if it's in a neighboring school or if it's in a school across town, still some uneasiness about where we are," Logan said last week. "And I don't blame parents."
Logan, who was wearing a mask as she spoke, was at Norris Middle School, taking questions from the news media about the Aug. 11 start of school in the district. OPS students haven't been in classrooms since March, when schools closed because of coronavirus concerns.
As the district prepares to welcome students back, Logan acknowledged that questions remain about the start of the school year. One of those is how families will be notified if someone in their child's school tests positive for COVID-19.
Schools have been issuing notifications about communicable diseases for years, Logan said, so a protocol already is in place.
OPS will work in conjunction with the Douglas County Health Department on COVID-19 issues.
Justin Frederick, supervisor of communicable disease epidemiology in the Douglas County Health Department, said his agency is asking school districts to assist with contact investigations. School officials, he said, know best where their students have been in the school and in which extracurricular activities they participate.
Frederick said health officials will work closely with schools to identify the contacts of a person with a confirmed case and then evaluate which students and faculty may need to be quarantined. Officials also will determine those who have a low risk or no exposure at all and leave the notifications up to the school district.
"I want everyone to know that the Health Department doesn't close schools," Frederick said. "That's not done in a vacuum. That's done in collaboration with the school districts, with school leaders, and done in partnership."
Lisa Utterback, OPS's chief student and community services officer, said the district will work side by side with local health officials and share information about any cases related to COVID-19.
OPS will take direction from health experts on whom to contact and the steps that should be taken when it comes to a possible outbreak in a school, Utterback said.
When school starts next week, OPS students will be divided into two groups and attend school on different days. With that model, Logan said, people should have a reasonable expectation that students will be able to socially distance while sitting in the classroom.
"The reason that we started with a 50% model," she said, "is we're not just looking to start, we're looking to continue on and not have to have as many disruptions we could potentially anticipate."
---
OPS coronavirus safety measures as students return to class
Concerned about COVID-19?
Sign up now to get the most recent coronavirus headlines and other important local and national news sent to your email inbox daily.