Omaha Public Schools officials are seeking feedback from the community on how to spend millions of dollars the district will receive from the federal government to mitigate the impacts of COVID-19.
Starting this week, the district will hold in-person engagement sessions at schools across the district and virtual sessions for people who do not want to attend in person.
The district also emailed and texted a survey to families to weigh in on how the district should use the money.
Superintendent Cheryl Logan said at a school board meeting last week that she wants parents to tell the district about ways the district can help their children.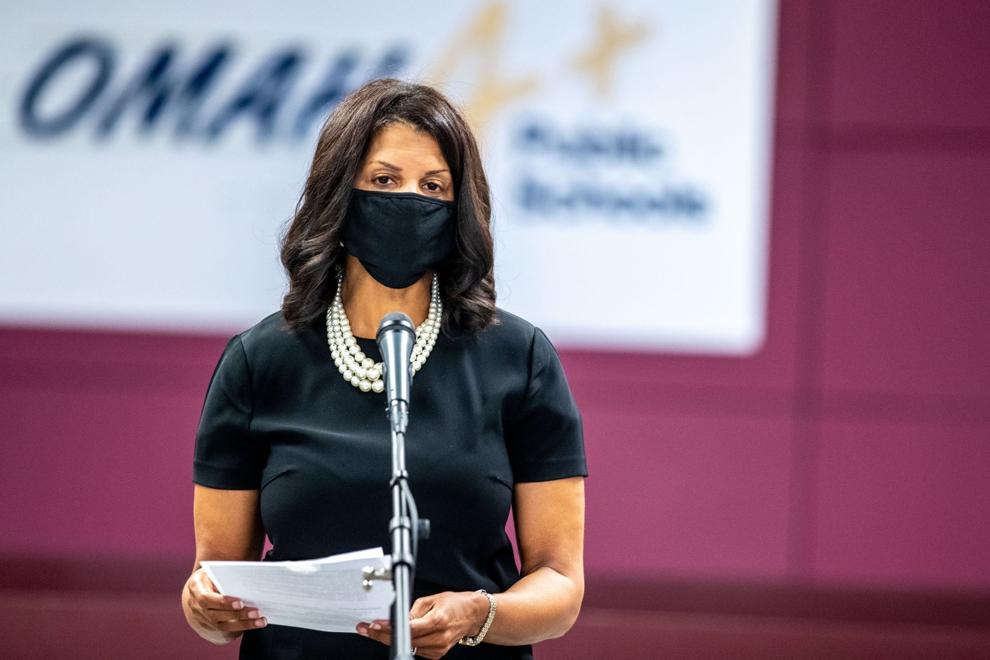 "You've seen your children over the last 15 months," Logan said. "What do they need?"
Since March 2020, three COVID-19 relief bills have been passed by Congress and signed into law. Thanks to those bills, OPS will be receiving $303.7 million.
Scott Roberts, OPS' chief financial officer, told the school board that the amount each public school district received was based on the number of students on free and reduced-price lunch served by the district.
After the first COVID-19 relief bill passed, the district received $23.2 million. The district used its portion of that money to purchase about 54,000 iPads and internet connectivity for those iPads.
The iPad purchase, which was approved by the school board in May 2020, allowed all students in the district to do remote learning when the district started the 2020-21 school year virtually.
OPS was allocated $86.4 million from the second COVID-19 relief bill. That money needs to be spent by Sept. 30, 2023.
From the third bill, OPS was given $194.1 million. Under that bill, schools must reserve 20% for summer programs and other efforts to address learning loss. The money needs to be spent by Sept. 30, 2024.
The district has not yet spent any of the money from the second or third bill. District officials want the public to weigh in on how to spend the $280.5 million.
District officials have come up with four priorities for how the money is to be spent: academic recovery and acceleration supports; well-being of students and staff; infrastructure for the future; and family and community engagement.
Fateama Fulmore, principal supervisor for OPS, said under those priorities, district officials will have a starting point for their work. But they want to hear feedback from families on topics they think need extra attention, such as tutoring or students' mental health.
Logan said the public needs to understand the money from the federal government is a one-time deal. Hiring additional teachers or reducing class sizes therefore likely won't be possible with the money.
Board member Tracy Casady encouraged families to participate in the surveys and upcoming meetings. She said she already has heard rumblings in the community about the amount of money available to OPS.
"I think it's really important for people to follow this, stay engaged," Casady said.
Specifically, she said she hopes OPS teachers and staff members will offer suggestions for what should be done with the money.
"This has been a horrific year," Casady said. "We've lost a lot. Our students have lost a lot. This is the time for you to really give your input and help us to figure out how we can help our students get back.
"This recovery is going to take years," she said, "not just months."
The in-person sessions start this week. People who plan to attend must register through the survey sent to families.
The dates and locations for the in-person sessions:
10 a.m. to 11 a.m. and 6 p.m. to 7p.m.
OPS Teacher Administrative Center, 3215 Cuming St.
Skinner Magnet Center, 4304 N. 33rd St.
Nathan Hale Middle School, 6143 Whitmore St.
Burke High School, 12200 Burke Blvd.
South High School, 4519 S. 24th St.
---