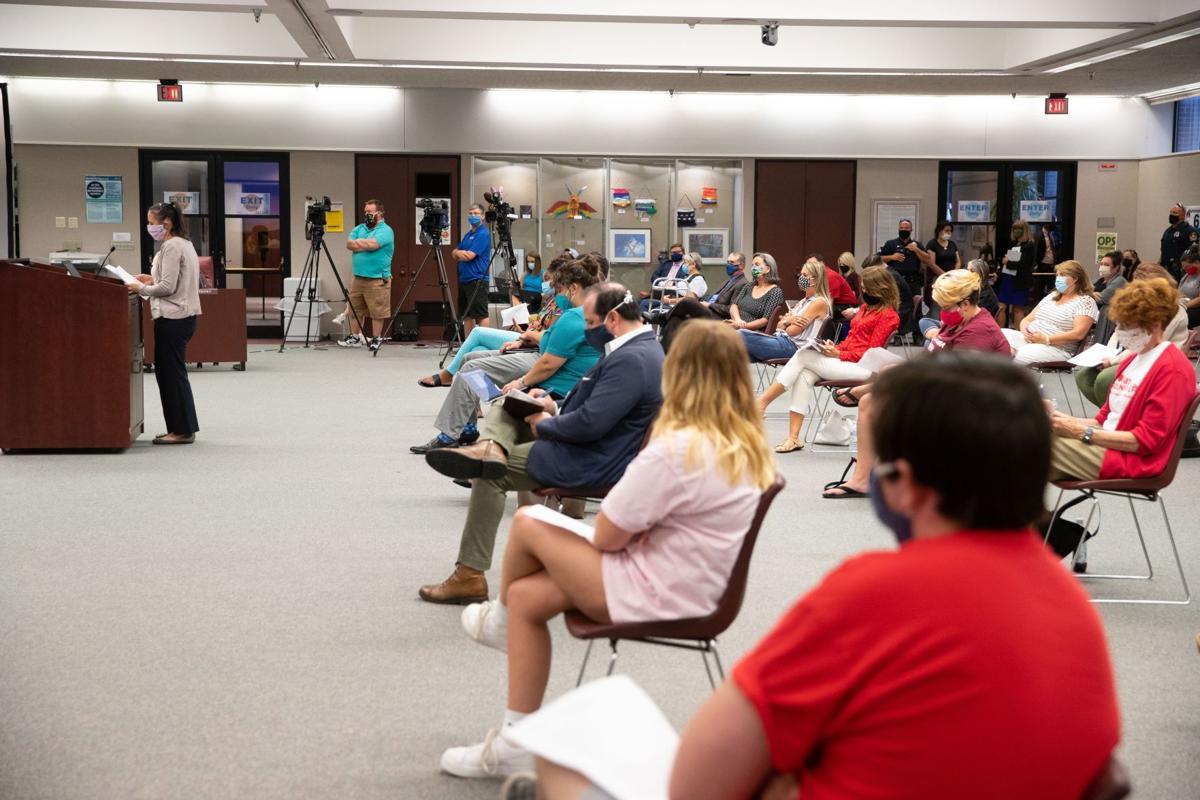 As Jared Wagenknecht was tucking his 6-year-old daughter into bed, she looked him in the eyes.
"Daddy, I hope the coronavirus goes away before Aug. 11," she told him.
Wagenknecht told the Omaha Public Schools board on Tuesday night that his daughter is eagerly awaiting the start of first grade next week. 
"What my daughter doesn't know is how absent the leaders of our country, and state and counties have been in doing what's needed to reduce the virus spread so that it's safe to go back," he said during public comment. 
More than two dozen parents, teachers and community members showed up to the final OPS meeting prior to the start of school to express frustration with how local leaders have reacted to the coronavirus and say they are scared about the start of the year.
A handful of parents told the board they were confident with the precautions OPS had implemented and asked the district to play sports this fall.  
School board members expressed extreme discomfort with returning to school without a mask mandate. Several board members expressed concern about bringing students back into school buildings next week, but the board took no formal action to change the OPS back-to-school plan.
The board didn't vote on the district's current return to school plan. Instead, the Family 3/2 Model was determined by district leadership, including Superintendent Cheryl Logan.
That model calls for students throughout the district to be divided into two groups, each of which would attend school in person part of the week and learn at home for the rest of the week.
Logan said 4,285 students are enrolled in OPS's remote learning program, but that number could increase. The district's enrollment is nearly 54,000 students.
Members of the OPS board have urged the Omaha City Council to implement a mandatory mask ordinance before the school year begins Aug. 11.
Douglas County Health Director Adi Pour had planned to put in place a mask order, using her authority granted by city code. But Gov. Pete Ricketts threatened a lawsuit over that authority, leading Pour to back off the requirement last week. The Omaha City Council is prepared to take up a mask ordinance next week, the same day OPS students are scheduled to return to class.
Douglas County has seen a recent spike in the number of positive COVID-19 tests, with 949 testing positive last week, the highest weekly count since the end of May, according to the Douglas County Health Department. 
Logan said that at this point, the plan is to move forward with reopening schools. "If another decision has to be made, then another decision has to be made," she said.
OPS board member Amanda Ryan said she believed the district needed to start the school year virtually. She said national, state and local officials have responded to the global pandemic in an irresponsible way and turned it into a deeply partisan issue.
"School districts and school boards are now at the front lines of having to protect our community where our leaders have failed," Ryan said. 
Board member Nancy Kratky echoed Ryan's comments and called for delaying the start of school until after Labor Day.
"I don't even want one student, one para, one teacher to go home with it and give it to somebody else," she said.
Kratky said she wouldn't send her children or grandchildren back to school.
Board member Kimara Snipe said she agrees that remote learning would be best, but she lives in a racially and ethnically concentrated area of poverty and she worries about those students getting a proper education in the remote environment. 
School board members Ben Perlman and Tracy Casady said they are sending their children back to school.
"This has been one of the most terrifying weeks of my life," Perlman said.
He said elected officials needed to step up and do what's best for every Nebraskan, not what's best for them politically. 
OPS students have been out of school since March when concerns about the coronavirus prompted the closure of the district's schools. Now as students and staff prepare to return to school questions, concerns and anxieties persist. 
Robert Miller, president of the Omaha Education Association, told the school board that normally at this time of year, teachers are excited about the start of the school year and buying new school supplies. Instead, teachers are updating their wills, he said. 
OPS teacher Audra Gibbons said asking teachers to walk into a classroom during a global pandemic is too much. She said schools cannot safely reopen their doors without a mask mandate or a decrease in the number of cases.
"As much as I love my classroom, there is nothing there worth the death of one student, or parent or teacher," Gibbons said.