It was Kiara Simonsen's sophomore year when she was pulled into the office at Omaha North High School to talk about her future.
She was consistently missing school. Her grades were tanking. She had already been told she was in danger of going to court for her absences.
Her teachers asked if she would participate in a local career mentorship program to help improve her chances of succeeding in high school.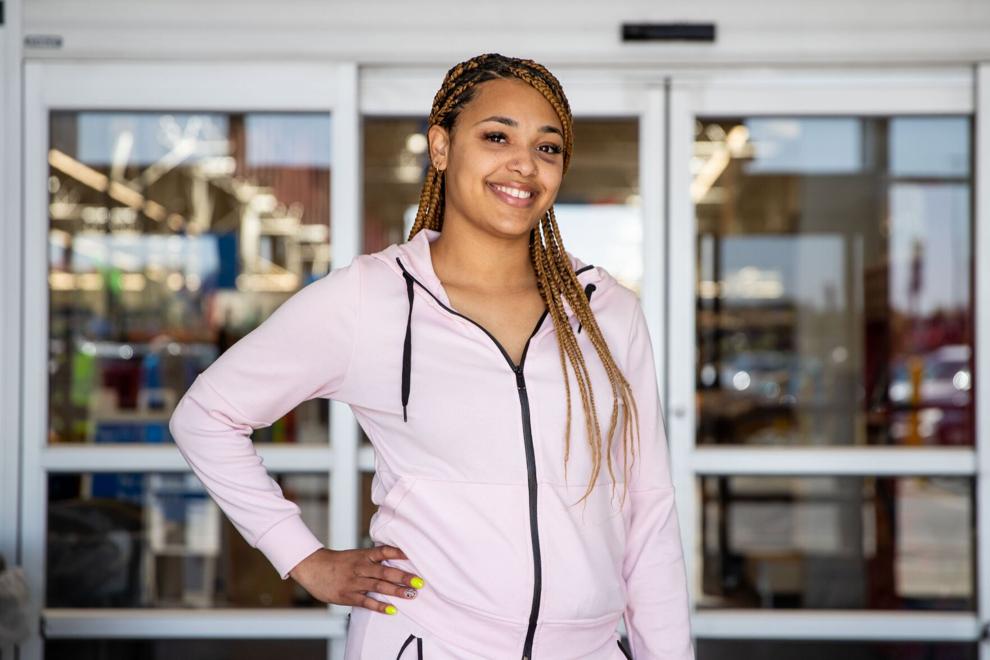 "They wanted me to just get into anything (I could)," Simonsen said. "I believe they were trying to save my attendance and make me want to come to school."
Simonsen was falling into the trap of chronic absenteeism, a problem that's plaguing not just the Omaha Public Schools, but districts across the state and nation.
Absenteeism has been skyrocketing in Nebraska. According to the latest numbers, nearly one out of four Nebraska students missed more than 15 days of school in 2021-22 and was considered chronically absent.
Missing that much instruction is often a major barrier to student success, and reducing absenteeism has been a focus of schools, community organizations and county attorneys for years. But while there have been some positive efforts, the state continues to lose ground.
Many officials blame the pandemic for the recent spike, which interrupted school by keeping students at home while also pausing intervention efforts and programs. They say they're still seeing the impact on absenteeism and attitudes about attendance.
During 2018-19, almost 15% of Nebraska's students were chronically absent. In 2021-22, it was almost 24%.
Even worse, about one in six Nebraska students missed more than 20 days of school during 2021-22. Such severe absenteeism was close to twice as much as pre-pandemic levels.
Not all of those absences were because of truancy. Chronic and severe absenteeism includes all absences — unexcused, excused and suspensions.
But even when students have legitimate excuses, high rates of absenteeism can be catastrophic for their academic careers — and their lives after high school.
For example, young students who are chronically absent are less likely to read at grade level by third grade, according to the U.S. Department of Education. They are also more likely to drop out of high school and become involved in poverty and the criminal justice system as an adult.
Simonsen, who graduated in May 2020, said many of her friends had similar issues with poor attendance. North High School had the highest rate of severe absenteeism in the metro area in 2021-22, with 56% of its students missing more than 20 days of school.
Growing attendance barriers
Hedy Nai-Lin Chang, executive director of the national nonprofit Attendance Works, said students who had preexisting attendance problems have been joined by a wider community of students who are struggling with post-COVID mental health issues.
Recent state and national data has shown that youths are in a mental health crisis worsened by the pandemic. Local educators have said anxiety and depression are becoming common barriers that keep more students from attending school.
"When kids miss a lot of school and then they want to come back, they feel high levels of anxiety," Nai-Lin Chang said. "When kids have been disconnected from each other and don't have the same strong bonds with peers and adults, not a lot of kids feel a sense of belonging. I think that's a huge change."
Personal family problems, food insecurity and housing instability worsened by the pandemic are also issues that are keeping students home, said Anahí Salazar, policy coordinator for Voices for Children in Nebraska, a youth advocacy agency.
"Older children are staying home because parents are working, you know, two jobs sometimes, and they are also staying home with younger siblings," said Salazar, who is also a former educator.
Simonsen's absenteeism problems stemmed from her need to work and take care of her family, she said.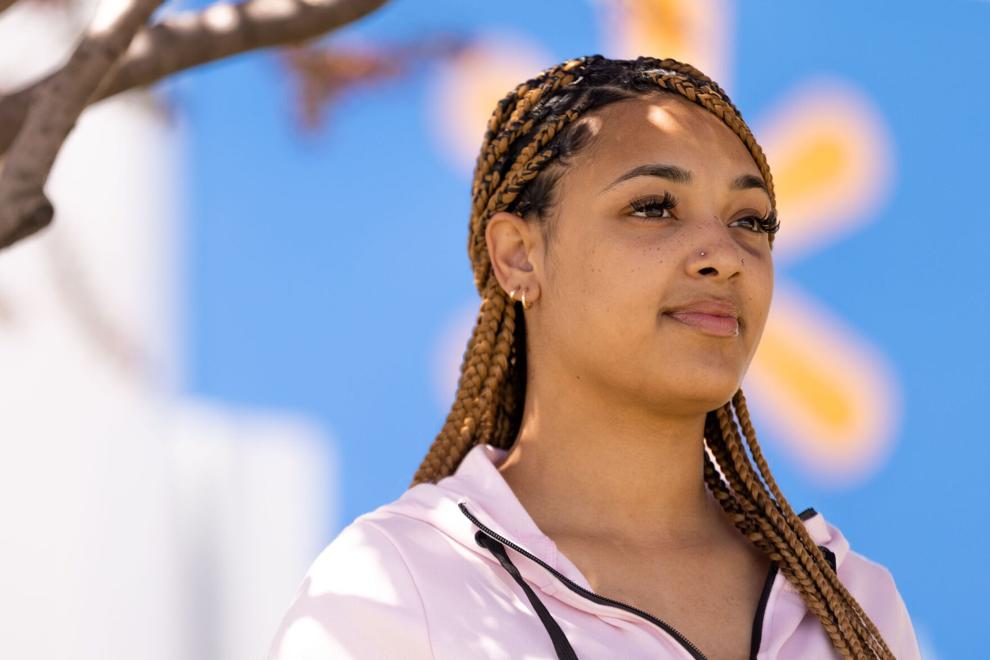 She worked at Walmart through the majority of her high school career to help support herself and her mom. She didn't get home from work until 10 p.m. most weeknights, and then she had to shower, eat dinner and do homework.
Working roughly 25 hours a week caused her to arrive at school late in the mornings, around 9:30 or 10 a.m. She sometimes also didn't come to school because she had to take care of her younger siblings.
"I'm not even realizing that was truancy. And I wasn't really caring about the truancy part," Simonsen said. "I was kind of like, well, I have to work so this is just going to have to be my thing — truancy will have to be my thing."
Journey to juvenile justice system
Students who accrue more than 20 days of excused or unexcused absences are in danger of heading to court for criminal consequences.
It's each district's responsibility to alert the County Attorney's Office about students who accrue more than 20 days of excused or unexcused absences, said Joni Schieef, lead juvenile attorney in Sarpy County.
Many school districts won't refer students who have excessive absences due to extenuating circumstances like a disability or chronic illness.
Scheef said districts will usually notify parents of their students' absence count at five, 10, 15 and 20 days. State statute also requires districts to come up with a collaborative plan with families who have children with a lot of absences to prevent them from being referred to the county attorney.
"County attorneys are required to provide community-based services or refer for community-based services before we can file the petition," Scheef said. "What we're working really hard here in our office is to work with the school districts in our county. So (students) can already be referred to those services before they even send the referral to us."
Students are sent to a juvenile assessment center as a last step for intervention before heading to court. Some students might enter a diversion program for attendance, which offers structured services like the monitoring of grades and attendance.
Simonsen said she was on diversion herself for attendance, along with many of her friends.
"We all had problems getting to school on time," she said.
Scheef said if interventions don't work, students might have to stand before a judge and possibly go through a trial regarding their absences.
Sometimes students end up on probation. Other times, parents are found at fault and child protective services are called.
"I think a lot of the school districts will tell you that kids got used to not going to school," Scheef said. "And parents don't want to fight it."
Ilyana Granados said her two stepchildren used to enjoy attending school a few years ago. Now at 15 and 16 years old, it's a struggle for them to make it out the door before 10 a.m., if they go to school at all, she said.
Granados said she and her husband try to encourage them to go to school, but when they are with their mom, the habits go down the drain.
"We try and have the kids be punctual and then you know she makes fun of that and says, 'School is stupid, you don't learn anything anyway,'" Granados said. "It's kind of made them to where they don't care even at our house. Even over here, it's like they're just dragging their feet."
It's hard to enforce attendance when consequences don't come soon enough, Granados said. OPS — where her stepchildren go — will reset each student's count of days missed to zero once school ends in just a few weeks. Other districts do the same.
Granados said she's already heard from the county attorney about her stepchildren's absences, but little has come of it. Officials only recommended that her stepchildren "walk the line and go to school" or else they might have to go to court in the future.
"Is that really going to happen? School is getting out and these aren't quick processes," she said. "We get all the threats and then nothing happens."
Don Kleine, Douglas County attorney, said his office has 16 lawyers in the juvenile division working to help students stay in school.
The state used to have stricter absenteeism laws that referred more students to the county attorney, but regulations were loosened nearly a decade ago so fewer students would end up in the justice system.
Douglas County had received nearly 700 referrals for absenteeism as of March, Kleine said.
"That means the school has already done their statutory responsibility, they did everything that they're supposed to do and they are saying, this kid still doesn't want to go to school," Kleine said. "Some of them it's still about 20 absences, but some of them are out like 50 school days they've missed."
Douglas County ranked fifth in the state in the percentage of students with 20 or more absences, according to the 2021-22 state data. It's ranked behind counties like Thurston and Keya Paha, which contain schools with the highest absenteeism rates, located within Native American reservations.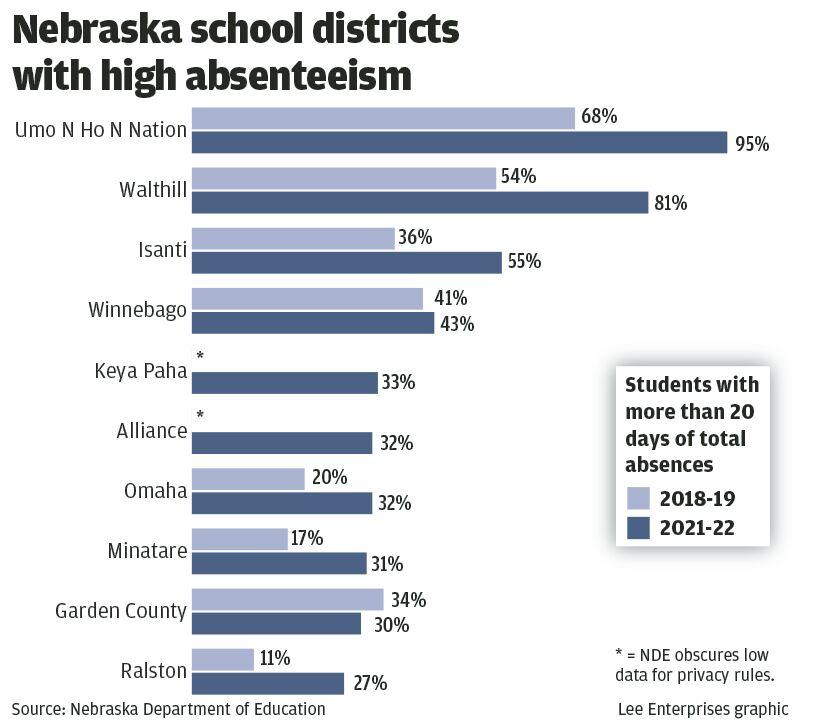 OPS ranks seventh highest among school districts. In the 2021-22 school year, almost 32% of its student population of roughly 50,000 had more than 20 days of absences.
Kleine said that number, up from 20% in 2018-19, is not acceptable.
"We have to do something different or OPS has to do something different," Kleine said. "That number is way too high."
But the Omaha district isn't alone. Ralston has seen its severe absenteeism jump from 11% to 27% in just three years, and now ranks 10th highest among the state's districts.
Other Omaha-area districts have much lower levels of severe absenteeism, but many saw their absence numbers go up sharply during the same period. For example, Millard had 6.5% of students who missed more than 20 days in 2018-19; it was 15% in 2021-22. Westside went from 6.2% to 12% in the three years, and Papillion La Vista went from 6.4% to 14%.
Improving attendance
The pandemic interrupted attendance initiatives for many districts in Nebraska. OPS had created its own program in 2018 called "Strive for 95," challenging students to attend school 95% of the time. That works out to fewer than nine absences all year.
The program initially helped OPS attendance in its first year, increasing the 95% attendance group from 46% to 48%.
But for the 2021-22 school year, OPS had just 33% of its students attending 95% of the time. District officials said that year was still being disrupted by the pandemic's Omicron and Delta virus variants.
Another key program in OPS is a partnership with the Urban League of Nebraska called Youth Attendance Navigators.
The mentorship program, which began in 2008, has staff in three high schools and four middle schools and currently serves roughly 200 students.
Director Zackary Bowman said the program had to evolve through the pandemic by ramping up family outreach.
"Now we're trying to get that student we engaged back into the school setting, and just stressing to the family, you know, the importance of getting that education," Bowman said. "This year we want to take the kids on more career field trips, so we can get the wheels turning in their head like this is what you have to do."
North Platte Public Schools has been taking a different approach to getting more students in their seats.
The district of nearly 4,000 students in central Nebraska began to zero in on alarming absenteeism rates back in 2016.
Brandy Buscher, student services director, created the program "Dare to Go Five Below," which challenged students to miss fewer than five days in a school year.
It began with prizes for elementary students who showed up to class. Buscher said she asked local businesses to sponsor individual schools, paying for prizes and hosting assemblies to talk about the importance of coming to school.
Building principals began to also hand out daily prizes, such as a piece of candy or a pencil, to students who were present. Middle school and high school staff began offering gift cards and free pizzas each quarter of the year to incentivize older students.
"The first year didn't see a huge difference (in attendance rates). In the second year we started doing some family-based prizes like hey, if you have three siblings and all of those siblings have less than five days (missed), we're going to put your family in for a drawing," Buscher said. "We got a car dealership to donate a used car for high school — so if you miss less than five days in the school year you got your name in a drawing for a car."
Buscher said in the 2016-17 school year, the district had 94 elementary students who missed more than 20 days of school. That number dropped to 35 in the 2019-20 school year before schools shuttered because of COVID.
Secondary schools also saw promising drops in absences, with district numbers looking "amazing" by the beginning of the pandemic.
Numbers jumped again last year following COVID, Buscher said.
"We're just trying to get a program back in place," she said.
Nebraska has multiple organizations that focus on helping students improve their attendance rate, with many of them operating in the Omaha metro area.
The Greater Omaha Attendance and Learning Services Center (GOALS), was created out of legislation in 2009. Staff members serve all 11 districts in the Omaha area by partnering with individual students and their families to improve their outcome in school.
The nonprofit's family advocate program will try to connect with students who haven't been in school and can provide resources like therapy, transportation and other basic needs.
"Our advocates attempt to find these families or students for 15 days — try to contact them and get a meeting scheduled," said Rebeckah Theurer, executive director. "We designed it for 15 days because we didn't want the advocate to consistently search for them and use that time that they could be working with a (different) family, because our waitlist is so high."
Simonsen was able to improve her attendance through the help of Avenue Scholars, a career mentoring program in Omaha-area schools.
Fred Starks was her career coach in the program. He said when he first started working with her he noticed how badly her grades had suffered from not coming to school.
"She would miss a lot of assignments, but when she turned assignments in, it was some of the best work that I've had," Starks said. "Her GPA didn't reflect how intelligent she was."
Starks and other Avenue Scholars staff helped her change her daily schedule to do her homework during work breaks and get to bed earlier so she could arrive at school on time.
They called her in the mornings to make sure she was up and even drove her to school on days she had no transportation.
The program helped her develop skills and education that led to her successful graduation and postsecondary work. She completed her pharmacy technician certification and has returned to work at Walmart. She also has another job as a direct support professional who works with people with disabilities.
"I told her, you know, about how attendance is important not just for high school but going forward," Starks said. "She bought into it and she's thrived. She overcame a lot."
Public school districts in the Omaha metro area
Bellevue Public Schools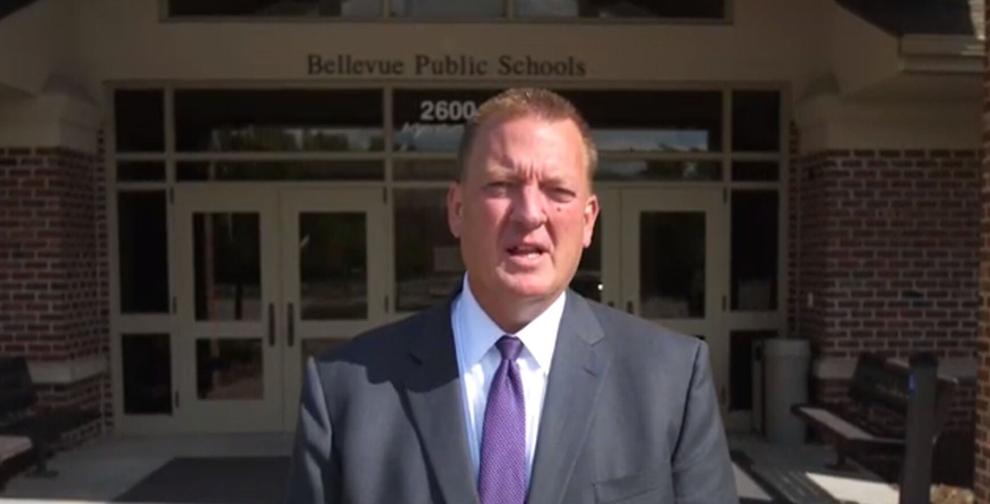 Bennington Public Schools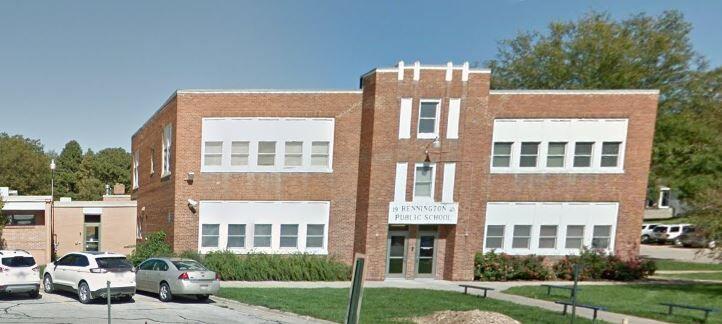 Douglas County West Community Schools
Elkhorn Public Schools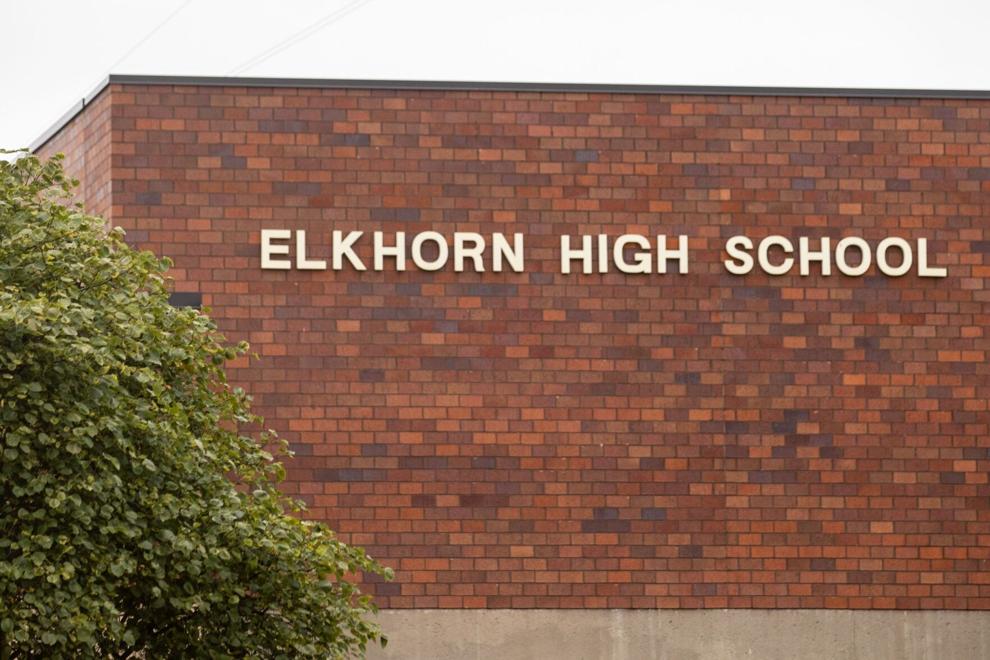 Fort Calhoun Community Schools
Gretna Public Schools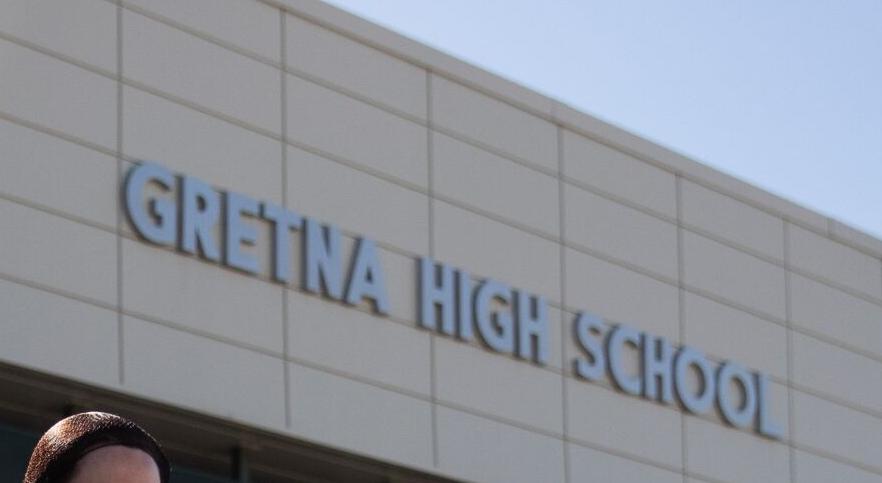 Millard Public Schools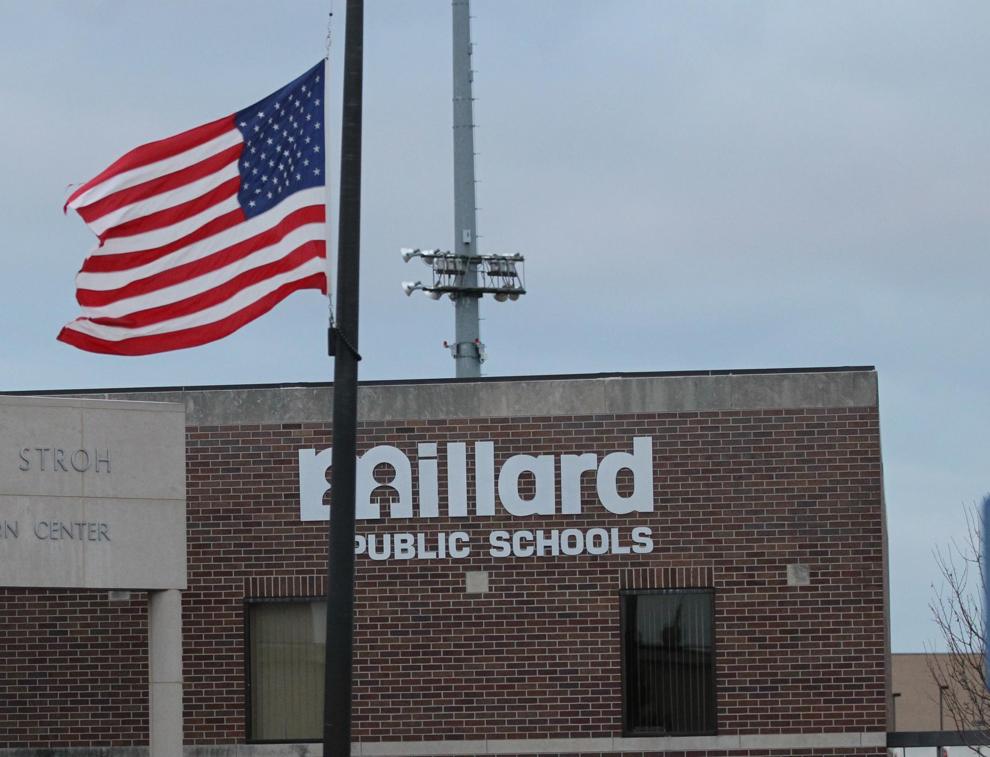 Omaha Public Schools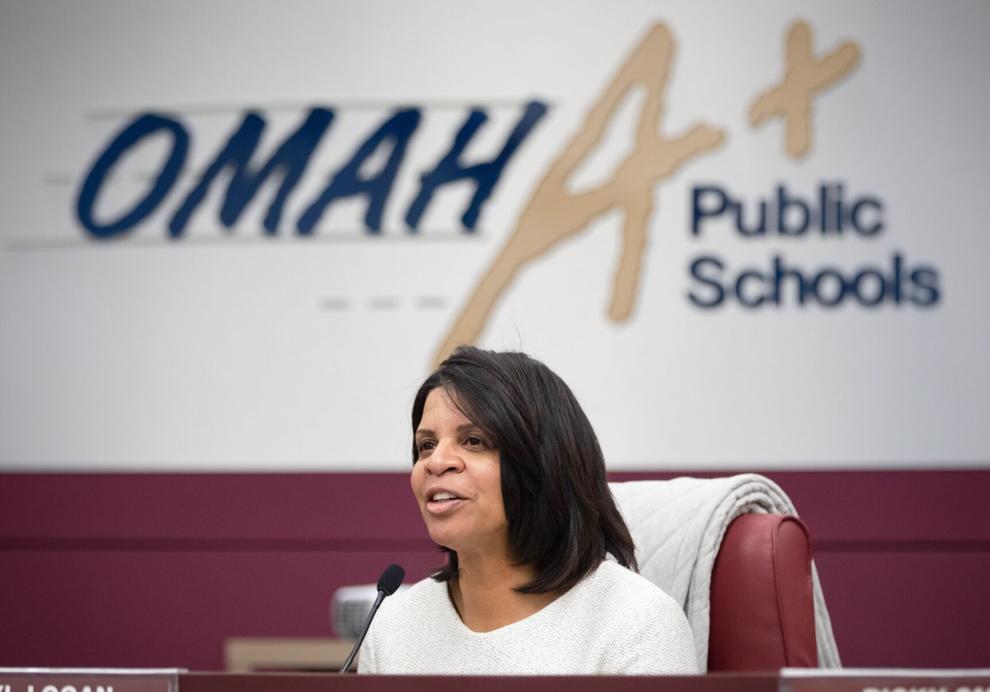 Papillion La Vista Community Schools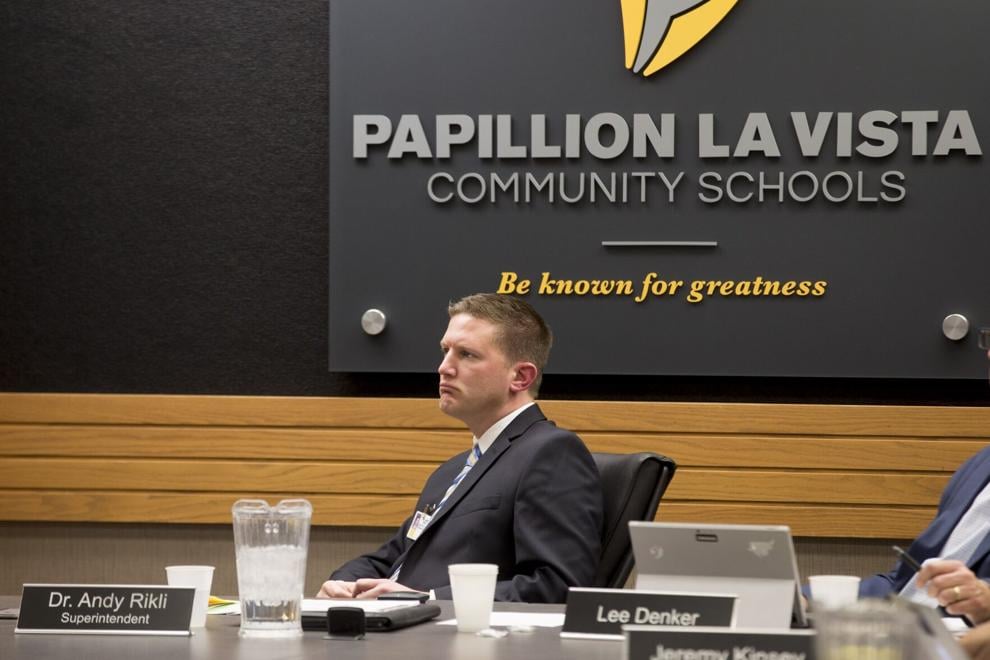 Ralston Public Schools
Westside Community Schools