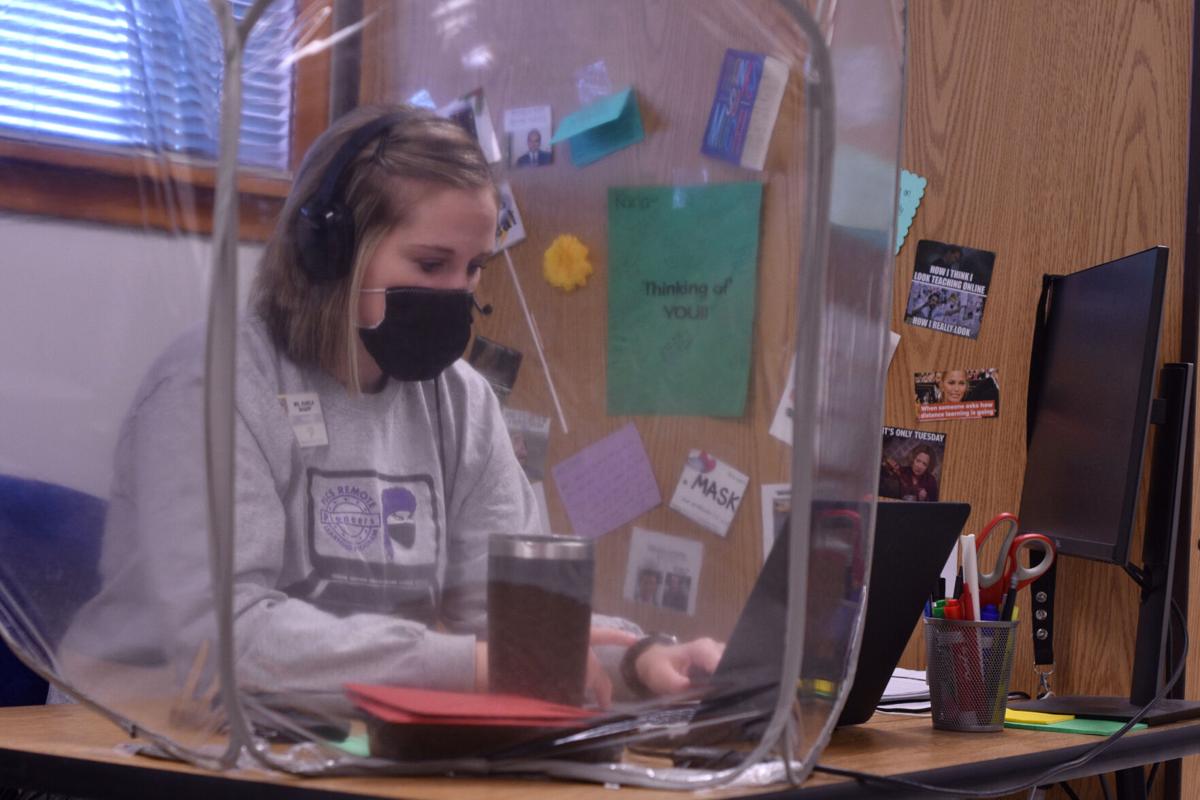 The pitfalls of remote learning are glaring like Clark Griswold's Christmas light display.
While some Nebraska kids managed to keep pace academically from home the first semester, other remote students fell so far behind that they're failing or at risk of it, according to teachers and school leaders.
Generally, the students who struggled most were those who also struggled in the classroom before the pandemic, particularly those without parental support and engagement, they said. But teachers said that even some normally successful students have found remote learning difficult.
Just how many kids fell behind is still being assessed as teachers tally up end-of-semester grades and schools pore over test data. Some say it could take years to know the full scope of the learning losses.
Nebraska Education Commissioner Matt Blomstedt said he is concerned about some kids falling significantly behind, but he doesn't believe that 2020-21 will be a lost academic year.
Nebraska has kept more schools in session than most states and looks better off than places like the Los Angeles Unified School District, which has been in totally remote learning since March, he said.
"I definitely don't regret that we put the emphasis on finding the safest way to get kids in school," he said. "Hopefully a decade from now, we're looking back and find our impacts on student learning were less because we were able to do that."
Papillion La Vista fifth-grade teacher Karla Sharp said her 21 fully remote students held their own.
"Some kids have really truly benefited from it," she said. "They will do well with whatever situation you give to them. ... I think that even the struggling students, I feel I've been able to reach some of them."
Sharp credits her success in large part to Papillion La Vista's decision to have a stable of teachers like herself who exclusively teach remote students instead of juggling in-person students as well.
Online teachers don't lose time to assemblies, restroom breaks, classroom cleaning or other interruptions that typically come in a school building, she said.
Teachers in other districts paint a less optimistic picture.
Speaking on the condition of not being named, one teacher said she spends countless hours trying to get remote learners to do work of any kind. Several students refuse to attend the online sessions and won't respond to emails or phone calls. Neither will their parents, she said.
Other students won't turn on their cameras or respond when a question is directed at them, making teachers wonder if they are there at all.
One remote learner contacted the teacher for the first time 12 weeks after the start of the school year. The student hoped to catch up on enough work to pass the class and needed the teacher's help. Another student claimed that the microphone on their device had been broken all semester but won't do anything to get it fixed.
Teachers who spoke to The World-Herald about their experiences in the virtual classroom said they feared retribution if their names were published.
After winter break, Omaha-area schools will still offer a fully remote option, but several districts reported that many students are moving back to in-person learning. More parents are feeling that it's safe to let their children go back inside school buildings, they said.
But the spike in COVID-19 case counts in the latter half of the semester appears to have driven some students out of school buildings and into remote learning. Some students have opted to go remote to avoid the ubiquitous health protocols and social distancing inside schools that diminish the in-person experience — translation: school's just not as fun.
In some districts, parents are being encouraged to send their struggling children back to the classroom.
"Some of them, we've said, 'You need to come back,' " said Rich Beran, superintendent of the Gretna Public Schools. "We told them it's not working."
Gretna started the school year with 377 students in remote learning. That's dropping to 213, or 2.7% of students, next semester, Beran said.
In the Papillion La Vista Community Schools, the elementary grades will see a big shift toward in-person learning next semester. The number of elementary students in remote learning will drop from 630 to 496, a spokeswoman said.
Middle school remote learning numbers will fall a little, and high school will stay the same as 88 students move from remote to in-person learning and 86 move the other way.
The Millard Public Schools started the year with 4,197 remote learners. By Dec. 1, that had dropped to 3,672.
The share of students learning remotely in the Westside Community Schools has decreased from about 20% when school started in August to about 10% at the end of the semester.
In the Omaha Public Schools, the share of students in the district's remote learning program grew after students returned under the district's hybrid learning model. Between Oct. 1 and Dec. 3, the proportion of students in remote learning rose from 21.7% to 34.95%. Almost 44% of high schoolers were in remote learning this month.
OPS students will start the second semester by learning remotely until the middle of January. The district is hoping to reduce the transmission of COVID-19 after people gather for the holidays.
The district will then continue to operate under the hybrid model, which divides students into two groups, each of which attends school in person part of the week.
Melissa Poloncic, superintendent of the Douglas County West Community Schools, said kids whose parents chose remote learning and are helping them are more engaged than students required to learn remotely because their district adopted a hybrid teaching model.
Student quarantines have disrupted learning, too, she said.
"Some of our kids have to go remote for two weeks in high school because of a quarantine," she said. "They just drop off the face of the earth. And all of a sudden they're coming back, and they're failing. It wasn't something their family chose, but they had to be remote because of one circumstance or another."
Students in the Council Bluffs Community Schools will shift from a hybrid learning model to five-day in-person instruction after winter break.
All students who are not enrolled in the district's remote Virtual Academy will attend school five days a week starting Jan. 4.
Improving trends in COVID-19 cases, absences and quarantine rates are making it possible, officials said.
"We feel really good about the data, as we've monitored it over the first semester," Superintendent Vickie Murillo said. "It is safe. It is a good place for our students to be to learn."
"Our goal is, and hoping now with the vaccines rolling out, that we'll be able to really provide in-person learning at the highest levels returning after the winter break," she said.
But some teachers said they are concerned that returning students will bring bad habits picked up during remote learning, such as procrastination and low expectations, back to class with them.
"Their habits have been so bad for eight, nine months, that that's their new normal now," one teacher said.
Emily Nitcher's favorite stories of 2020
The pandemic caused major disruptions to K-12 education in Nebraska and elsewhere. Students, parents and educators faced tough decisions and circumstances in 2020.