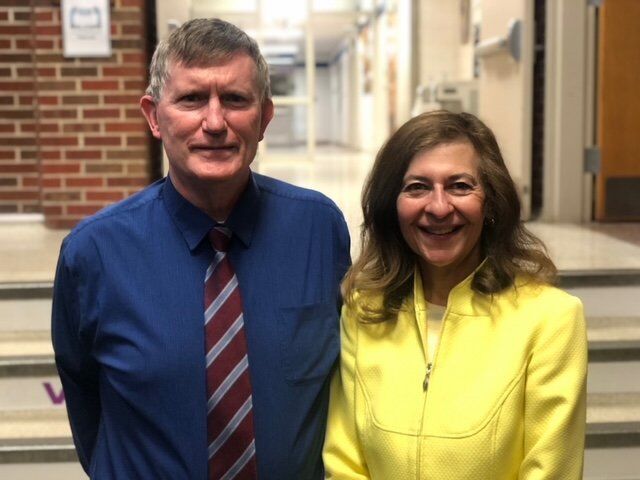 After educating thousands of students for a combined 81 years, two longtime Omaha teachers will retire together.
Tim Potter and Julie Hartman will soon be moving on from St. James/Seton, a Catholic grade school in northwest Omaha. Potter has taught there for 44 years, while Hartman has been there for 29 of her 37 teaching years.
"They've both been great leaders for our staff," Principal Bill Kelly said. "We're definitely going to miss them."
Potter, a 1972 graduate of Rummel (now Roncalli) High School, sought employment after graduating from the University of Nebraska at Omaha. He had been a student aide and helped a friend coach at St. Margaret Mary grade school.
"I enjoyed doing those things, but they didn't have any full-time openings," he said. "Then I heard there was a job at St. James, though I didn't even know where that was."
Potter said he was hired "on the spot" for the 1977-78 school year and was paid $7,300.
"Plus free lunches," he added.
Potter, a math teacher, taught fourth grade for his first six years and sixth grade for the past 38. He also coached basketball for 34 years and saw the administration name the school's gymnasium for him.
"I get kidded about that," he said. "I remind people that it's not the Potter Memorial Gym."
Potter, who has been at St. James/Seton through nine principals, said he never thought that he would stay at the same school his entire career.
"I liked it here and enjoyed my classes," he said. "I've gotten along with the principals and the parents and have always felt comfortable."
Hartman, a graduate of Hinton High School in northwest Iowa, said she always wanted to teach.
"I grew up on a farm and had a set of encyclopedias that I would read to my dolls and stuffed animals," she said. "My sister still laughs about that."
Hartman followed in the footsteps of her mother, who taught in a one-room schoolhouse. She said she became more interested in Catholic education while attending Omaha's College of St. Mary.
"I knew that teaching at a Catholic school was going to be my vocation," she said. "It just felt right."
After spending eight years at another school, she moved to St. James/Seton. She has taught several grades, including third grade for 19 years.
"The other two third-grade teachers were two of my best friends and soulmates," she said. "Those were the best of times."
Potter and Hartman also endured the worst of times when America was attacked during a September school day in 2001.
"We had just come back to our classrooms after going to church," Potter said. "We didn't tell the kids what was happening, but there was a TV in the teacher's lounge that kept us updated."
It was an even more difficult day for Hartman, whose son was attending Georgetown. The university is less than 5 miles from where a hijacked plane struck the Pentagon.
"He instant-messaged me that he saw smoke and wondered if it was the White House that had been hit," she said. "That was a really long and terrible day."
Teaching through the pandemic has also presented major challenges, although both were able to adjust. Hartman said it has always been reassuring to think about how teachers can affect students, no matter how the lessons are taught.
"A mom once mentioned an activity we had done with her son in third grade involving the Galapagos Islands," she said. The young man "went on to become a marine biologist and was working in the Galapagos."
Hartman said her retirement years will include traveling with her husband, John. The two have been married for 44 years.
"Our kids are spread out in St. Paul, Chicago and Boston," she said. "We haven't traveled because of COVID, so I can't wait to see them."
Potter said he will keep active playing golf and pickleball. He will also make trips to Kansas City to cheer his favorite MLB team, the Kansas City Royals.
Both teachers will be honored at a Mass on the final day of the school year.
"They've been role models for all of us," Principal Kelly said. "The skills they taught our students have made our world a better place."
---