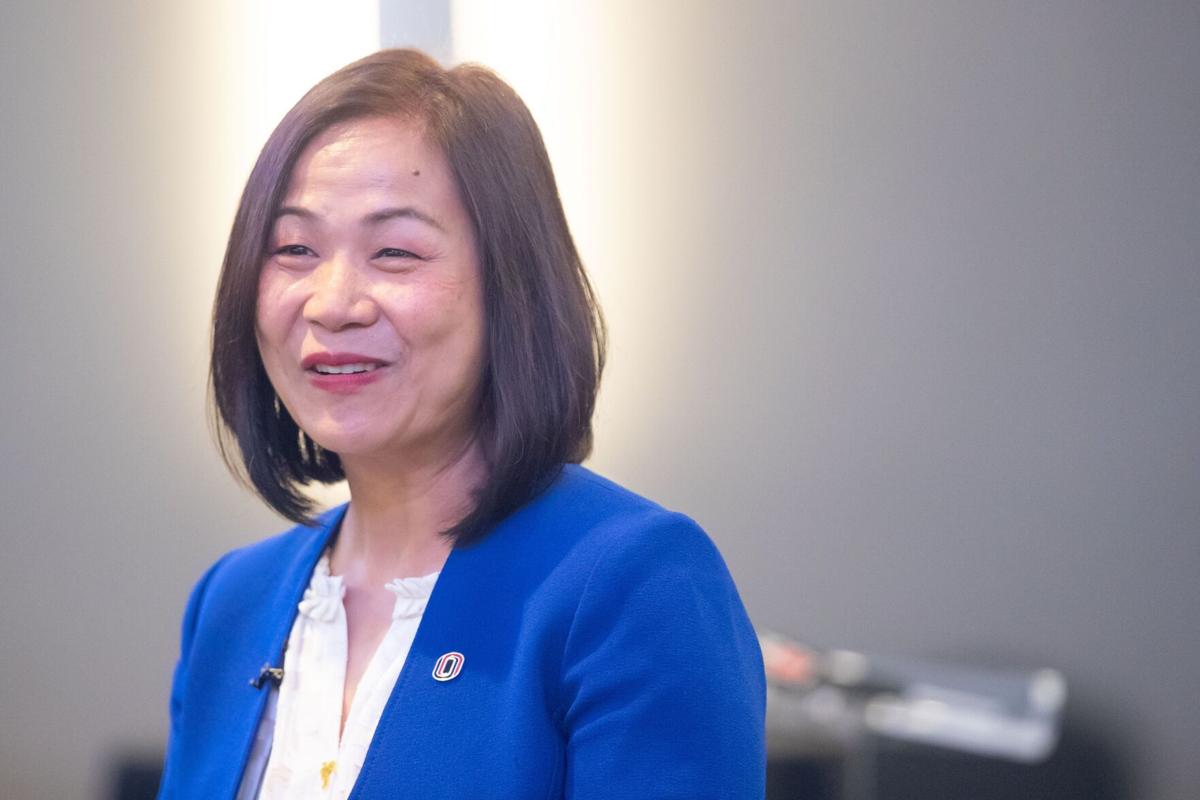 Sporting a "Maverick Strong" mask at first, Joanne Li addressed a small in-person crowd Tuesday morning as the priority candidate for chancellor at the University of Nebraska at Omaha.
Li's vibrant energy and wisecracking humor were on display for the seven attendees in the room and an additional 60 guests who joined via Zoom.
"It's fantastic to see real people," she said to laughter before joking about her short stature. "I'm not very good at the podium because I'm a very tall person."
Tuesday morning's forum was the first public event of 11 planned over four days at which UNO faculty, staff and students and community members can ask questions and hear Li's vision for the future of the metropolitan university.
In the hourlong session, Li said UNO needs to be agile to adapt to future workforce requirements, continue to welcome students and employees of all backgrounds, develop a culture of community and use technology to enhance classes and appeal to a broader range of students.
Li was announced as the priority candidate last week. The university is required to publicly share the name of only one finalist — instead of the previous four — because of a state law enacted in 2016.
If confirmed by the University of Nebraska Board of Regents following a 30-day public vetting period, Li, 56, would become the first woman of color to serve as UNO chancellor and the first Asian American in the history of the University of Nebraska system to hold an executive leadership role.
Li now serves as the dean and a professor of finance at the College of Business at Florida International University in Miami.
Dr. Jeffrey Gold, the chancellor of the University of Nebraska Medical Center since 2014, also has served as UNO's chancellor since 2017. The move to have him do both jobs prompted worries the two campuses would merge. But NU President Ted Carter announced in October that he would accelerate by a year the timeline to name a new UNO chancellor. He said he intended to have a chancellor in place at UNO by mid-2021.
Gold, who will continue as UNMC's chancellor, also will become the NU system's executive vice president and provost.
Li said that if confirmed, her priorities during her first 100 days would be to hold listening sessions to better understand UNO's culture and any issues that students and staff feel are important.
"I don't make a lot of assumptions," she said. "I'm not a presumptuous person. For sure, you know a lot better about UNO than I do at this point. You will truly be my teacher and I would learn from you, every one of you."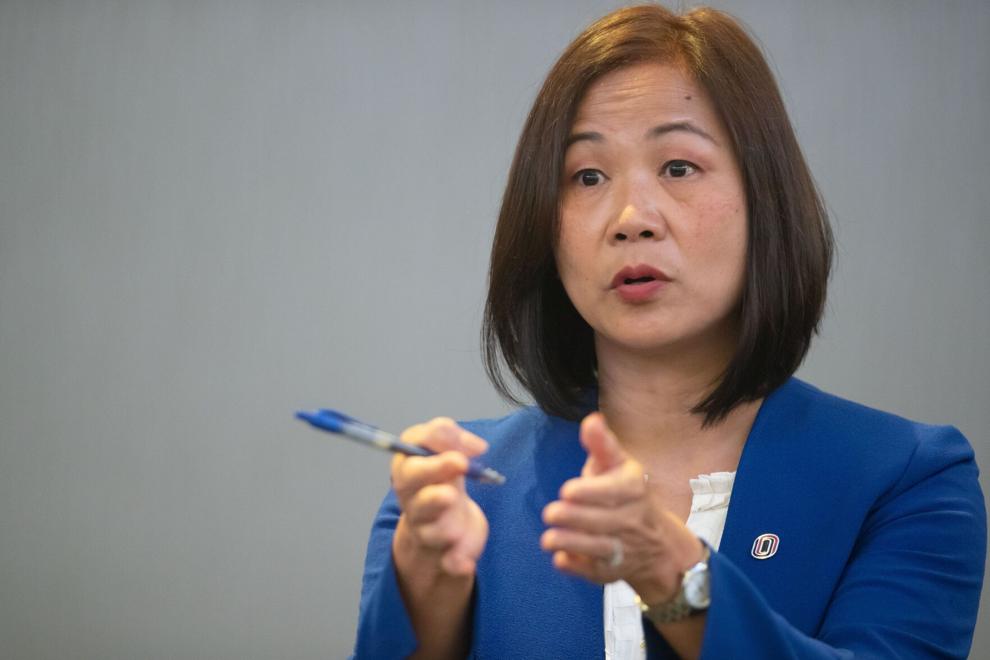 Several attendees prefaced their questions by explaining how excited they were about Li and her candidacy.
When asked how she would collaborate with the Omaha and Nebraska business communities to promote the hiring of minorities, she reflected on her own experience as an Asian American woman.
"Humbly speaking, I'm just like you. I work hard every day. But now, as I'm becoming older, I realize it actually creates a signal to the community," she said. "UNO articulates the importance of the metropolitan university where diversity of thoughts and experiences are celebrated."
Li also noted that the university workforce is becoming more diverse, which can prompt creative innovations and new attitudes that help companies perform better. She said UNO has a responsibility to cultivate a welcoming environment and tell employers that new ideas from people of all backgrounds spur a positive work ethic.
Alex Zatizabal Boryca, the assistant director of digital learning at UNO, said she was thrilled to hear of Li as a priority choice because it showed UNO's commitment to diversity. She also was glad that the choice was a woman, because then she and other female employees can see themselves in Li and aspire to leadership positions.
Zatizabal Boryca said she most enjoyed Tuesday's discussions about online education and Li's promises to include staff on high-level decisions and increase staff equity.
"Her vision for how online has a space in workforce development is really important," Zatizabal Boryca said. "Her passion to say, 'This opens doors for students who may not otherwise have the chance to take classes' ... creates additional voices in the classroom that may not have been there previously."
This visit is Li's third to Omaha. She told attendees that a friend who graduated from UNO's School of Criminology and Criminal Justice recently had called her to tell her that she would love Omaha and how proud he was of his education at UNO. Li's brother-in-law lived in Omaha for a few years, so she and her husband are familiar with the city.
Li told The World-Herald after the forum that everyone she has met so far has shown a "sense of sincerity" and has been very welcoming.
"They're very honest with what they want to share with you. And that is very special to me, that people open up, even the first time I met them. I'm very impressed so far," she said. "It seems like there is a very strong Midwest culture — hardworking, and I love that."
---
Photos: UNO chancellors through the years