New signs are taped to the floor, desks and walls of Alice Buffett Magnet Middle School in northwest Omaha.
Stickers on the floor encourage social distancing. Signs on tables show students where they can't sit. And a sign hanging from the ceiling in the hallway has this message: "We missed you."
The first quarter of the school year is almost over, but Monday marks a new beginning for the Omaha Public Schools. Elementary and middle school students are returning to in-person lessons for the first time in more than 200 days.
"It's the first day, but not the first day," teacher Lisa Tuttle said of welcoming students back.
Tuttle said teachers and students likely will have some first-day jitters Sunday night.
In March, OPS was one of the first school districts in the state to announce it was closing because of concerns about the coronavirus outbreak. After initially planning to have in-person lessons, OPS started the school year in August with remote learning.
Other school districts in the metro area opened for in-person lessons.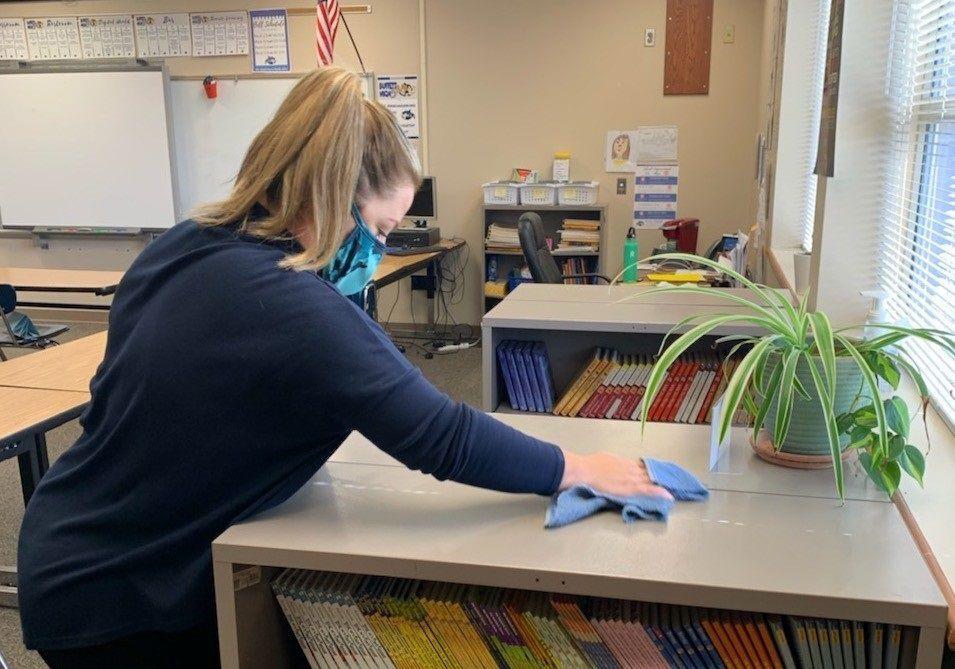 OPS has planned a phased approach to returning students to in-person lessons. After Monday's start for the younger students, high school students are scheduled to return on Oct. 19.
Schools will be opening under the district's Family 3/2 Model, which calls for students to be divided into two groups, each of which will attend school in person part of the week. Students also have the option to continue remote learning for the rest of the first semester.
An OPS spokeswoman said about 11,326 students elected to remain in the remote learning program, which is about 21% of enrollment.
Alice Buffett Principal Anthony Clark-Kaczmarek said his staff has been preparing for students to return since August. They have used this extra time to continue working on safety plans.
Clark-Kaczmarek said almost everything about the school day had to be changed, and it's almost like opening a brand-new school.
"You have to rethink it all," he said.
For example, students will leave the school through four different exits and be dismissed on a bell system that's based on how they get to school.
The sound of a bus will release students who ride the bus, the sound of a horn honking will release students who travel by car and a cheering crowd will release the students who walk to school.
Passing periods have been staggered to allow for social distancing. Students will have assigned seats for lunch and eat in the cafeteria, classrooms and common areas.
Teachers are prepared to use lots of air hugs and high-fives to interact with students they haven't seen in person for months. One teacher at the middle school put a hand on the end of a yard stick for socially distanced high-fives.
The school has extra personal protective equipment ready — Clark-Kaczmarek held up his own face shield as proof.
In classrooms, Tuttle said, staff removed anything that is fabric to make everything easy to wipe down and sanitize.
Clark-Kaczmarek and Tuttle said they are excited to have kids back in the building.
"We've had kids. They've been present in the remote learning environment, but to have them physically here — I mean, that's what we all got in this business for is to be around kids and to shape their lives and to work with them," Clark-Kaczmarek said.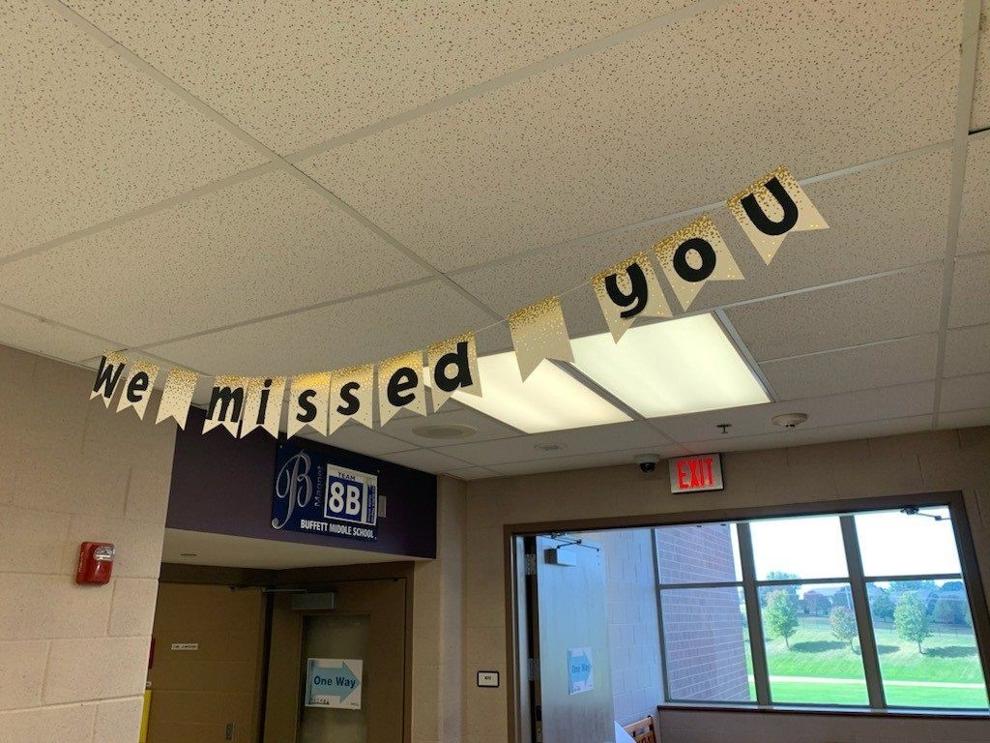 Other teachers have expressed anxiety and fear about the return to in-person lessons. At a school board meeting last month, several teachers questioned why the district is making the switch to in-person learning early for elementary and middle school students after planning to do remote learning for the entire first quarter of the school year.
At her school, Tuttle said teachers had the option to get webcams or stands for their iPads so they can position them in a way that students at home can see what teachers are doing in the classroom.
On the days elementary students are at home, they will log on to virtual daily morning meetings for attendance. Lessons in English and math will be delivered in prerecorded videos.
As Monday creeps closer, Tuttle said she can tell students are anxious because they are asking lots of questions about returning to school.
What's the main question on the minds of middle school students as they head back to school again?
Said Tuttle: "They want to know when lunch is."
---