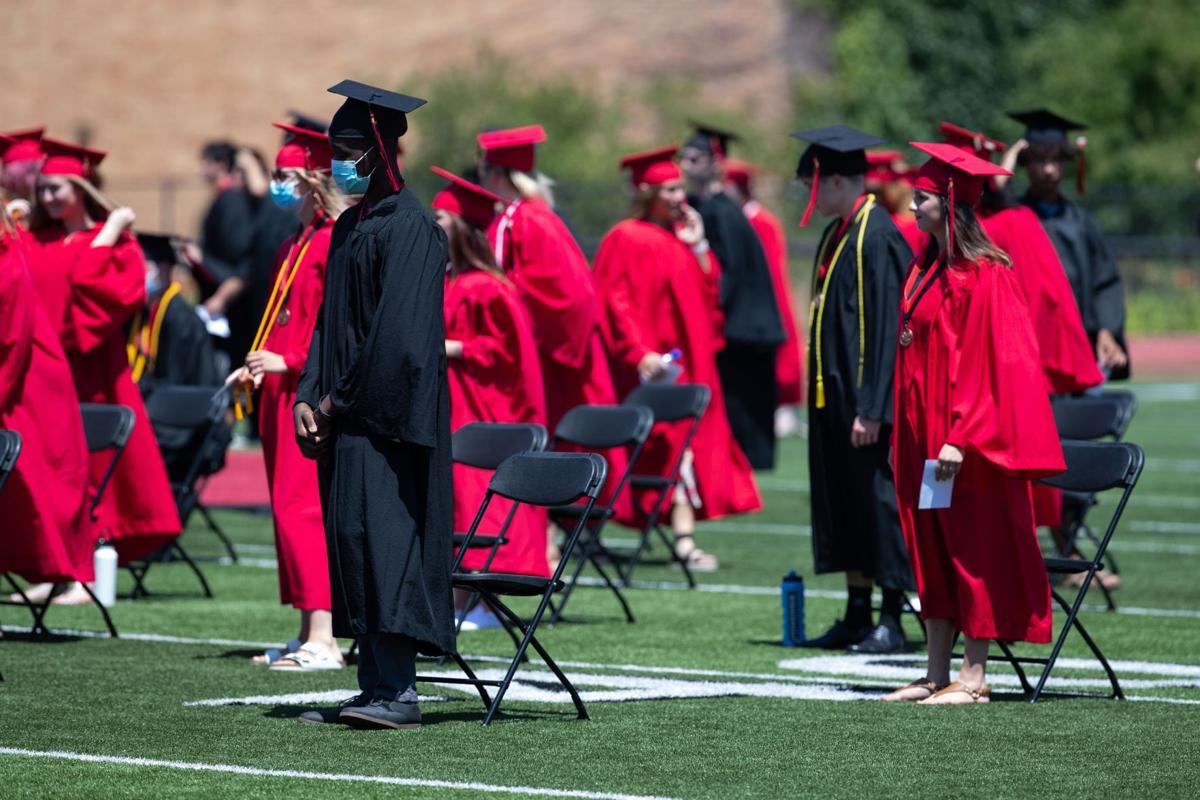 In weather better suited for swimwear than caps and gowns, hundreds of Westside High School graduates gathered Saturday for commencement ceremonies postponed and altered by the coronavirus pandemic.
An abbreviated version of in-person pomp and circumstance took place on Phelps Field at Westside under a sun on full July-in-Nebraska roasting mode.
For safety in social distancing, the graduates and their guests were divided into three groups based on their last names, and three ceremonies took place through the course of a sweltering Saturday afternoon. So all that experience from kindergarten on about taking turns and alphabetical order came into play once again.
The graduates, their red and black robes billowing in a merciful breeze, were dispersed on folding chairs on the artificial turf. Their families and friends, distanced and limited in number by virus-fighting protocol, sat in clusters under umbrellas in the bleachers. Emergency crews were on hand, and the concession stand supplied with ice packs.
"Even though it would have been nice to have everybody, and it's gonna be ridiculously hot, I think there's something nice about it, actually, because we're one of the few classes to actually graduate on our football field," graduate Eddie Schweikert said before the ceremony. "For the past however many years they've been doing it at Baxter Arena. So to actually have graduation on a football field, I think, brings it full circle and may help with a little more closure that we normally would have gotten but we weren't able to this year."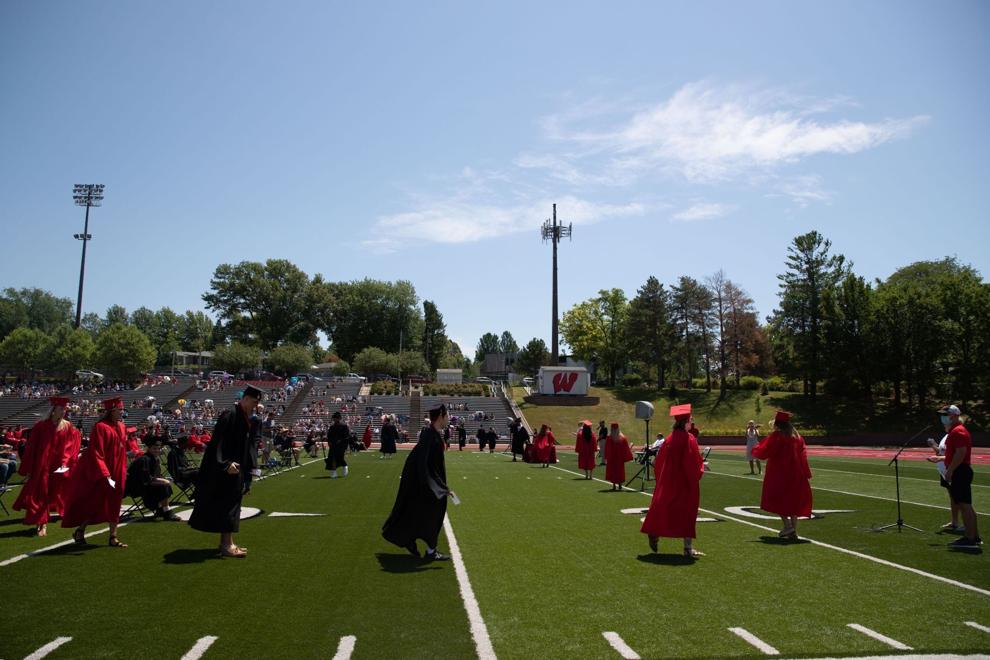 Speeches by Schweikert and others were postponed until a virtual graduation that was streamed Saturday evening. Westside school board member Adam Yale kept his address short and sweet to beat the heat at the last of three events.
He praised the students for their resilience, excellence and teamwork. Saying it's OK to have multiple feelings at once, Yale noted the pandemic that erupted as the seniors of 2020 thought they'd tie up loose ends, say their goodbyes and take their long last looks at their high school.
He took note of the latest chapter in America's ongoing racial reckonings that is shaking the nation this summer.
"We are reminded that the society that we want to be, we are not yet," Yale said. "We still have work to do. It is OK to feel the rush, shock and pain of all these circumstances. It's OK to have that pit in your stomach. But to me, it's important to see the flip side of uncertainty, of injustice, of need. These times will ultimately be sources of strength."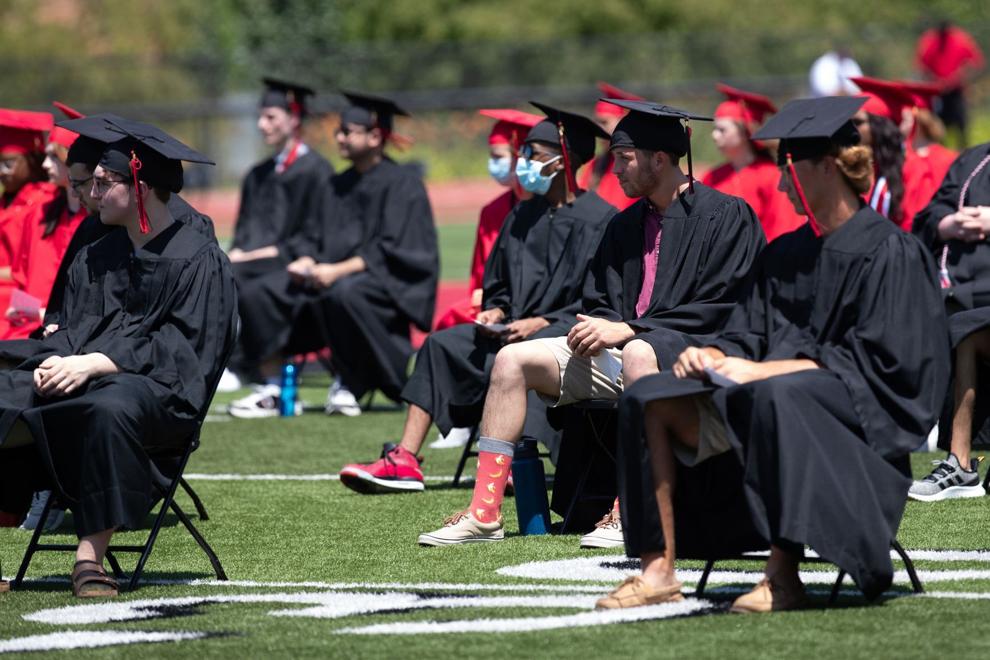 Most school board members, the principal and many teachers participated in all three sessions. Two people needed help from medics at the end of the last one but were OK, a school district spokeswoman said.
Sisters Laquala and Latroia Swift watched as the students strode up the sidelines in the final ceremony, at 4:30 p.m.
Laquala's daughter Marquasha was among them. Latroia was braving the heat for a second time; her daughter Sakari Chatman had graduated earlier in the day.
"It's a really good thing they went out of their way to make this happen, in spite of everything," Latroia Swift said. "It's really hot. ... But I'm grateful."
Schweikert and his fellow yearbook editors recently finished up work on that effort.
Schweikert masked up and helped bag up students' annuals with diplomas and awards for them to collect at commencement.
That had him pensive about closing the book on his strange senior year.
"To see that and then to finally get graduation, to finally be at the end of that journey and starting down college stuff, too, it's just, it's nice, I guess," Schweikert said. "I can't think of the right word. Yeah, I think nice works."