It will take days — or even weeks — to assess all of the tree damage across Omaha's 170 city parks and facilities, Parks and Recreation Director Matt Kalcevich said Monday.
Kalcevich said tens, if not hundreds, of trees were damaged in the parks by the strong winds from the storm that blew through the metro area early Saturday morning.
"It was intense," he said.
Elmwood Park in midtown is closed because of tree damage. So is Elmwood Golf Course, but Kalcevich said crews are working to have the links open by the weekend, if not sooner.
Spring Lake Golf Course in South Omaha and Steve Hogan Golf Course at Miller Park in North Omaha will open when power is restored. The other city courses are open.
The pools at Elmwood, Deer Ridge, Camelot and Hitchcock Parks were closed Monday. Kalcevich said it's possible that they will reopen Tuesday or Wednesday.
Kalcevich said the city is assessing other parks to determine how bad the damage is and if it needs to close parts of them.
"We're trying to not close entire parks," he said.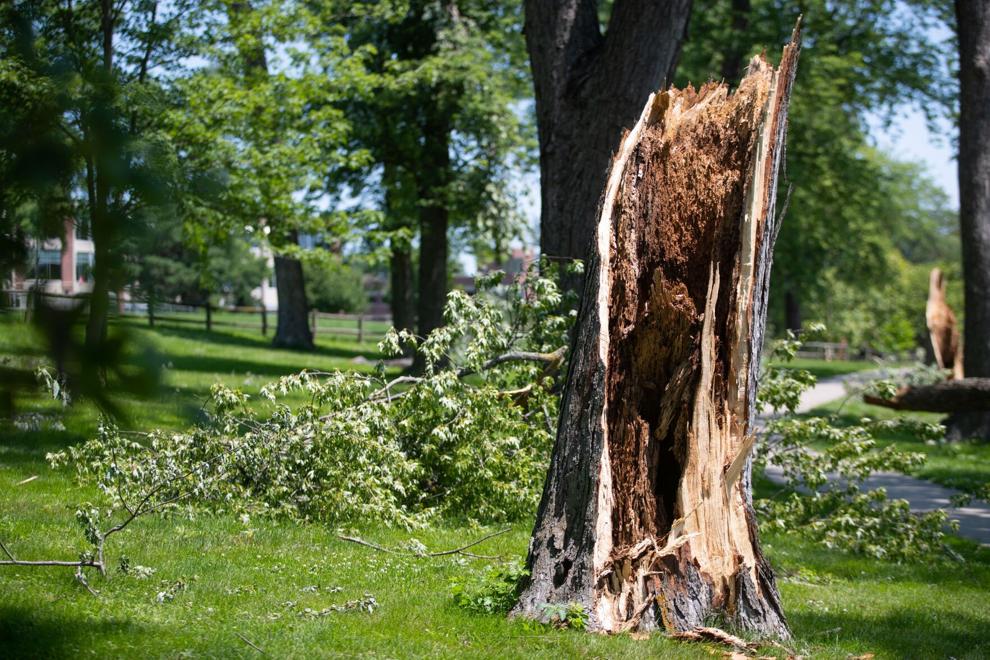 Kalcevich said several major trees fell at Elmwood, some of which will take several days to remove because they are so large.
"Some have blocked roads, some have blocked trails, some have blocked access to places like fields," he said. "Larger trees are more susceptible to storm damage because of their sheer size. Those are some of the oldest trees in our park system."
Debra Parsow, who lives just west of Elmwood Park, said she counted more than 80 damaged trees.
"It was like a tornado came through," she said. "You can see where they were twisted and ripped off."
Tiffany Regan, executive director of the Omaha Parks Foundation, said it hurts to see the tree damage, especially because so many have already been ravaged by the emerald ash borer. The ash borer is an invasive insect that burrows into and ultimately destroys ash trees.
She lives near Elmwood Park and also saw tree damage Monday morning at Tranquility Park. The damage doesn't appear to be as severe in the western parts of the city, she said.
"There is just devastation across the city," she said. "This just compounds the damage to the tree canopy."
Regan said the foundation is starting a campaign to try to restore that canopy and help the city as needed. It's called "Giving Trees: Restoring Omaha's Tree Canopy." The group's website is omahaparksfoundation.org.
"We would love to do what we can to help them," she said. "A city with healthy trees benefits everybody, as well as the environment.''
---