With a $500,000 donation by the Episcopal Diocese of Nebraska, Omaha's globally unique Tri-Faith Initiative is putting the finishing touches on its $70 million campus.
On 38 acres south of 132nd and Pacific Streets, the Tri-Faith Commons is home to a synagogue, a church and a mosque — and now a fourth, interfaith building. A certificate of occupancy for that structure is dated July 17, marking completion of construction and of a dream.
In some locales around the world, a synagogue, a church and a mosque sit in proximity to one another; in other places, separate faiths share a building. But 14 years after a memo of understanding set the Omaha plan in motion, Tri-Faith Initiative leaders know of no place doing what Omaha has done — establishing common ground, literally and figuratively, and then raising millions to "intentionally" build separate houses of worship together.
It was all paid for with donations.
What's remarkable about the Episcopal donation is that the faith ended up not building a church on the campus. The diocese was the original Christian partner of the initiative, but costs and logistics forced it to withdraw, replaced by Countryside Community Church.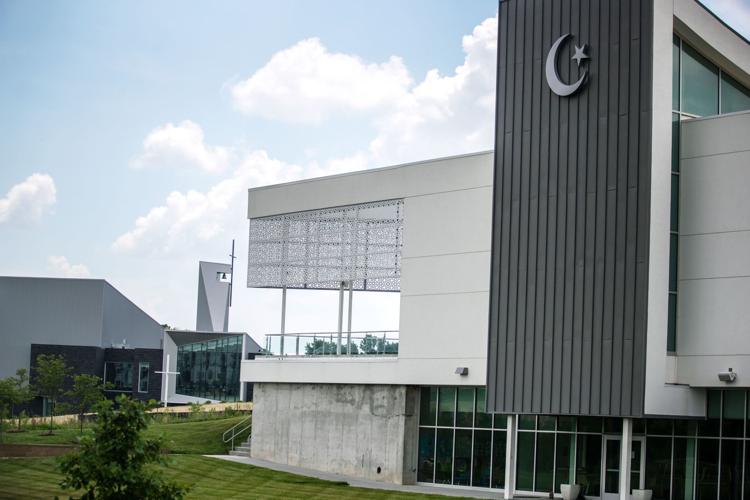 "Our folks are so proud of the part we played to help establish Tri-Faith, and in the way its work is promoting peace and reconciliation," said Episcopal Bishop J. Scott Barker of Omaha. "We wanted to find a way to help this amazing ministry cross the finish line."
The Rev. Dr. Eric Elnes, senior minister of Countryside, said the Episcopalians have inspired his members with vision, courage and generosity. "We thank God," he said, "for their faithfulness and companionship, and that of our Jewish and Muslim partners, on this breathtaking and sacred journey."
Omaha's vision has attracted the attention of religious leaders elsewhere.
Conducting a retreat for the initiative in 2018, a New Mexico rabbi said she was surprised "that this was happening in Omaha, of all places." An Episcopal priest from New York predicted that "it will be a model for the world." Said an imam from Baltimore: "I did not understand the depth of the Tri-Faith project until I came here and saw it on the ground. I was delighted to see that Omaha was a pioneer."
Some trace the seed of the Tri-Faith campus, ironically, to 9/11, when Rabbi Aryeh Azriel of Temple Israel and others stood at a mosque to discourage possible vandals. That gesture in 2001 led to other gatherings, such as picnics and table discussions.
The temple was looking to move west from its longtime synagogue at 7023 Cass St. and invited partners from other faiths.
At the Benson Library in 2006, Jews, Christians and Muslims quietly agreed to a memorandum of understanding to move forward, not announcing it publicly. The plan went very public in 2009 when more than a thousand people at the downtown convention center (now called the CHI Health Center) attended "Dinner in Abraham's Tent," so named because the three faiths descend from the biblical Abraham.
Planners looked at dozens of possible sites and in 2011 purchased land in a corner of the old Highland Country Club. Later called Ironwood, it was known for years as the country club for Jews, who were not welcomed at other places.
Temple Israel finished its new synagogue on the Tri-Faith campus in 2013, and the American Muslim Institute opened its mosque in 2017. Countryside Community Church opened in 2018. Now comes the addition of the interfaith center.
A circular "Abraham's Bridge" connects the four structures. The bridge twice crosses a stream whose historical name is — yes — Hell Creek.
At a Zoom session last week about the founding of the Tri-Faith Initiative, Rabbi Azriel said golfers remind him that the synagogue is built on the old 17th hole. He quipped that because it's now a holy place, there is "a lot less cursing" there without golfers hitting balls into Hell Creek.
The interfaith center is essentially finished, but Executive Director Wendy Goldberg said it will have a soft opening and limited use for now because of the coronavirus, with a dedication planned for October.
She said the Episcopal Diocese never lost its enthusiasm for the Tri-Faith Initiative. Goldberg accepted the Episcopal donation from D.C. "Woody" Bradford, a founding member of the Tri-Faith board.
"I cannot think of a better example of 'loving your neighbor,' " Bradford said, "than what is and will be shown every day on the Tri-Faith Commons."
---
Our best staff images from July 2020
Omaha World-Herald: Afternoon Update
The latest headlines sent at 4:45 p.m. daily.