Ernie Chambers rolled up his trademark short sweatshirt sleeve Wednesday morning, revealing a well-defined bicep that people less than half his age would envy.
"You see that arm?" Chambers told a nurse preparing to give him a COVID vaccine shot. "That's the arm of an 83-year-old man."
As the nurse, Trevor Beecroft, guided the syringe toward that buff arm, Chambers jokingly yelped, "Ouch!" before the needle even reached his shoulder. The laughter had barely subsided before the shot was delivered.
"That's it?" Chambers quipped.
The former dean of the Nebraska Legislature from North Omaha received his second dose of the Moderna vaccine Wednesday. Chambers took the jab to his right shoulder in a Charles Drew Health Center clinic at the Omaha Home for Boys campus in North Omaha.
Never one to pull his punches in criticizing government or any other institution, Chambers sought to use his reputation as a state senator who spoke his mind to show people he believes the vaccines are safe and necessary.
"This is so important to me that Black people, Latino people, older people get information from a source they might have confidence in," Chambers said. "There are people among those groups who have confidence in me and what I say. ... I cannot find the words strong enough to encourage people to get the vaccination. And my view is the greatest evidence of my belief is the fact that I am getting the vaccine myself."
Why did Chambers get the vaccine?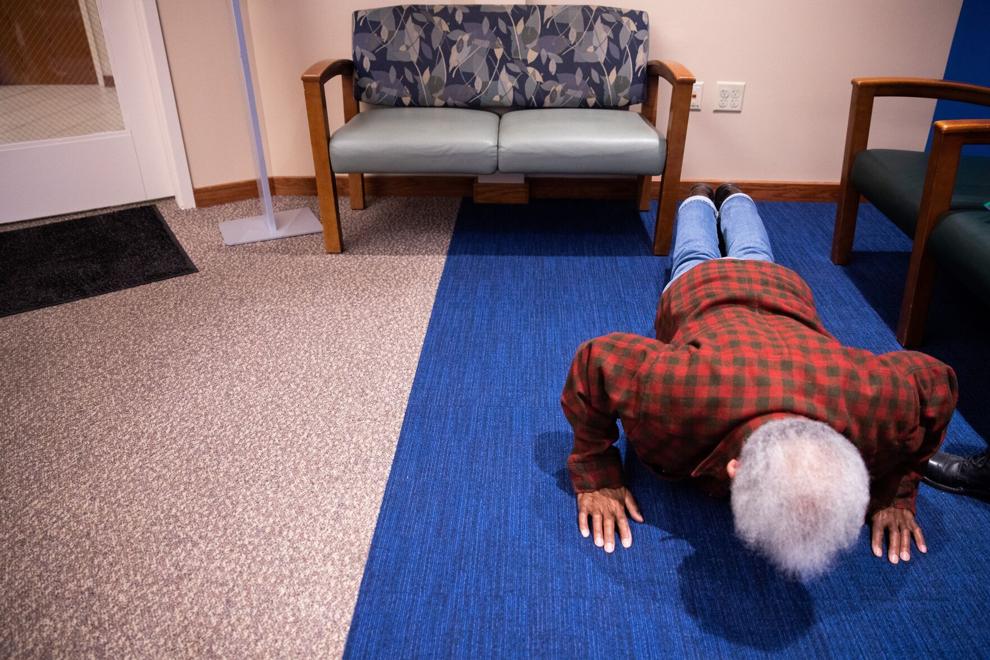 First, to maintain his health, he said, dropping to the floor of the clinic and doing 20 pushups to demonstrate the importance of that to him. Second: to protect other people, which is why he intends to keep wearing a mask and social distancing.
"When I became aware of the virus, and that there was a vaccine available that was scientifically based, I determined to get it as soon as possible," Chambers said. "Prevention is better than cure."
He said he believed Dr. Anthony Fauci, the director of the National Institute of Allergy and Infectious Diseases, about the coronavirus and the importance and safety of vaccinations.
"I didn't have any trepidation that other people had," Chambers said. "And by the way, one thing that convinced me I've got to get (vaccinated), if I had any doubts, was when Trump said all of this is a hoax."
For those who believe they don't need the vaccine, Chambers said COVID-19 is deadly and "if you think the vaccine can't help you, it certainly can't hurt. ... Do not take that risk."
Kenny McMorris, CEO of Charles Drew Health Center, took a picture of Chambers after he got the shot.
"Let's get you a flex photo here, Senator," McMorris said. "All right, COVID strong."
"There's a significant amount of hesitancy, so anything you can do to demonstrate, especially in terms of people of color, representation matters," McMorris said. Chambers' example will "go a long way with making the community comfortable with taking the vaccine."
As Chambers prepared to leave the clinic, Ted and Leila Johnson arrived. Ted had already received his first dose through the VA Nebraska-Western Iowa Health Care System. Leila was coming for hers.
Ted Johnson, 76, said he works with a lot of people who are skeptical of the vaccine, in part because of government and health care mistreatment of Black people. On Wednesday, he gained a new point to make to his vaccine-hesitant friends.
"I'll say: Hey, look at this, Sen. Chambers, he's one of the most skeptical people in Omaha," Johnson said. "If he can get it, what's wrong with you?"
---
Our best Omaha staff photos of February 2021