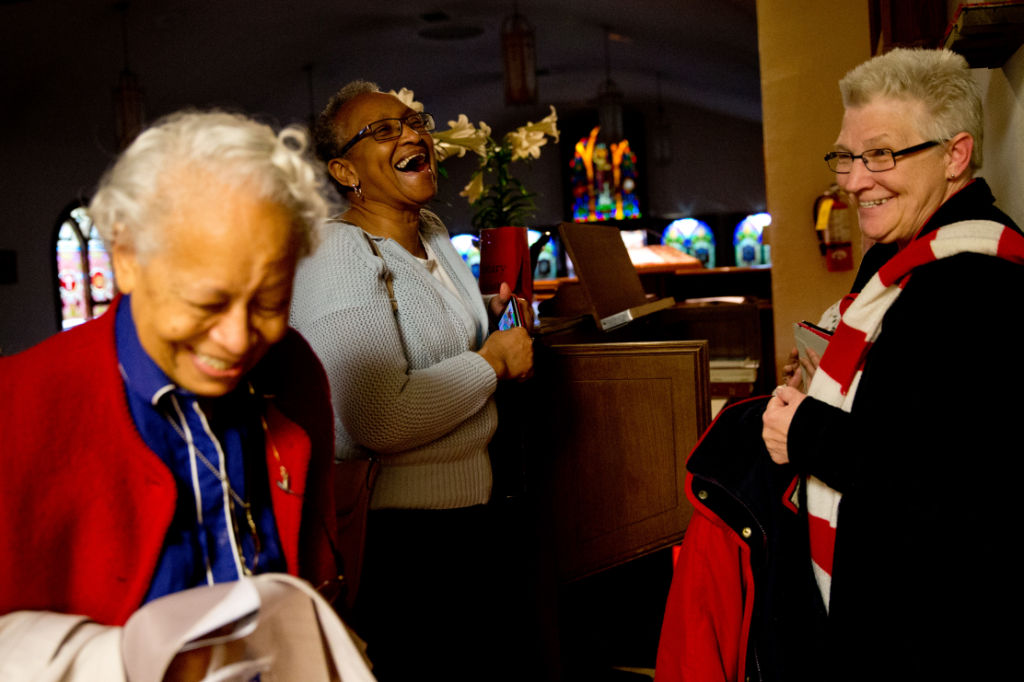 For spiritual nourishment, the Episcopal bishop of Nebraska sometimes slips into a north Omaha church in T-shirt and jeans.
"I go incognito," said Bishop Scott Baker, even though most folks recognize him. "I'm there to be fed like any other parishioner. I'm not checking up on the church; just the opposite.
"I sit in a pew, shoulder to shoulder with everybody else, and kind of bask in the delight of a particularly warm, healthy, Christian community. And I love the diversity."
Diversity is a calling card of the aptly named Church of the Resurrection, created from the merger of two dying congregations — one black (St. Philip) and one white (St. John).
The 1986 merger wasn't easy, and some who opposed the sudden integration left. Today the church welcomes not only a diversity of
races but people of varied ages, socioeconomic strata and cultural orientations.
"Radical hospitality" is a church philosophy.
"That literally means that we don't care if you are Warren Buffett or a junkie coming in off the street," said Father Jason Emerson, the pastor. "God loves you, and when you walk in our doors, we welcome you."
When the bishop talks of being "fed" like everyone else, he means it spiritually. But Resurrection is also known for its full meals that most people stay for after Sunday services, and for today's annual Wesley Dean Memorial Fish and Spaghetti Dinner. ($12, dine-in or carry-out.)
Lesley Dean, daughter of the late Wesley Dean, said her dad helped start the event long ago at the black church, well before the merger.
The public is invited. About 600 typically attend the noon to 6 p.m. event at the church, 3 miles north of downtown on 30th Street, across from Miller Park. It's a fundraiser to send kids to Episcopal summer camps.
Wesley Dean, a World War II veteran who served in Europe, was a waiter on Union Pacific private dining cars and manager of the dining room at headquarters before serving as head waiter in the dining room at ConAgra headquarters.
At St. Philip, the old black church, he was a member of a group called Men Who Cook and helped start the fish-fry fundraiser.
Lesley Dean said her father and her mother, Ethyl, were active at St. Philip all their lives, but attendance was dwindling. They moved to the new congregation, and their daughter, a church warden today, is pleased that they did.
"I love my church, and I love the diversity," she said. "We stand for social justice, and we're very engaged with the youth in our community."
While some aspire to a colorblind society, Dean said there's no point in closing one's eyes to differences — and that Resurrection does not.
"We see color," she said. "We see it, we recognize it, and we respect it. We talk about things honestly, and we can agree or disagree politely."
The church has held prayer vigils on its front lawn, reading the names of victims of gun violence. In their memory, it has grown a prayer garden.
In the back of the church hangs a three-paneled piece of wood-carved art presenting stark and troubling images. The triptych shows Christ on the cross surrounded by the plagues of modern life.
One section portrays the rural poor, and another shows workers in the age of mechanization, their machines partly shaped like dollar signs. Another section shows a lynching by the Ku Klux Klan, as well as a book burning and soldiers in gas masks.
The artwork is clearly as much a political statement as a spiritual one. It was by the late Omaha artist Leonard Thiessen, who created it from 1936 to 1939. He died in 1989.
Studying it this week, Father Emerson said its commentary, including the parts about poverty, violence and racial divides, remains current 75 years later. This week's national focus on racist comments by the owner of the Los Angeles Clippers basketball team, the pastor said, show that race remains an American issue.
Juanita Johnson, an ordained deacon at Resurrection who came over from St. Philip three decades ago, said that "in some ways," race relations in Omaha have improved.
"I think people are more aware of the inequities that still exist in Omaha," she said. "A lot of people are really sincere about trying to improve things. But you've got some die-hards who want to keep us in our place."
She called herself "a cradle Episcopalian" and has lived in Omaha all her life except for a few years in the 1950s. She earned a bachelor's degree at Fisk University in Nashville, Tennessee, and then a physical therapy degree at the Cleveland Clinic in Ohio.
She returned home and married. Eventually she became a school counselor and volunteer for many community causes. St. Philip was a center of life for many black families like hers.
"I loved it," she said. "I was married there, my daughter was baptized there, and my father was buried from there."
The 1986 merger didn't go smoothly, she said, but those who didn't want to integrate simply moved on.
Cheri and Tim Oelke were married in 1966 in the white congregation, St. John, in the 30th Street church that today is home to Resurrection. Cheri had grown up there, at St. John.
The couple left Omaha in the 1970s but returned and joined Church of the Resurrection a few years after the merger. They immediately noticed the infusion of joy and energy in the music, which had come from St. Philip.
Today the choral director is widely known Omaha soprano Nola Jeanpierre, who said she brings "every genre of music to the choir."
The Oelkes said the church, which once had no children in Sunday school, now has about 20. Typical attendance at 10 a.m services on Sunday is 85 to 90.
Wednesday at 6 p.m., the church welcomed a dozen people to its first "oasis" service, less than a half-hour long, which Father Emerson said is intended as a regular contemplative gathering in the middle of a busy week.
The priest, who grew up in Tennessee, has served as pastor for more than five years, but he knows the congregation's history.
"The merger of an African-American and a white congregation was about survival, because both would have died if they stayed separate," he said. "It wasn't about improving race relations. But race relations had to improve for the new congregation to survive and grow."
The bishop, who sometimes arrives in casual dress, calls the church "a remarkable inspiration for the whole diocese of Nebraska."
And in its embrace of diversity, perhaps also an inspiration for the whole of Nebraska.