Richard Roth found another way to serve the Omaha community after losing his bid for a fifth term as Douglas County sheriff in 1994.
Roth and his wife, Carol, took over an apartment complex for low-income seniors, finding great satisfaction in advocating for their tenants.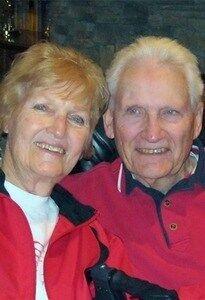 "They gave a lot of assistance to the people there, doing things like Dad helping them with things like their tax returns and never charging any money," their eldest son, Dr. Robert Roth of Lincoln, said Thursday. "My parents were very hands-on, and they were on call 24 hours a day, every day. A lot of people relied on them, and they did a lot for (the tenants) behind the scenes."
Richard, 93, died Jan. 19 and Carol, 92, died a day later while both were in hospice care at the Gallatin, Tennessee, home of another son, Richard "Dan" Roth.
The Roths were natives of St. Louis and attended Washington University there. They married in June 1948 and raised three children.
"My parents always felt fortunate to have each other, and they took good care of each other," said daughter Peggy McCune of Omaha. "They were kind. They were generous and they were compassionate. Watching them, we learned to be a good person."
Richard Roth pursued a life in law enforcement starting in the U.S. Army as a military policeman. He later joined the U.S. Secret Service, working in President Dwight Eisenhower's security detail for four years.
Roth went on to become agent in charge of several Secret Service offices, with the last stop in Omaha. In 1971, when their children were grown, the Roths moved to Washington, D.C., where he was the agent in charge of the Secret Service Foreign Protection Detail that provides security for visiting heads of state.
He was responsible for the security for many heads of state, including Golda Meir of Israel, Willy Brandt of Germany, Kakuei Tanaka of Japan, King Faisal of Saudi Arabia and King Hussein of Jordan. Upon returning to Omaha, Roth served as the public safety director for the City of Omaha before being elected Douglas County sheriff in 1978.
Throughout her husband's duties and travel, Carol took care of the home, Robert Roth said. The two enjoyed sports, he said.
"Our parents were avid tennis players and well-known in the tennis community," he said, noting that they won several Senior Olympic national age group titles in mixed doubles. "They also enjoyed skiing. Mom was an excellent athlete in her own right and was active in golf, with two holes in one."
In addition to their children, the Roths are survived by nine grandchildren and 21 great-grandchildren.