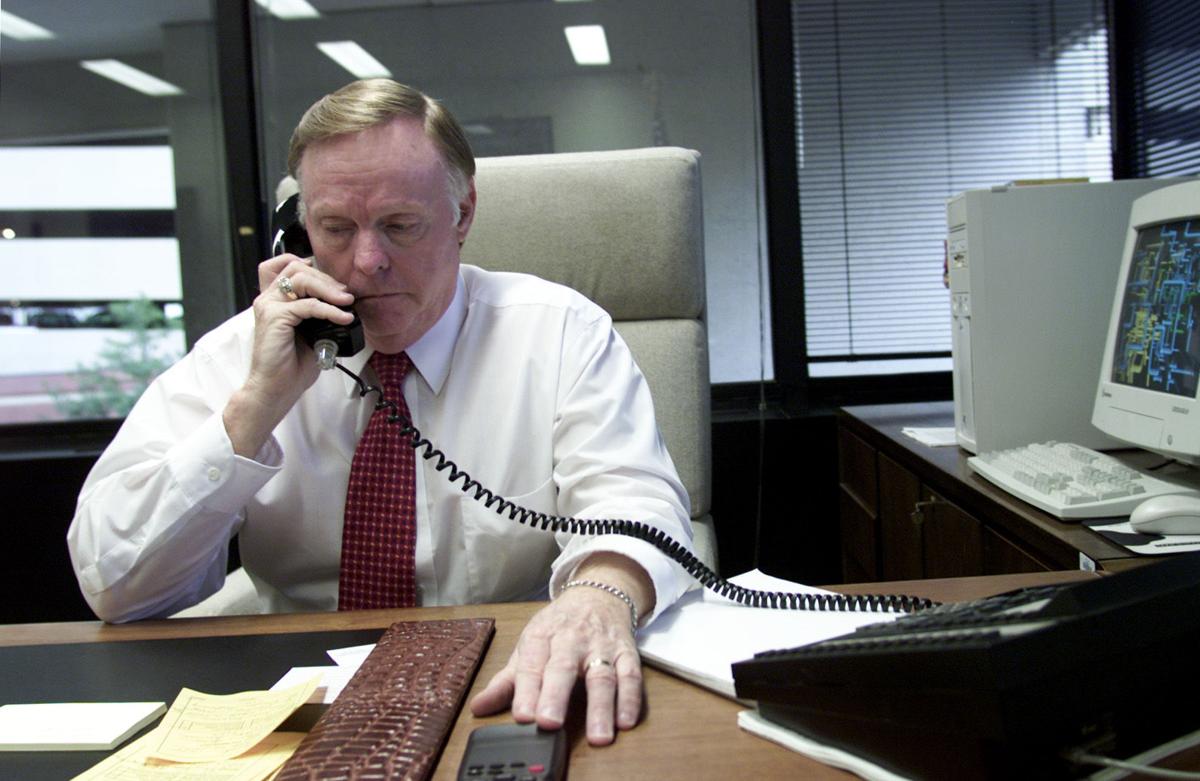 Nebraska Republicans have lost a longtime party leader whose reign ended a golden era for Nebraska Democrats by helping GOP candidates reclaim two of the state's top offices.
Chuck Sigerson, 75, died Sunday after a decade of complications from the heart attack and stroke that forced him out of his seat on the Omaha City Council in 2010.
Sigerson led the Nebraska Republican Party from 1995 until 2001, a period of red resurgence that saw Chuck Hagel elected in 1996 to replace Democrat Jim Exon as U.S. senator and Mike Johanns elected in 1998 to replace Democrat Ben Nelson as governor.
It may seem foreign now, because Republicans hold every federal office in Nebraska. But Democrats in 1995 held the Governor's Mansion and both of Nebraska's Senate seats.
State GOP Chairman Dan Welch said Sigerson's work "changed the course of our community, state and nation for the better."
In 2001, Sigerson brought his colorful, combative brand of politics to the Omaha City Council. Even Democrats who competed against him respected his ability to start fights and win them, said Paul Landow, a political science professor at the University of Nebraska at Omaha who was chief of staff for Omaha Mayor Mike Fahey, a Democrat.
"Beneath the gruff partisan exterior, Chuck was a really good guy with a deep concern for our community," Landow said. "He put the good of the city first."
Sigerson was one of two local officials named in a much publicized incident at Red Robin in 2003. A young woman wearing the restaurant's mascot suit accused Sigerson and another politician of behaving inappropriately. She alleged that Sigerson flipped her skirt, which he denied. A jury deadlocked on a disturbing the peace charge filed against Sigerson, and prosecutors did not refile it.
But those who remembered Sigerson fondly, including former City Councilman Jim Vokal, said they will never forget the passion and smarts he brought to politics.
Vokal, who calls Sigerson his mentor, said he treasured his weekly lunches with him. Chuck would share the latest scuttlebutt and offer friendly advice with an infectious laugh.
Family members, in a statement from his son Andrew Sigerson, said four things motivated Chuck: love of family, love of Omaha, love of Nebraska and love of country. Sigerson also is survived by his wife, Elizabeth, and daughter, Anthea Swanson.
Visitation will be Thursday from 5 p.m. to 8 p.m. at Christ Community Church, 404 S. 108th Ave. A celebration of life will be at 10:30 a.m. Friday at the church. He will be buried at Omaha National Cemetery.
Councilwoman Aimee Melton, the Republican who holds Sigerson's old seat in northwest Omaha today, still remembers the weight his endorsement carried in her race.
She said it helped her win.
"He was beloved in his district because he truly cared about the people he served," she said. "My heart breaks for Liz and the family, but I know Chuck's memory will live on."
World-Herald staff writer Nancy Gaarder contributed to this report.
Notable Nebraska, Iowa deaths of 2020
A roll call of notable people who have died in 2020: