Gerardo "Gerry" Machado was a teacher, war survivor, avid golfer, a relative of a Cuban president and an overcomer of great odds.
To Jose Machado and his three siblings, Gerardo was a father.
"I looked at him as just my dad, but some of the things that he's done and accomplished were amazing," Jose said. "It was an extraordinary life."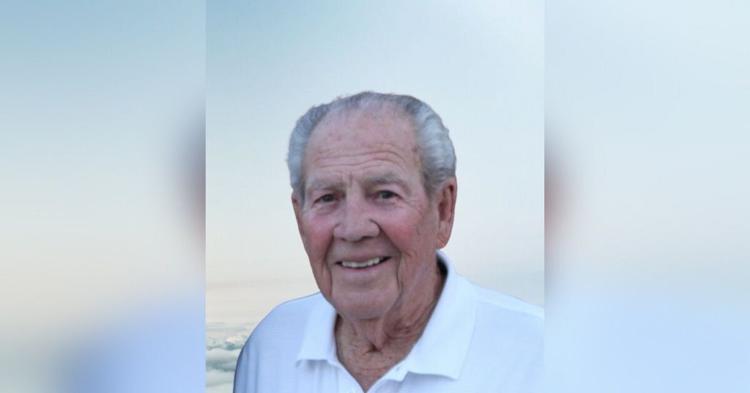 Gerardo died July 14 surrounded by his family. He was 88.
The Omaha man's life is a storied one, and it began in Havana in 1931.
Gerardo, who was named after his great-uncle Gerardo Machado, the fifth president of Cuba, graduated from a Catholic high school.
At 18, he played basketball for the Cuban national team.
On a trip to a tournament in Mexico City, he met his wife, Graciela "Gracie" Maria del Carmen Leon Barcenas.
The couple were married in Mexico City on Aug. 5, 1954, and began their married life in Havana.
Gerardo spent three years in medical school at the University of Havana before enrolling at the military college in Managua with dreams of becoming a military pilot.
He finished at the top of his class and was awarded multiple titles, including Captain of the Cadets.
He was soon sent into the Sierra Maestra Mountains by U.S.-backed military dictator Fulgencio Batista.
He was to help track down a political upstart who had begun a communist revolution, Fidel Castro.
For 22 months, Gerardo fought in the mountains. Frustrated by the current government, Gerardo and a group of officers plotted to overthrow Batista. When one of the officers was captured and confessed the plan, Gerardo and the other leaders were jailed on Nov. 27, 1958.
Gerardo and his co-conspirators were tortured in the Servicio de Inteligencia Militar until Dec. 31, when Batista fled Cuba and all political prisoners were released. Gerardo left Cuba, fleeing to Mexico, where his wife and two children would later meet him.
In 2016, after news of Castro's death reached Gerardo in Omaha, he told The World-Herald: "The devil is gone."
"I almost wish he would have lived a little longer," Machado had said of Castro, "because maybe then he could have done something good. He died for nothing. He lived only for communism."
The family lived in Mexico for a short time, then came to the U.S., arriving in Miami on Nov. 11, 1961. In Miami, it was difficult for Gerardo to find work to support his family.
After visiting the refugee center, Gracie and Gerardo decided to relocate to Omaha.
In Omaha, the Machado family was helped by a group of families from St. Thomas More Catholic Church. Gerardo worked multiple jobs before graduating from the University of Nebraska with a Bachelor of Science and a master's degree.
His first teaching job was as a professor at the University of Nebraska in Lincoln.
On Sept. 25, 1969, his 38th birthday, Gerardo became a U.S. citizen.
He then went to work for Creighton Prep, where he stayed for more than 30 years.
"He loved to teach," Jose Machado said. "He always wanted to communicate to people and young kids about what he's learned and what he knew about his country."
After his retirement from Creighton Prep, Gerardo taught Spanish at the University of Nebraska at Omaha.
Jose said his father was once quoted as saying, "I always told the students that Spanish can be forgotten without practice, but they should remember the values that I taught them throughout their lifetime."
In 1983, Gerardo was awarded Outstanding Teacher of the Year at Creighton Prep, and in 1997, he was a Loyola Honoree and was inducted into Creighton Prep's Hall of Fame.
In 2007, he received the Excellence in Teaching Award in the College of Arts and Sciences at UNO.
Gerardo is survived by his children, Gerardo "Tito" Machado, Jose "Tata" Machado, Robert "Tico" Machado and Graciela "Tita" Pascoe; son-in-law Bryant Pascoe; daughters-in-law Kristie J. Machado, Jane D. Machado and Gina D. Machado; 10 grandchildren; and 10 great-grandchildren.
"He learned a lot about adversity and how to keep moving forward," Jose said. "That's something he always told his kids, he would say, 'You know you'll get knocked down in life, but you have to pick yourself off the floor and keep moving forward.' "
In lieu of flowers, the family requests that memorials be directed to Creighton Prep.
Visitation with the family will be from 6 to 8 p.m. Aug. 21 at John A. Gentleman Pacific Street Chapel at 14151 Pacific St.
A funeral Mass will be at 10:30 a.m. Aug. 22 at St. Robert Bellarmine Catholic Church at 11802 Pacific St.
Notable Nebraska, Iowa deaths of 2020
A roll call of notable people who have died in 2020:
Omaha World-Herald: Afternoon Update
The latest headlines sent at 4:45 p.m. daily.