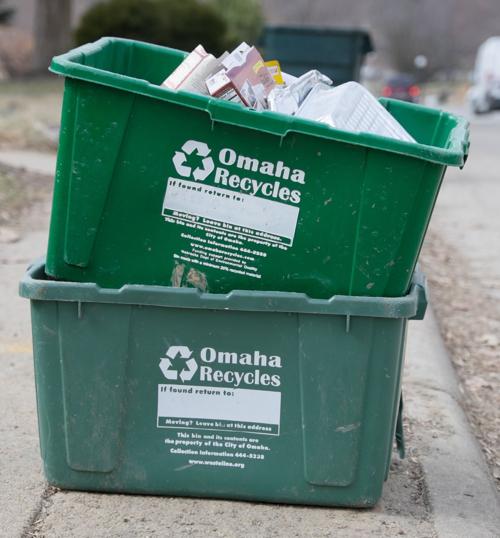 Julien Wulfgar has no intention of turning in her green recycling bins when the City of Omaha switches to new garbage containers on Nov. 30.
In fact, she'd like more. They're handy for gardening, storage and just about anything else she can dream up.
"I think they are really versatile," she said. "You can store supplies in them. We use them as planters and to haul things. You can put them in the back of your car and use them for groceries. They are easy to carry back and forth."
That's what Jim Theiler, the City of Omaha Public Works assistant director, likes to hear.
The city will recycle the green bins if they are put in the new and bigger recycling carts. Or they can be brought to the FCC Environmental facility, 5902 N. 16th St., starting at 8 a.m. on Nov. 30.
But he'd rather see the bins get new life. It saves money on recycling and is better for the environment.
"We think that's the best use — if people keep them and reuse them," he said.
He even has an idea for filling a bin with glass containers for transport to a drop-off recycling site. That's what Lenli Corbett already does for her Dundee neighborhood.
Veronica Rosman plans to put hers on her back deck for recyclables and when it's full transfer everything into the much bigger bin furnished by the city. The same could be done for orange bag recyclables.
"I am actually looking forward to recycling more stuff," Rosman said.
Wulfgar used green bins to haul mulch into her midtown backyard this summer. You could even add wheels, she says, to turn a bin into a wagon for easier hauling.
She's gotten extra bins from her parents and used them as flower containers. She also started a worm farm in another after covering the holes with cardboard.
"I think they are really hardy and really useful," she said. "There are tons and tons of options that don't need a lid."
Leigh Neary said someone dumped some green bins behind her Dundee store, Exist Green, so she turned them into growing containers.
Although her tomatoes didn't get as big as those planted in the ground, she said the bins worked great for things like kale, peppers and herbs.
"I'm probably using a couple of them in my attic as storage bins," she said. "You could use them to store sports gear and other items instead of buying new plastic storage bins."
You might fill a bin with ice to keep drinks cold when parties return, or use a bin as a toy box (think of all the Legos it could hold!), or storage for fabric if you sew, or woodworking or art tools. One family uses theirs to transport firewood when they go camping.
Brett and Sheena Helgenberger plan to use their bin for some fun indoor snow play with their toddlers.
"We will clean the bin and then on a snow day, fill it halfway with snow so the kids can play with it, just like you might with sand or water," she said. "It lasts for an hour of play, which is usually all the kids need before they move on to something else."
---
Our best staff images from November 2020