If tussling, tail-wagging and derrière circling is any indication, Omaha's latest dog park will be a sensation.
A couple dozen dogs romped about the $400,000 park in midtown Omaha at Monday afternoon's grand opening. As their owners stuffed hands in pockets and braced themselves against the cold, the dogs were oblivious to the single-digit wind chills.
The park, about one-third of an acre, is notable for its amenities, said Omaha Parks Director Brook Bench. Like other dog parks, it has fenced-off sections for large and small dogs, but it also has a small agility course, running water and a splash pad (for use in warmer weather), chairs, benches, canopies and a self-cleaning synthetic turf. An on-site community center is being renovated to serve as a focal point for activities that bring Omaha's dog community together.
The dog park is at Dewey Park, 550 Turner Blvd. It will be open from 5 a.m. to 11 p.m. Dewey Park also has tennis courts, a basketball court, horseshoe pits and a handball court.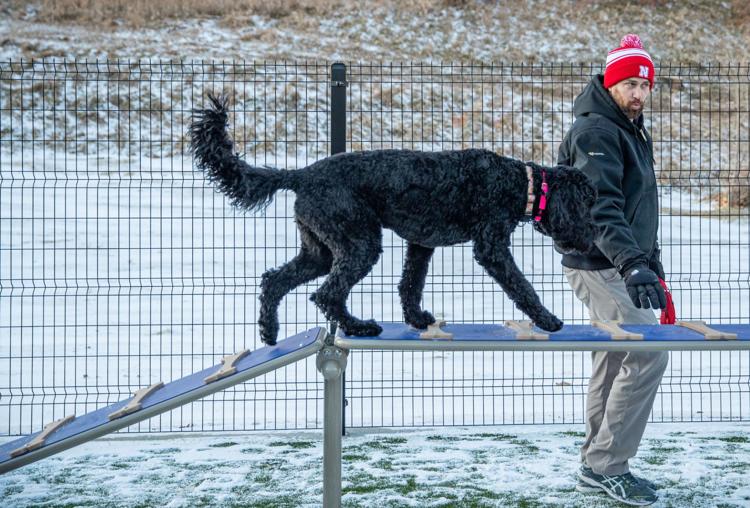 Bench said this is one of several dog parks that are opening in the Omaha metro area. Soon to come will be one at Miller Park in north Omaha and another at the renovated Gene Leahy Mall downtown. There are already dog parks at Hanscom and Hefflinger Parks. Next up will be finding a site for a dog park in southwest Omaha, Bench said, possibly in the Walnut Grove area.
Roo and Avon, two Labrador mixes, will be using the Dewey dog park to work off energy — and a little extra weight — according to their owner. The two dogs weigh about 85 pounds to 100 pounds apiece, and "their vet isn't too happy about that," said their owner, Kate.
Another dog owner, Seth Stewart, said his dog, Poppy, will enjoy visiting this park in addition to the one at Hanscom Park. Stewart said he and Poppy have been monitoring work on the park during their walks through the neighborhood.
Beth Smith said she's looking forward to more opportunities for her dog, Domino, to socialize with others.
"They are ready to play," she said, as she watched other dogs pivot around owners. "This will be good for dogs and people. We live in midtown, and we're excited to have a fenced-in park."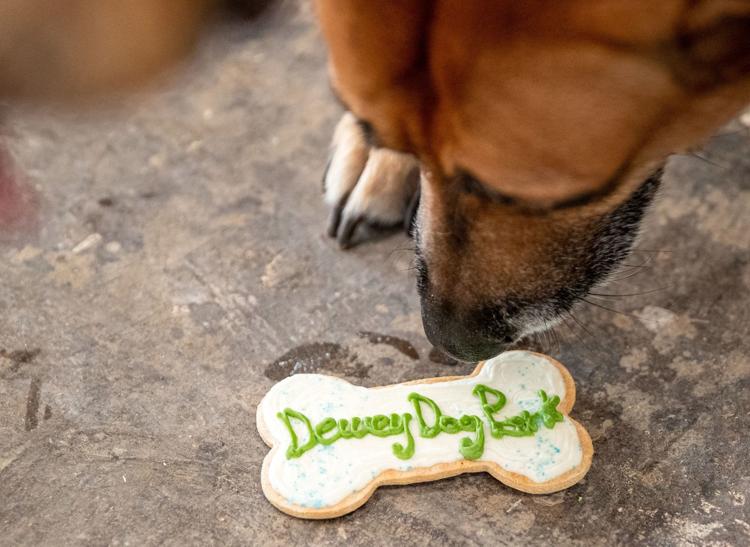 Many of those gathered at the park Monday afternoon were in the demographic that donor Cella Quinn had in mind when she contributed to the dog park: millennials.
Millennials now surpass baby boomers in pet ownership, various surveys show, and they are intently focused on their pets as family members. The new dog park is in an area of town with numerous apartments, and midtown is noted for its growing population of young people.
"There is a big need for this," Quinn said. "We want to attract people to Omaha and convince them to stay. What better advantage than to give them a dog park?"
---
Meet the 10 (very good) dogs who have been at the Nebraska Humane Society the longest
Meet the 10 (very good) dogs who have been at the Nebraska Humane Society the longest
These are the very good dogs who have been at the Nebraska Humane Society the longest. All are up for adoption as of Aug. 3. For more information on the adoption process and to see all dogs available for adoption, visit nehumanesociety.org/adopt. 
All adoptions are being done via appointment only. The application can be found inside each animal's bio on the Humane Society's website.