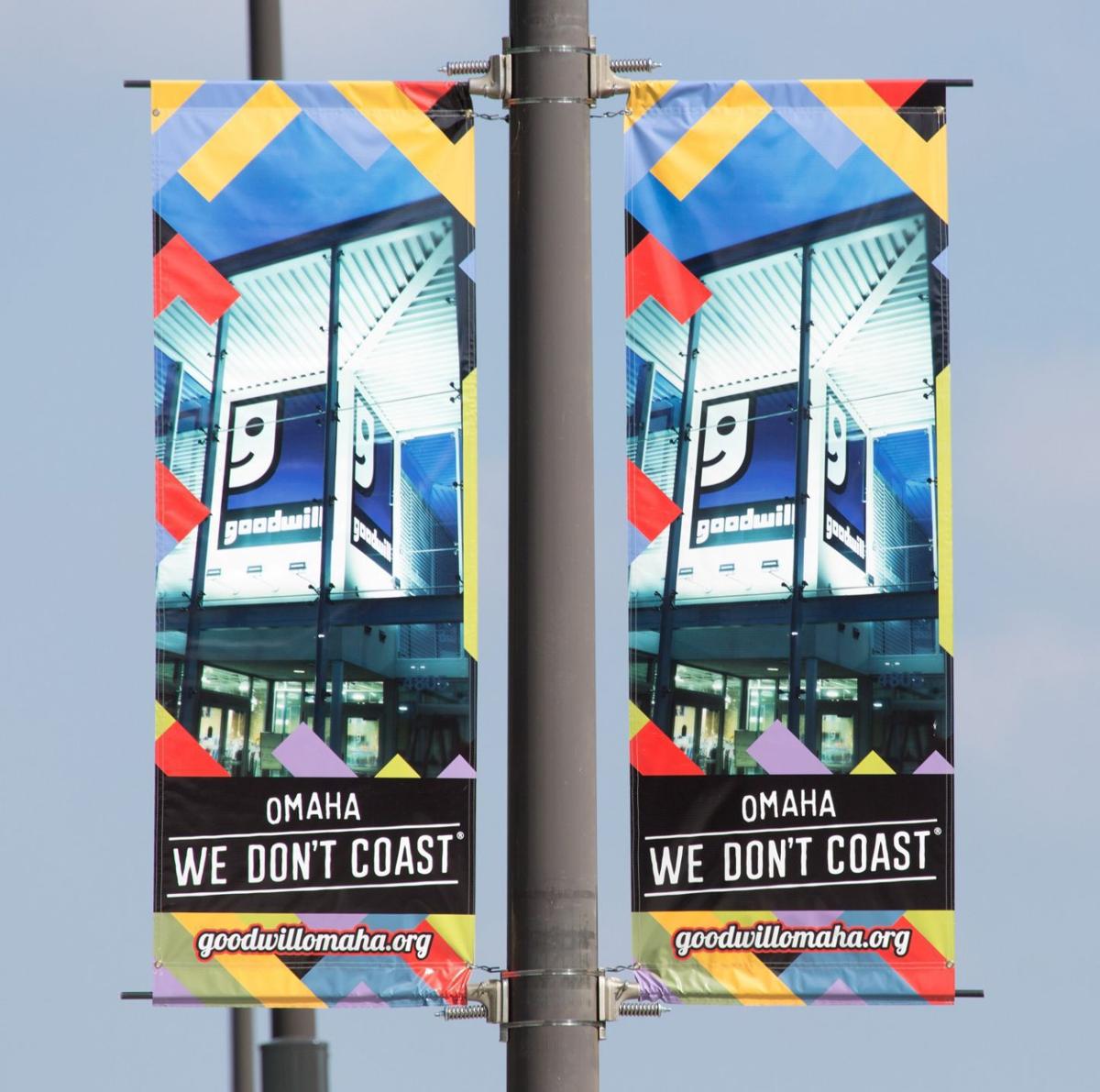 Goodwill Omaha's new CEO says he will have zero tolerance for unethical behavior as he works to rebuild a nonprofit that lost community trust amid a controversy over executive pay.
In his first six months at the helm, Michael McGinnis has told employees: Don't do or say anything that brings discredit to Goodwill. He said he has worked to bring accountability and transparency to the organization, to improve morale among employees and to restore the public's trust.
McGinnis, a retired Army brigadier general, was hired to lead the charity in the wake of a fall 2016 World-Herald investigation that exposed corporate-style executive pay and a profit-driven internal culture at Goodwill Omaha. The newspaper found that most of the organization's thrift-store profits were going to administrative overhead, not the nonprofit's mission of helping the disabled and those with barriers to employment.
Donations to Goodwill Omaha plummeted after the articles. Total donations in 2017 were down 4 percent from 2016. But the first quarter of 2018 shows they are starting to recover — up about 4 percent from this time last year.
In the year and a half since the newspaper's series, Goodwill Omaha has:
» Reduced its number of executives from 19 to nine.
» Reduced the number of employees paid more than $100,000 from 14 to three.
» Cut the top executive's base pay nearly in half and instituted a new rule that all compensation decisions, as well as expense reimbursements, must be approved by the charity's full board of trustees.
» Ended the controversial practice of paying some disabled workers less than minimum wage.
» Underwent an internal ethics review and hired an outside consultant to make recommendations.
» Revised its code of ethics and adopted the Nonprofit Association of the Midlands' guidelines and principles for nonprofit management.
The Nonprofit Association of the Midlands has named Goodwill Omaha a "Best Practice Partner" for the changes it has made across a dozen areas of nonprofit management.
Adhering to the association's guidelines and principles "illustrates a commitment to transparency and nonprofit best practices," said Anne Hindery, the association's CEO.
Policy changes also were made based on recommendations from a Washington, D.C.-based consulting firm's top-to-bottom assessment.
Also helping are the "new eyes and ears" in the organization's leadership, McGinnis said.
With all executive positions now filled, McGinnis said Goodwill Omaha is focused on reaching more people who could benefit from its programs in Nebraska and Iowa.
"We feel like we have a ways to go, but we are on the right path," said McGinnis, who formerly served as chief executive of the Strategic Air Command & Aerospace Museum.
McGinnis' 2018 base salary is $230,000. He also receives a $200 monthly allowance to travel to local stores and program sites.
Former CEO Frank McGree, who resigned in the wake of the newspaper's investigative series, was paid far more — a pay package exceeding $400,000 annually. That was more than double the average for CEOs at other Omaha social service nonprofits. A $519,000 payment in 2014, part of a retirement package and retention agreement signed two decades earlier, brought McGree's compensation that year to nearly $1 million.
Goodwill Omaha finished 2017 more than $400,000 in the red, due, in large part, to nearly $1.3 million it paid in professional fees that year. Those included legal fees, financial audits, ethics assessments, payments to the search firm hired to find a CEO and external public relations fees.
This year's board-approved budget cut more than $750,000 in expenses and budgeted conservatively for anticipated income, McGinnis said.
Bonuses will not be awarded unless the organization is "in the black," he said.
Last spring, Goodwill hired Quantum Governance, a Washington, D.C.-based consulting company, to conduct a top-to-bottom assessment of the organization. McGinnis said the consultants were paid more than $100,000.
Goodwill Omaha is not planning to publicly share the assessment's findings, citing "personnel and sensitive matters."
The charity recently has revised its code of ethics, strengthening its nepotism policy and asking employees to report any waste, fraud, abuse or violations of the code. Employees now can report complaints through an anonymous hotline, McGinnis said. All allegations are to be reviewed or investigated within a reasonable time frame, typically 10 days.
"It's about teaching (employees) how to live a principled life with integrity," he said, adding that there will be no tolerance for violations of the code of ethics.
As recommended in the nonprofit association's guidelines, Goodwill Omaha now has included on its website IRS Form 990s, annual reports, financial statements and the names of executives and board members.
The board of trustees has dwindled from 18 members in 2016 to just seven, including McGinnis. Scott Semrad, the board chairman, said he hopes to slowly build the board back up to 12 to 15 members.
Meanwhile, he said, current members continue to focus on recommendations made in the assessment, such as employee engagement, transparency and focusing on strengthening Goodwill's programs.
Those themes are at the core of what McGinnis identified as the strategic plan for the next few years.
"It's simple, but it focuses all of our energy," he said.
Expanding mission programs would include offering more positions through the Work Experience program, which helps high school special education students gain job skills by working within the Goodwill organization. Those students currently learn custodial, retail and customer service skills, but McGinnis hopes to soon offer other experiences such as landscaping or electronic repair.
Goodwill Omaha also hopes to extend case management and referral services to its own employees through the Employment Ready program. The program provides one-on-one job-readiness services to unemployed and underemployed people in Omaha, Council Bluffs and Fremont.
McGinnis said he also wants to develop more programming in Iowa and rural Nebraska. That could include creating temporary retail stores and partnering with local school districts to offer the Work Experience program in small towns.
"There's just as much need there as there is here (in Omaha)," he said.
The organization knows that rebuilding community trust takes time, Semrad said, as will expanding the nonprofit's reach.
"We are trying to move on and learn from the past," he said. "We are working to make amends and improve for the future."