Omaha native Symone Sanders this past week wrapped up her time as a senior adviser and spokeswoman for Vice President Kamala Harris and walked away from what she calls "the best job in government" and "the honor of a lifetime."
Sanders, 32, grew up in North Omaha and graduated from Mercy High School and Creighton University. She has since risen rapidly through the political ranks.
She was Bernie Sanders' press secretary during his 2016 presidential campaign and a senior adviser to President Joe Biden's successful 2020 campaign before assuming her most recent role in the White House.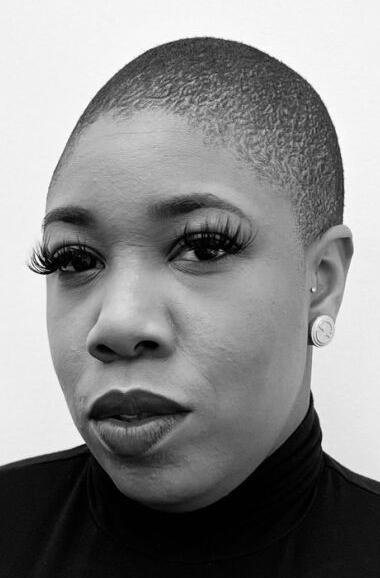 In an interview Wednesday, Sanders talked about her experience working with the first woman and first woman of color to serve as vice president of the United States, "witnessing history" each day. Before joining the Biden administration, Sanders said she often talked about being authentic, speaking up and speaking truth to power.
"I had never been in a professional scenario where I actually got to witness that every single day: A woman that looks like me, doing that, every single day in a position of power," she said.
Watching it, she said, was "transformative not just for the people in her office or the people that work at the White House. That's transformative for our country."
She pointed out the administration's accomplishments. She also acknowledged that the administration still has plenty of work to do. They've made gains on coronavirus testing, she said, but there's more to be done. The bipartisan infrastructure deal passed, and now they're pushing for the broader social safety net bill, the Build Back Better Act.
"This administration has a positive story to tell, and I think those are the kinds of things you will hear from the president and vice president as they head into Quarter Two of their administration at the top of next year," she said.
Recent national news reports, though, have often pointed to dysfunction and infighting in the vice president's office.
A story published by the news outlet The Hill attributed two unidentified sources with saying "a number of Democrats" had come to believe that Sanders "was the voice in numerous blind quotes in news reports about friction in the office." Sanders had no interest in talking about that — she hadn't read the story, she said, and wasn't going to comment on "salacious gossip (expletive)."
Asked about the reports of dysfunction more broadly, Sanders said she thinks she's been very clear about her experience, and that her thoughts on "people that like to complain to the papers" are also well-documented. She called it the "honor of her life" to serve Harris.
"She is someone who I watch every single day bring her full self to work," Sanders said. "I watch her challenge her teams, I watch her push us all to be better. I watch her raise issues and perspectives and topics and policy that other people — other folks just weren't thinking about."
The White House hosted the first-ever maternal health summit under Harris, she said. She reflected on traveling abroad and witnessing the vice president's phone calls and meetings with world leaders.
"World leaders know that when Vice President Kamala Harris speaks, she speaks for the president," Sanders said. "This has just been such a powerful and transformative experience."
A fellow staff member in the vice president's office, who asked not to be named, said Sanders brought an important perspective — as a younger person who grew up outside of Washington, D.C. — to the job and brought a variety of voices to the table. Omaha should be proud, the staff member said.
The pride goes both ways.
"I am a proud product of North Omaha, and I really think that the communities that we grow up in — they shape us, they mold us, and my community definitely did that for me," she said. "And North Omaha — Omaha — always has a special place in my heart."
Sanders got her start in politics at home, as an intern for Omaha Mayor Jim Suttle. She also volunteered to help Suttle's successful effort to defeat a recall campaign.
"That experience in local politics is what galvanized me to, frankly, where I am right now," she said.
She went on to work for a firm hired by the Suttle campaign to organize North and South Omaha in that effort, she said, and later as deputy communications director for Democrat Chuck Hassebrook's 2014 gubernatorial campaign.
Hassebrook, a former University of Nebraska regent, said last week that he was impressed by Sanders' work back then. He knew she was destined for great things.
"She was just a take-charge person, she was direct in a very good way, she was confident in a good way, and I just thought a lot of her," he said.
Three years into a fast-paced lifestyle filled with "hopping on and off planes," briefings and interviews, Sanders said it was time for her to leave the role. She said she'd be turning in all her devices Friday morning, marking the official close of her time in the White House.
Before her job under Harris, observers had considered Sanders a top candidate to be press secretary for Biden. But she said she's not eyeing a job in government as her next step.
She has no new job to announce just yet, but whatever it is, she said, will allow her to plan her wedding that's slated for August — and she's looking forward to things like happy hour, brunch and spending time with people.
"At this moment in time, I feel so honored to have served President Biden and Vice President Harris, and I'm going to continue to be a reliable voice for this White House on the outside, regardless of whatever I do next," she said. "But, at this time, you know, I just think it's my time."
---