Democratic presidential nominee Joe Biden and his running mate, Sen. Kamala Harris, sent their spouses to suburban Sarpy County on Saturday. Nebraska Democratic Party officials say the setting was no accident.
The Papillion neighborhood that Jill Biden and Doug Emhoff visited straddles Nebraska's 1st and 2nd Congressional Districts.
Location matters because Nebraska doles out a single Electoral College vote to the winner of the popular vote in each of its three congressional districts.
State Democratic Party Chair Jane Kleeb has argued that Biden and Harris could win in both the 1st and 2nd Districts. The Nebraska Republican Party has described her idea as wishful thinking.
Theresa Thibodeau, chairwoman of the Douglas County Republican Party, said the difference in energy for President Donald Trump and Biden is as clear as the number of people attending events.
Biden campaign officials said they have been more responsible than Trump, limiting crowds and requiring social distancing and masks, as they did on Saturday.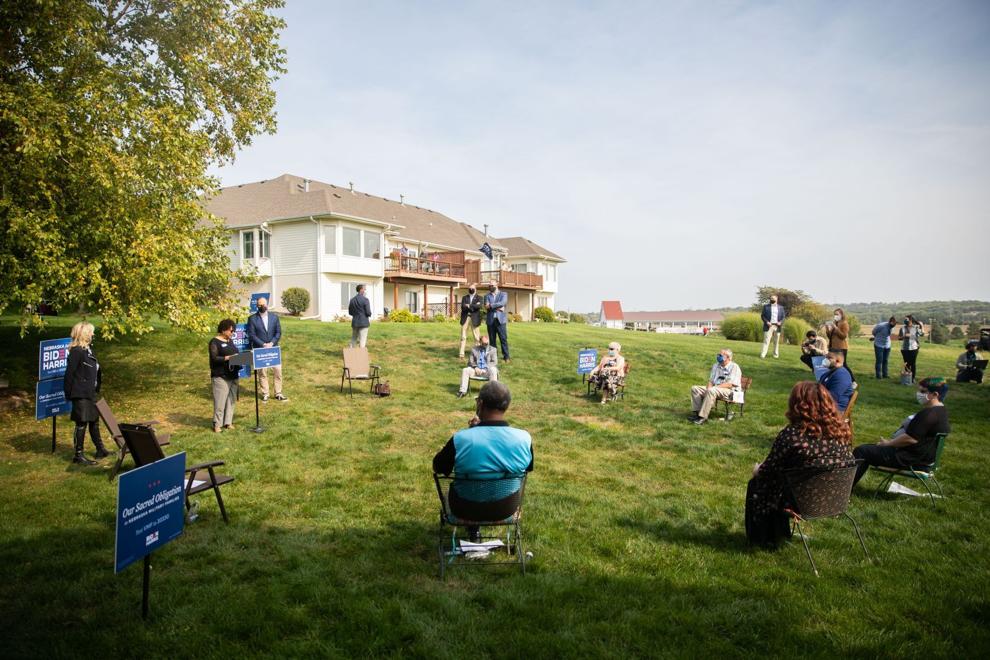 Two competitive races might be possible, based on attention from both presidential campaigns and recent polling.
A mid-September poll found Biden leading Trump in the 2nd District, which comprises all of Douglas County and the western half of Sarpy County.
A Democratic poll this summer found Biden within single digits of Trump in the 1st District, which covers much of eastern Nebraska, including eastern Sarpy County and Offutt Air Force Base.
Polling is a big reason why Charlene Ligon, chairwoman of the Sarpy County Democratic Party and an Air Force retiree, told Biden and Emhoff on Saturday that the race could swing their way.
"They have a really good chance in the 2nd District, and if they don't get the 1st District this time, they'll be close enough to have a chance next time," Ligon said after the event.
Ligon was one of eight military veterans and active-duty military spouses who participated in the Biden campaign's midmorning military listening session.
Jill Biden, addressing the group, said she knows what it's like to send a son abroad. Her son Beau was deployed to Iraq with the National Guard in 2008. He died of brain cancer in 2015.
Emhoff, while introducing Biden, said care for military families is why Joe Biden carries an updated number of service members who have died in his pocket.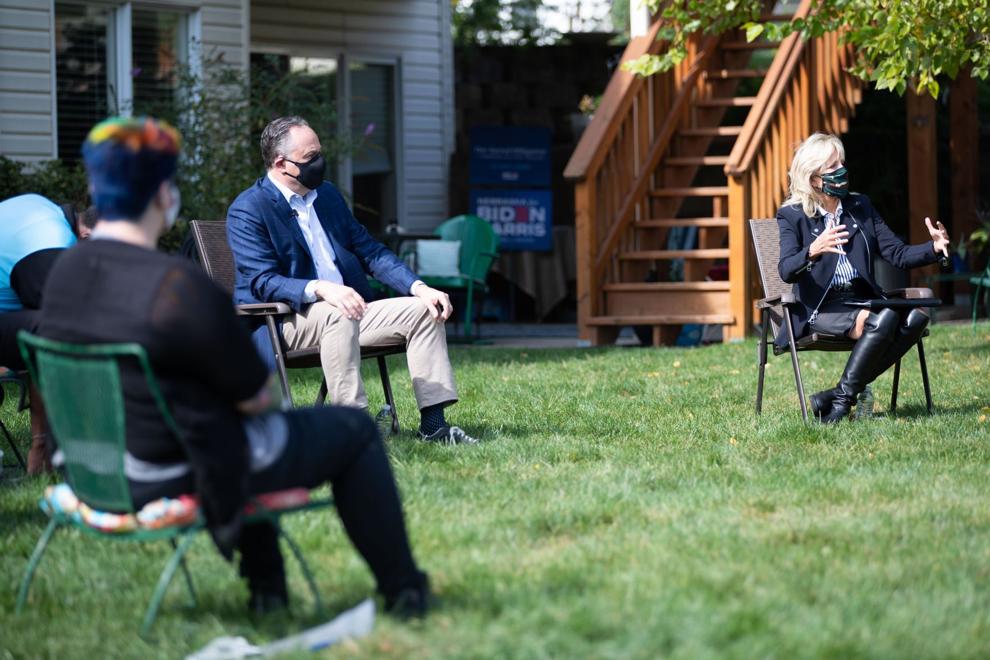 Participants shared concerns about military health care, housing and working while spouses are deployed during a pandemic.
Jill Biden stressed the need to improve mental health care for troops re-acclimating to civilian life, an issue vital to Erik Servellon, a candidate for the Omaha Public Schools board who attended Saturday's event.
Servellon deployed to Afghanistan with the Nebraska National Guard. His wife, Samantha, was in her first year as a teacher. She told the group that it was difficult for her to understand what Erik had been through, calling it "a hard year."
Active-duty military spouse Kaycee Greninger, whose husband works at Offutt, said she felt the need to share the opinions she hears from military spouses and families.
One of her concerns was a weeks-long wait for a well-baby check. Another was poor maintenance of military housing that she says gets worse when spouses are deployed.
"I feel reassured that we are heard," she said after the event.
Neighbor Bob Hovey watched the Biden event from his back porch, where he flew a Trump flag. He said he appreciates his neighbors' freedom to host the event but said he disagrees with their presidential choice.
Hovey said he's excited about Trump's decision to go ahead and nominate a Supreme Court justice to replace the late Ruth Bader Ginsburg.
Hovey said that he sometimes disagrees with the way Trump talks and what he says but that he likes "the fact that he says he's going to do something, and he seems to get it done."
Attendees told Biden that her husband and the country could do better than Trump.
A trio of Trump surrogates have visited the area in recent weeks, including second lady Karen Pence. Lara Trump also came, and Donald Trump Jr. is scheduled for his second visit in two weeks on Monday.
Most, like Biden and Emhoff, headed to neighboring Iowa after their visits. Iowa is a right-leaning swing state that many experts expect to back Trump.
Preya Samsundar of the Republican National Committee and the Trump campaign said a single spousal visit wouldn't overcome weeks of the Biden campaign "ignoring the nation's heartland."
The Biden campaign has largely held its campaign events virtually until recent weeks, including several digital visits with Nebraskans and Iowans.
The election is on Nov. 3. Nebraska election officials begin sending out mail-in ballots on Monday.
---
Nebraska's members of Congress