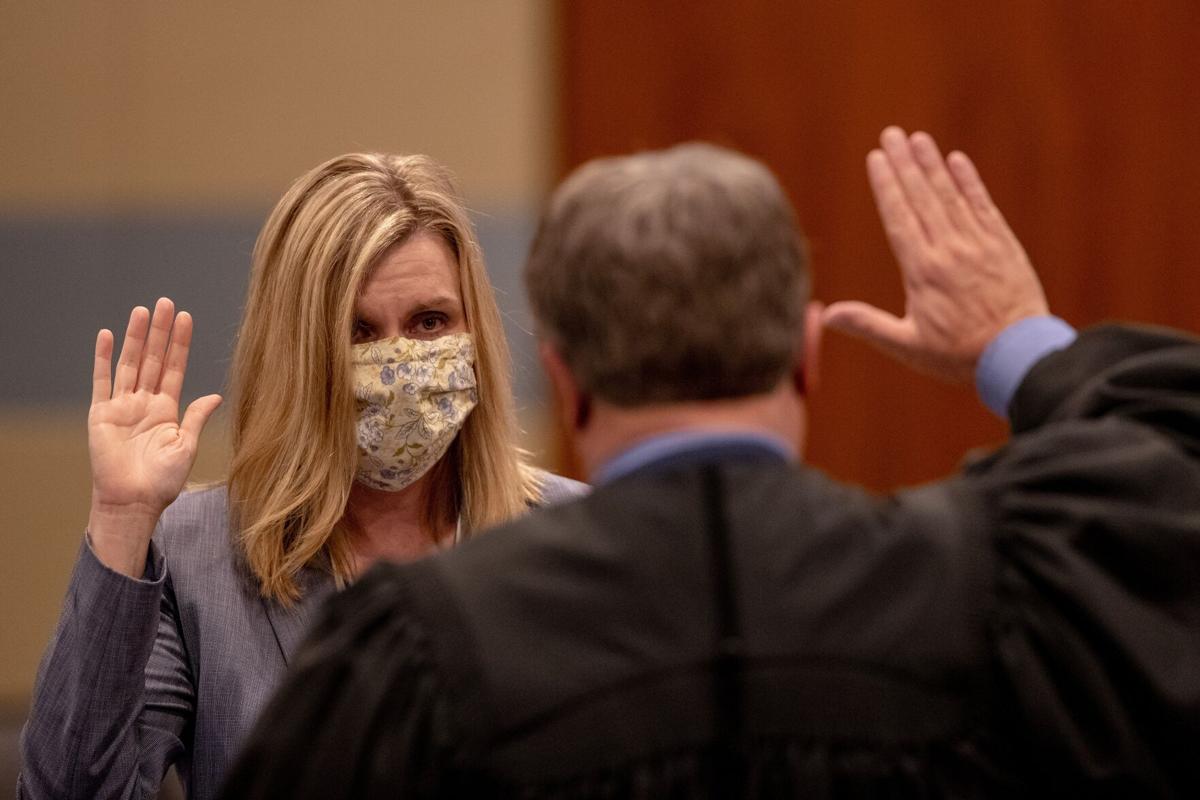 Omaha's newest City Council member was sworn in Tuesday without a hitch, capping a three-week period of community debate over her writings on race, the coronavirus and politics.
Councilwoman Colleen Brennan, who now represents southwest Omaha's District 5, was sworn in at the council's regular Tuesday meeting by Douglas County Judge Thomas Harmon. Shortly after the ceremony, Brennan, a Democrat, said she was honored to serve and looked forward "to working with everybody and solving any problems that come along."
Brennan, an account manager for an insurance marketing company, was selected from among 17 applicants by a majority of the council last month to serve out the remaining term of Rich Pahls, who resigned to join the Nebraska Legislature this month.
She will serve until June 6, when the terms of all seven council members end. Voters this spring will choose Omaha's mayor and council members for the next four years. Brennan plans to run for the seat she now holds, as do at least seven other people.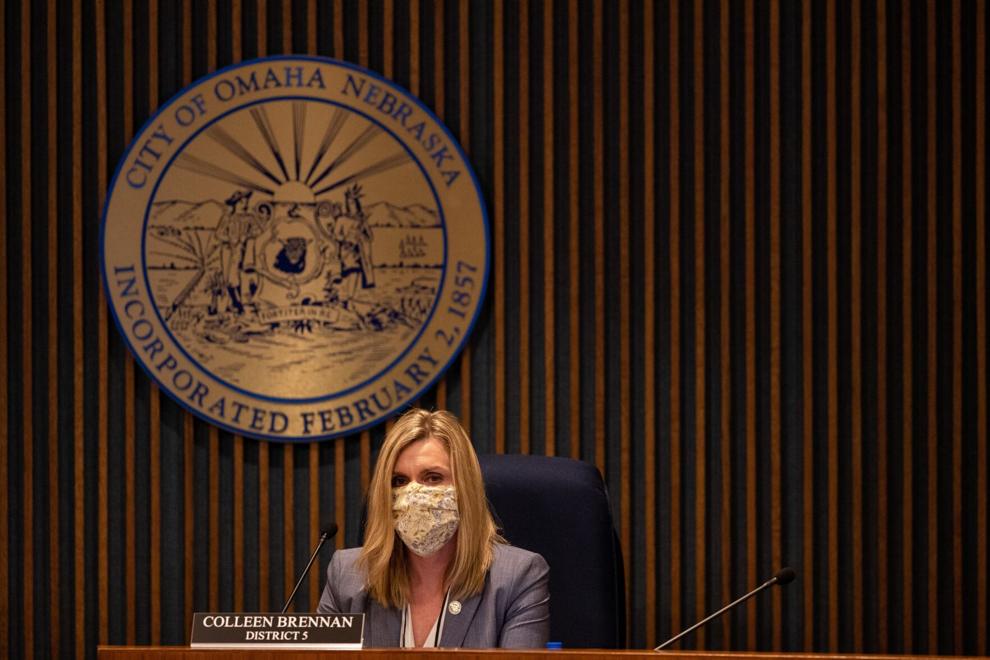 Speaking to local media after the meeting, Brennan said her path to the council was an "uphill battle." After she was selected last month, some people expressed anger or hurt over some of her blog posts, including one from June titled "The Conversation on Race."
In the post, Brennan wrote that White and Black people both need to have their views heard to achieve productive conversations on race. The blog is partially constructed as a conversation between those sides and includes questions that Brennan said she hears from others.
"Those were not my opinions," Brennan said Tuesday. "I mean, if you read the (blog), and you read it in context, and you read it from beginning to end, what you will find is that I was simply presenting two different sides of issues — one representing people who are affected by institutional racism ... and then the others who maybe don't understand that so well."
"I'm not one of those others," she continued. "I get it. I'm just saying that there are people who have said things like that to me. These are not my thoughts and my feelings. I simply want to start a conversation so that we can solve problems and come together as a community regardless of our background."
Councilman Ben Gray has been one of Brennan's staunchest defenders since discussion of her blog posts first began.
"The blog (on race) was taken out of context," Gray said after Tuesday's meeting. "If I had looked at the blog (prior to Brennan's appointment), I still would have chose her."
Gray dismissed notions that the council didn't do its homework in selecting Brennan. He said he spoke with people he trusted who vouched for her, and was impressed by her experience working to pass a state law.
Gray, Pahls and Councilman Pete Fetsersen have said they were interested in adding a woman to the council.
"Once I was satisfied with the people that I had talked to — and I was satisfied with her résumé and the fact that she had done legislative work before — and she was a female — she kind of rose to the top for me," Gray said.
In 2014, Brennan helped successfully push for passage of a state law that requires insurance companies to cover intensive therapy for autistic children. One of her children, Matthew, was born with nonverbal autism and epilepsy and required such therapy.
But that therapy wasn't covered by insurance, so Brennan began talking with other parents of autistic children.
"We sat down and said, 'We've to change this,'" she said Tuesday.
Brennan was given the National Parent Advocate of the Year Award by Autism Speaks and has previously served as district advocacy chair for the group. Her son Matthew died in 2015.
Brennan's first meeting on the council was largely a quiet affair. She didn't speak on any agenda items and voted in lockstep with the other six members on most items.
In one split vote, Brennan voted with Gray and Festersen in an attempt to deny disbursement of a $10,000 federal award to eradicate and suppress marijuana, which is illegal in Nebraska.
Interim City Attorney Matt Kuhse told the council that the money would go toward rooting out people who are transporting large volumes of marijuana on the Interstate. But Gray said he was concerned that the money could hurt the community, especially "with the number of individuals of color who are languishing in jail" because of marijuana laws. Brennan called Gray's words "wise" and said she voted accordingly. The disbursement passed 4-3.
No members of the public attempted to address Brennan's swearing-in, which would not have been permitted under council rules.
"Right now my job is to learn how to do my job," Brennan said after the meeting. "Right now my job is to listen to my constituents, listen to what they have to say and represent them."
---
Our best Omaha staff photos of January 2021