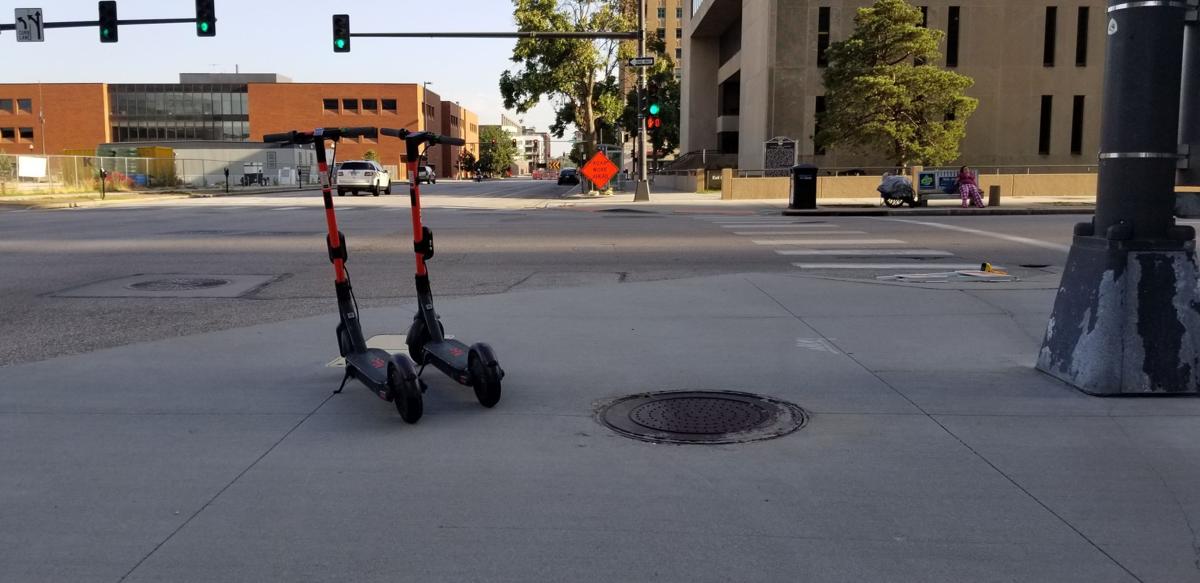 Electric scooter use fell sharply in Omaha this year as major events were canceled because of coronavirus concerns, reducing demand for rides.
But there's some interest on the City Council in giving the scooter pilot program another try in 2021, and the mayor might be open to the idea.
Councilman Chris Jerram, who represents parts of downtown and south-central Omaha, said COVID-19 prevented the city from gathering the data it needs to see how and whether scooters fit into the local transportation picture.
"Maybe they need another pilot year before we talk about how to regulate them," he said.
For the second year in a row, scooters were placed in east and central Omaha for people to rent using a private scooter company's smartphone app.
Jerram and City Councilman Pete Festersen, who represents Benson and parts of north-central Omaha, said they knew that the number of riders was down because so few complaints came in.
Riders took 36,283 trips on electric scooters from July 18 to Nov. 13, according to city figures.
That was down more than 82% from the 208,847 trips taken from May 15 to Nov. 15 in 2019.
In 2020, the average number of daily scooter rides was 304.
In 2019, the number was 1,129.
A big reason: the loss of large-scale public events, said Ken Smith, manager of the city's Parking and Mobility Division.
About 40,000 of the 2019 scooter rides occurred during the College World Series, which was canceled in 2020.
Concerts, too, were big drivers of scooter use in 2019, Smith said. Most were lost this year because of COVID-19 restrictions on public gatherings.
"Our visitors to Omaha were using those to get around town, versus jumping in a vehicle, taxi or rideshare service," Smith said. "This year's just an anomaly overall."
One bit of good news from 2020: City figures show that a core of local riders rode longer distances, likely as commuters, Smith said.
The city is compiling its 2020 scooter stats and adding surveys and other information to deliver an annual report to Mayor Jean Stothert and the City Council early next year.
Stothert said she plans to review that report before making any decisions about the city's next steps in evaluating a possible "long-term" scooter program.
"Like so many things, the pandemic may have impacted how people used scooters in 2020," she said.
Many downtown residents have sought tighter restrictions on where scooters can be parked to avoid blocking sidewalks and access to businesses, and tickets for riders who improperly ride on sidewalks instead of streets.
A number of scooter riders, many of them young, have said they like having the option of hopping on a scooter for short trips, from the Old Market to the CHI Health Center, for instance.
Jerram has said he would like to see the city require helmets for scooter riders. He and others on the council also questioned the wisdom of having Omaha police enforce scooter parking and ridership rules.
Police say they issued just two tickets to electric scooter riders in 2020, both in September.
Festersen said he wants to give the scooters another try in 2021.
Scooters "add an element of fun and spontaneity to the city," he said, and are an emerging "alternative mode of transportation."
He said he would like to see the pilot reach more parts of the city, including North and South Omaha. Smith said he, too, wants more hubs, including along North 24th Street. More were planned this year, before the pandemic.
"I don't think this would be a real accurate way of assessing it just yet," Festersen said. "I would support another pilot program to figure out how our regulatory structure is working."
---
Our best staff images from December 2020