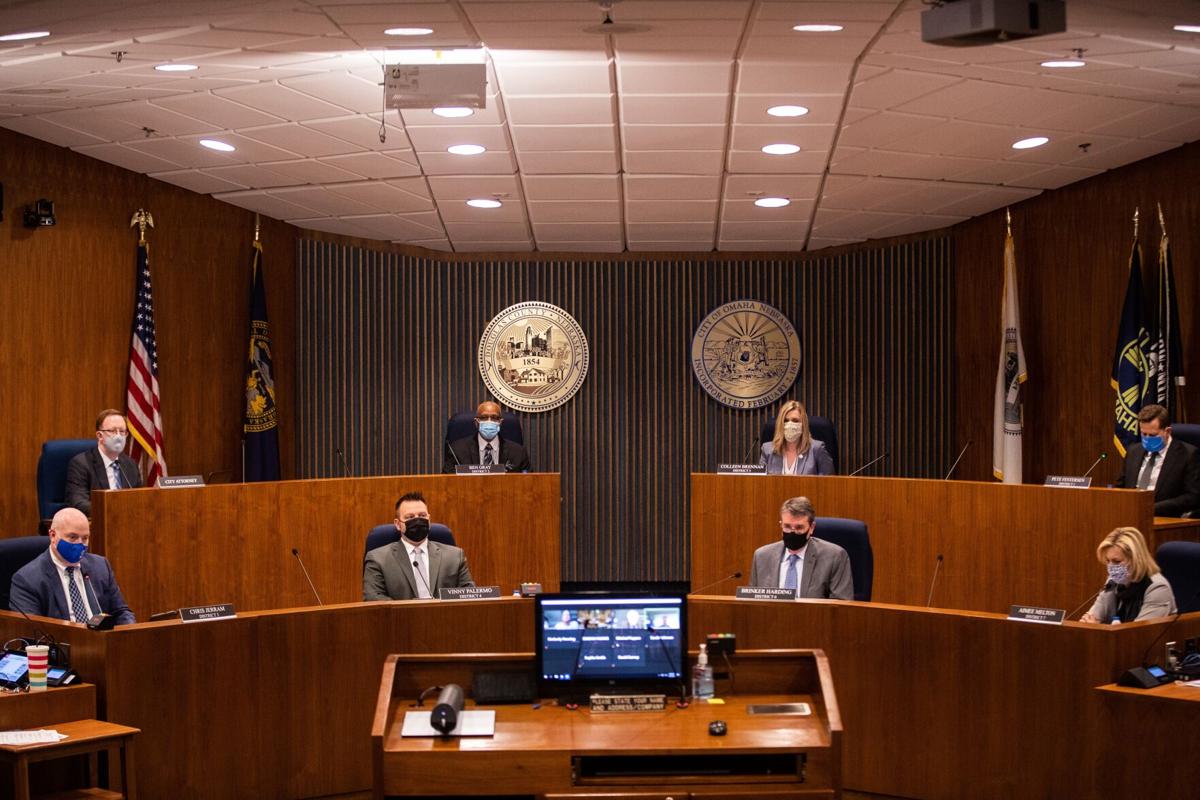 On one side: More than 30 parents, business owners and young people questioned the science behind masks, wondered what social effects masks may have on children and argued that the government should not be able to mandate their use.
The other: Three of Omaha's top public health officials pleaded with the community to continue to mask up, maintain physical distance and follow other guidance to save lives and slow the spread of the coronavirus until enough people receive a vaccine.
During a public hearing Tuesday that lasted more than three hours, those health officials asked the Omaha City Council to extend the city's indoor mask mandate to May 25 from its current expiration date of Feb. 23. A vote on the extension is scheduled for next Tuesday.
COVID-19 numbers in Douglas County have dipped from November, when the Omaha metro area saw its "worst month" since the pandemic began, Adi Pour, director of the County Health Department, told the council.
In November, the county was seeing about 110 new cases per day per 100,000 people on a seven-day rolling average; 445 coronavirus patients were in area hospital beds; and 157 people died that month, Pour said.
Those numbers have fallen to about 29.6 new cases per day per 100,000 people on a seven-day rolling average; less than 200 hospital patients; and about 50 people who died in January.
But Pour and two University of Nebraska Medical Center experts warned that masking will remain a vital component in controlling the virus until enough people in the general population receive a vaccine, a milestone that could be several months away or more.
Dr. Mark Rupp, chief of the University of Nebraska Medical Center's infectious diseases division, said Omaha shouldn't consider rolling back public health guidance until the seven-day rolling average of new cases is at least as low as 5 or fewer per 100,000 people.
"We have a long way to go," Rupp said.
New variants of the virus — which are more transmissible and possibly more severe — are another reason mask mandates should stay in place, Rupp said.
About 50,000 people in Douglas County have received at least one vaccine dose since officials began administering them in late December. Pour said about 15,000 of them, representing 3% of the community, have received both doses.
The Health Department on Tuesday began offering vaccines to those born in 1941 or earlier.
Some of the few dozen mask mandate opponents Tuesday came armed with their own research, asserting that masks don't work or that they're simply a comforting illusion of safety.
Mary Hunter, who said she's a retired physical therapist, said families and businesses should be making their own health care choices.
"I sincerely believe that our local governing bodies can recommend reasonable guidelines to all our citizenry," she said, but she opposes a mandate.
Others, who live outside of Omaha in cities like Blair and Dunbar, said they no longer shop in the city because of uncomfortable encounters.
Several parents of young children, many of whom tagged along with mom or dad to the council meeting, said they're worried that masks may hinder their kids' social, emotional and language development.
"These kids will never get these years back," Mary Duarte said.
But Sara Kohen, a proponent of masking who is running for the District 7 City Council seat, said children's education is why a mask mandate is so important, in addition to saving lives and preventing illness.
"We need our elected officials to put politics aside, listen to the science and extend the mask mandate so we can keep our kids learning and teachers teaching without taking unnecessary risks," she said.
Councilman Ben Gray said he plans to support the mandate's extension. Since the pandemic started, he said he has attended several funerals of friends.
"I have watched them suffer, and I have watched people in my community suffer," Gray said. "I will not abandon those people."
---
Our best Omaha staff photos of January 2021