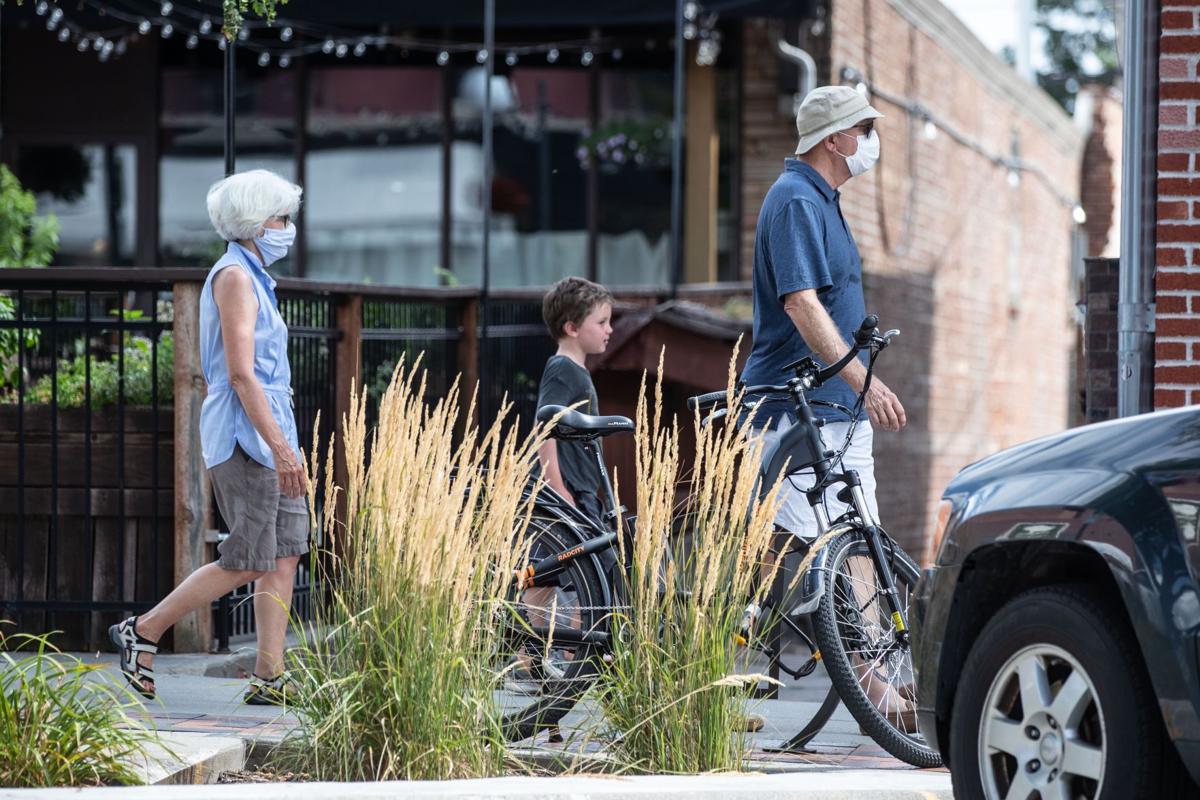 A proposed order that could require Omahans to wear masks in indoor public places as early as Aug. 3 got the backing Monday of the Douglas County Board of Health.
The five members of the nine-member board who were present all voted in favor of the resolution. It signaled to County Health Director Adi Pour that the board supports her exercising her power to implement a mask mandate to help slow the spread of the coronavirus.
Pour said her office will work with Omaha city attorneys to draft language of an order for Omaha. County officials will be doing the same for the rest of the county. An order in Omaha could be ready by the end of the week and go into effect early next week.
Chris Rodgers, president of the county health board, stressed that the board's resolution comes in support of Pour issuing a mask order. Pour has the authority under city code to take the step on her own within Omaha's city limits.
"The health director is not going rogue," he said.
A Monday morning public hearing on the resolution attracted several opponents. Some said they're happy to wear masks in certain settings but that a mandate by the government to do so would be a step too far.
Others expressed concerns that masks prevent their children from developing healthy immune systems. And some said fears about the virus are overblown.
"Why are we making a mountain out of a mole hill?" Seth Paulson of Valley said.
Pour pushed back against those who questioned public health data.
She said she felt comfortable about local case trends around the Fourth of July. But week by week since the holiday, cases have risen, and Pour said the time is right for a mandate.
Douglas County last week saw its highest three-day run of new cases — 476 — since the end of May. Pour noted that the county recorded a total of 940 new cases of COVID-19 during the week that ended Saturday, a 50% increase from the week before and the highest weekly total since May 30.
In addition, the positivity rate for tests increased to 9.6% last week from 7% the week prior.
"This is not an easy decision," she said. "If the data had been different the last two weeks, I probably would have said it's not necessary. But the data tells a different story."
Pour said she received about 100 emails over the weekend about a possible mandate. About 60 of those were for such a measure, 30 were against and 10 were neutral.
Among those who sent letters of support were four members of the Omaha City Council; the Metro Omaha Medical Society; senior officials of Nebraska Furniture Mart; and someone who works in an intensive care unit.
"All Americans have a responsibility to protect themselves, their families and their community," Pour said.
She also clarified that each individual who tests positive is recorded as one case. One person in the community has tested positive 17 times but has been recorded as one case, Pour offered as an example.
She also cited several instances in which masks protected others around them from infection. In Missouri, two hairstylists who wore masks served 109 clients while having the virus. None of them contracted the virus.
Some opponents, however, argued that there's not a lot of data indicating that masks work.
Many opponents cited government overreach and freedom of choice as reason for their opposition.
Alec Davis, 29, wore a mask as he explained that he has no problem wearing one in certain settings, or when a neighbor or colleague requests that he do so.
But Davis said the decision to wear a mask should be just that — a personal choice driven by data, personal conviction or religious belief.
"I believe in personal agency," he said.
Reggan Simons, who questioned the effectiveness and safety of masks, said a mandate would be "an insane demonstration of government overreach by someone who's not even an elected official" — an apparent reference to Pour.
Andrea White said Douglas County's death toll — 122 as of Monday afternoon — and the percentage of people who recover from COVID-19 demonstrate that "bottom line, this is not an emergency."
Health board member Keyonna King acknowledged that advice on masks has changed as national and international health experts have learned more about the virus.
"We know it's not going to stop it," she said of the cloth masks. "But we want to slow it."
Pour said the order likely would resemble one issued recently by the Lancaster Public Health Department. That mandate requires people to wear masks in public spaces when they can't maintain 6 feet of distance between themselves and others. It comes with a number of exceptions, including when people are exercising at a gym and when they're eating and drinking at bars and restaurants.
Implementing a countywide mandate will take more time, Rodgers has said.
In counties with a population of more than 400,000, state law requires a three-week public notice, followed by a 30-day waiting period, before a new regulation can take effect. The county attorney also would have to sign off on it.
Those requirements could mean a countywide mandate wouldn't be in place until mid-September, depending on if and when the board proceeds.
Nebraska Gov. Pete Ricketts has said he is looking into the legality of mandates in both counties. He has voiced opposition to the mandates, calling them government overreach and urging Nebraskans instead to "do the right thing" and wear the face coverings voluntarily.
Get Election 2020 & Politics updates in your inbox!
Keep up on the latest in national and local politics as Election 2020 comes into focus.