Over the past 16 months, if Omaha fire union President Steve LeClair caught word of yet another firefighter testing positive for COVID-19, he and other union members would fire up an assembly line to make mass quantities of spaghetti and other food.
The union provided about 12,000 meals, LeClair estimated, to more than 200 Omaha firefighters who contracted the virus. The meals provided enough food to feed the workers and their immediate family members for more than a week at a time.
And when masks were scarce at the beginning of the pandemic, the Black Police Officers Association gave a free reusable cloth mask to each of its roughly 230 members in order to provide some protection from the virus, said Lt. Ken Fox, the group's president.
Those efforts, among others, helped support Omaha first responders who were taking care of the public while trying to avoid a COVID-19 infection themselves. 
Omaha fire and police officials had to manage staffing and shuffle shifts amid sickness and quarantines among their ranks, especially when coronavirus infections spiked at the end of 2020. In November and December, 232 firefighters and police officers tested positive for COVID-19 — accounting for about 15% of the city's first responders.
Yet records provided by the city after a World-Herald records request indicate that 27% of Omaha firefighters and 41% of Omaha police officers remain unvaccinated.
Dr. Mark Rupp, the chief of the University of Nebraska Medical Center's infectious diseases division, commended those workers who have been vaccinated but expressed disappointment that so many have yet to get the shots. He likened the coronavirus vaccine to needed safety gear — the heavy coat that firefighters wear while battling flames or the bulletproof vest that officers wear to felony drug busts.
"Many first responders take all kinds of actions to maintain their safety and their health," Rupp said. "Why wouldn't you want to have the equivalent of that to protect from an unseen virus?"
Being vaccinated, he said, is especially important for health care providers and first responders who come into contact with hundreds of people every day.  
"All of us have a sworn responsibility to protect the public," he said. "A sworn officer of the law has dedicated their life to public safety. Why would you want to be a part of the chain of contagion that could be spreading the virus in the community?"
The City of Omaha has not required its workers to get the vaccine, and no plans are in place to do so. But officials have kept track of first responders who have been vaccinated. And a new city policy effective this month gives those who are vaccinated an additional benefit, a change that some first responders say is essentially forcing them to get the shot.
The city's first responder vaccine lists include workers who got the shot somewhere beside the clinics held specifically for first responders and who voluntarily reported the information to their respective departments.
City officials cautioned that the vaccination figures could be higher because workers aren't required to share whether they have been vaccinated.
Civilian employees of the Omaha Police Department have the highest reported vaccination rate of fire and police employees, at 74%. The Omaha Fire Department is next with almost 73%. And almost 59% of sworn Omaha police officers, including the recruit class set to graduate in October, have received the shots.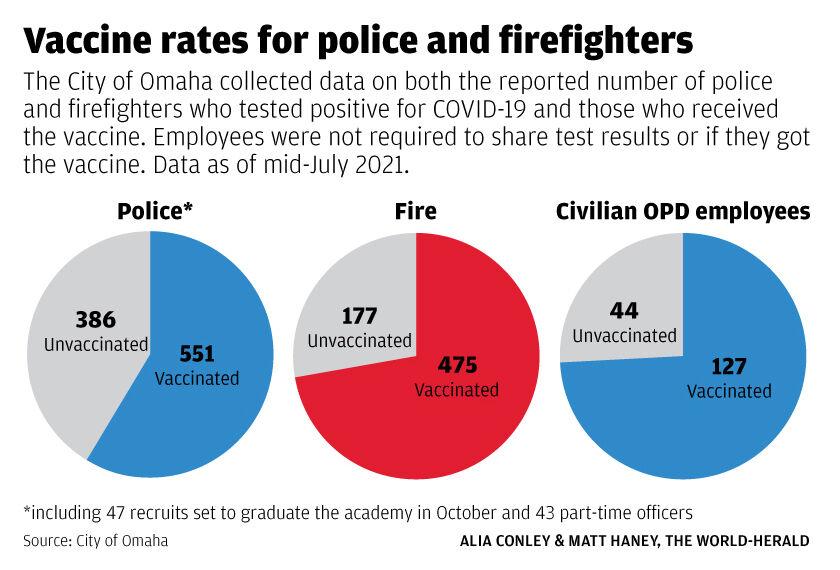 While Omaha Fire Department and civilian Police Department workers' vaccination rates exceed that of the population they serve, the Police Department's sworn officers fall short.
As of Friday, 65% of Douglas County residents 18 and older were fully vaccinated, according to the County Health Department.
About a quarter of Omaha's police force and almost 40% of Omaha firefighters have tested positive for the virus at least once since the beginning of the pandemic, compared with roughly 13% of Douglas County residents.
Assistant Omaha Fire Chief Kathy Bossman said she was pleased with the Fire Department's vaccination rate, which is higher than she would have predicted in 2020, when the vaccine was new and she wasn't sure how many would jump at the chance to get vaccinated. She said she would love to see 90% to 100% of Omaha firefighters — who are also trained EMTs or paramedics — get the shots, but she said that's not realistic. 
Bossman said she relies on data to help coax someone into getting the shot. Since mid-January, one firefighter tested positive in March, and one unvaccinated firefighter tested positive in July.
"Once our employees started receiving vaccinations, the number of (coronavirus) cases dropped drastically internally," she said. "The numbers speak for themselves." 
In April, Omaha Police Chief Todd Schmaderer said that about 60% of the department was vaccinated and that he expected that number to rise. According to the department's records, it hasn't.
Eleven police officers have tested positive for the virus since late March. Records don't show whether those officers were vaccinated. The number includes one officer who tested positive for the virus July 7.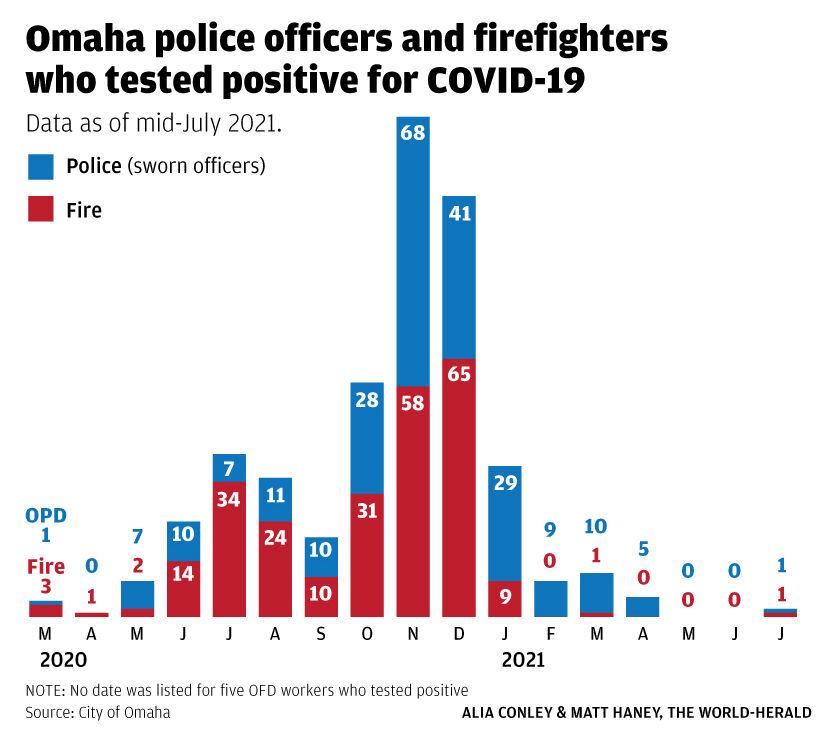 When asking for someone's vaccination information, officials also recorded whether Omaha police officers and firefighters were rejecting the vaccine. 
Of the 177 firefighters who are not listed as vaccinated, 156 were recorded as denying the vaccine or submitting a signed denial form.
Some unvaccinated firefighters said they didn't like the language of the denial form and declined to sign it. At least two firefighters refused the second shot. 
That means, barring a change of heart among vaccine refusers, the Fire Department can reach a maximum vaccination rate of 76%.
A similar tally of Police Department numbers listed 110 department workers who declined the vaccine. The remaining more than 300 Police Department workers do not appear on the list, either noting vaccinated or unvaccinated.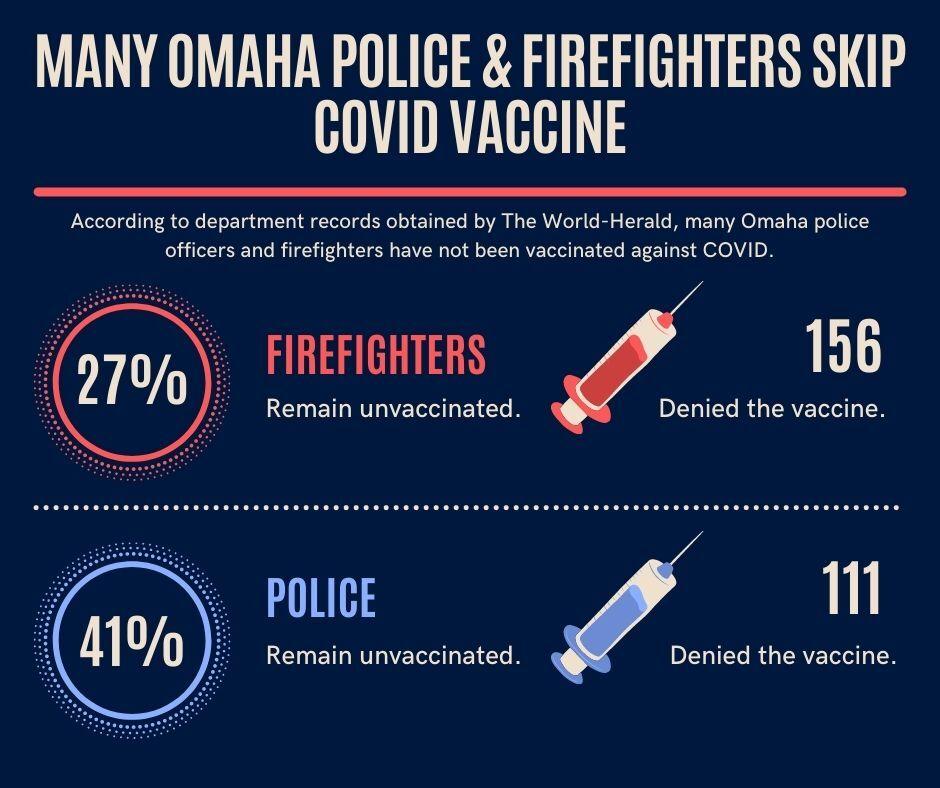 Fox, who worked on patrol early in the pandemic but now serves as the Police Department's training commander, said he never tested positive for the virus. That surprised him, he said, because he was around people who later tested positive and had to quarantine three times because of exposures.
"I was a stickler for masks," he said. "We had a lot of officers get sick. That was scary. Knowing that you had to go out and interact with the public and come home. ... We didn't have the luxury of sitting at home and not being around people. We had to go out and do a job." 
Fox said he would shower as soon as he got home and used hot water to wash his uniform, which he left in the garage. When he and other officers were told that they had been exposed to someone with the virus, they had to self-quarantine for at least 10 days, which meant time away from family.
A positive test meant that a worker was out for 10 days or longer, according to city records.
Fox, who shares custody of his children, didn't get to see them in person for an entire month because of when a quarantine period fell during his visitation schedule. 
In his role as the head of training, Fox ensured that class sizes were small and attendees wore masks.
The police recruits who started training in May were given the opportunity to get vaccinated at the academy. Those who are unvaccinated, Fox said, wear masks. 
As for the Police Department as a whole, since the mask mandate expired in May, masks for unvaccinated officers are not required but encouraged as the Centers for Disease Control and Prevention recommends, said department spokesman Lt. Neal Bonacci.
The Fire Department requires workers to wear masks on medical emergency calls, along with additional personal protective equipment if needed.
While at fire stations, if one person is unvaccinated, all personnel must wear a mask, Bossman said. But if everyone on a shift is vaccinated, no masks are required. Bossman said officials plan to review the policy in the coming weeks with the department's medical director.
Rupp, the UNMC infectious disease doctor, said all unvaccinated people who are in public, including first responders, should wear a mask because it can help prevent the spread of the virus. 
"People can unwittingly be shedding the virus," he said. 
In the first 16 months of the coronavirus pandemic, Omaha first responders received a benefit that allowed many of them to receive workers' compensation because of COVID-19. If a first responder tested positive for the virus and also recorded a recent work-related exposure, the City of Omaha presumed that the employee contracted the virus on the job. 
LeClair, the fire union president, said he thought the presumption that someone had contracted COVID-19 on the job helped prevent large outbreaks among firefighters.
"The last thing we wanted to do was create a situation where somebody wouldn't want to take their sick leave and they would come into work and unknowingly spread the virus throughout the whole station," LeClair said. "I think the presumptive agreement in the end, one, it served our members well, and two, I think it served the city very well also." 
Of those who tested positive for the virus, 93% of firefighters and 83.5% of police officers sought workers' compensation. The city, which could deny claims if the worker had a non-work-related exposure or international travel, denied 11 firefighters' claims and 17 officers' claims. 
Under a policy that took effect July 1, the city will not approve a workers' compensation claim for unvaccinated first responders if they get sick with the coronavirus on the job.
Those who are vaccinated still receive the work-related presumption. 
"Everybody's gotten an opportunity to get vaccinated," Deputy City Attorney Bernard in den Bosch said. "If you have not taken advantage of it, that's fine, but you're not going to get the advantage of the presumption."
For example, the unvaccinated firefighter who tested positive in early July is not eligible to apply for workers' compensation, even if it's determined that he contracted the virus on the job. 
LeClair says he "respectfully disagreed" with the policy, which he called "premature." He said some unvaccinated union members felt that they were being pushed to get the shots. 
LeClair said he is vaccinated and continually encourages members at meetings and in conversations to get the vaccine. While he's optimistic because the virus numbers in Douglas County have plummeted, he said he's cognizant of COVID-19 variants and increases in virus cases across the state, country and world. 
"I just don't think we're out of the woods yet," LeClair said.
Unvaccinated fire union members have talked to LeClair about the quick timeline between research and development of the vaccine to the administration of the shots. He said he thinks those who are hesitant fall into two categories: those who have reservations about the fast production and those who have tested positive and have antibodies.
Rupp said protection from the vaccine is "more uniform and more long-lasting" than antibodies that are generated after someone contracts the virus.
Rupp said that while it's true that the coronavirus vaccine has been around for a relatively short time, numerous studies have proven the safety and efficacy of the shots — and experts are continuing to study the vaccines. By this point, he said, hundreds of millions of doses have been administered in the U.S., with only extremely rare side effects. That, he said, should help give confidence to the vaccine holdouts.
No Omaha police officer or firefighter has died from the coronavirus, fire and police officials said. But officials estimated that about a dozen from each department experienced severe symptoms.
Omaha Police Sgt. Tony Conner, the president of the Omaha Police Officers Association, spent weeks in the hospital, including a stay in the intensive care unit, where he was in listed critical condition after contracting COVID-19 in late October. The union posted on social media that Conner was "fighting for his life due to complications with COVID-19." 
Conner has said he thought he was exposed to the virus at an "informal meeting" at a bar Oct. 23 with a retired police captain and another police officer, among others. He didn't return to work until February, according to a TV commercial produced for Mayor Jean Stothert's reelection campaign, which focused on text messages between Conner and Stothert and was titled "Tony's Recovery."
Conner didn't return several phone calls and texts from a reporter seeking comments on the union's position on the COVID-19 policy change and about how the pandemic has affected his union's members.
Fox praised Schmaderer and other Omaha police officials for acquiring hand sanitizer, masks and other equipment to help keep officers safe. He also said he was thrilled that officers got the chance to get the vaccine earlier than the general public. But he said he thinks the country has succumbed to politicization of the vaccine and thinks it's a person's right to get the vaccine or not.
"Luckily, the people in important decision-making positions believed that COVID was real and believed that it was something we needed to protect our officers from," Fox said. "All I ask is, continue to be safe if you're not gonna take the vaccine."  
LeClair said firefighters in the union have suffered great stress throughout the pandemic — not just from taking care of very ill patients but also from the fear of taking the virus home to their family. 
"I know they're tired," he said. "I mean, I can see it in their eyes. I can see it in their faces."
LeClair, who is a veteran, said he was required to get all kinds of shots during his time in the military, so he respects the opinions of those who are hesitant to get vaccinated and want to choose what's injected into their bodies. But he also recognizes the science behind the coronavirus vaccine and urges people to trust in it. 
LeClair said he watched his grandfather die of COVID-19 and said goodbye through a nursing home window.
After reviewing the data from vaccine trials, and because he wanted to visit his relatives, LeClair decided to get the shot.   
"I wanted to see my dad. I wanted to be able to hug my dad, and I wanted to be able to hug my mother-in-law, my father-in-law, and I wanted them to be able to spend time with the kids," he said. "If you want to know the best way to get back to normalcy — everybody, get vaccinated."
---