Hundreds of people who attended President Donald Trump's rally Tuesday evening at Eppley Airfield spent up to three hours in freezing temperatures waiting for buses to take them back to their cars.
Officer Michael Pecha, an Omaha Police Department spokesman, said 30 people received medical attention and seven were taken to area hospitals with various medical conditions.
Tim Conahan, police chief for the Omaha Airport Authority, said just over 21,000 people were screened into the event, and more people were still in line awaiting screening. Trump said during his speech that 29,000 people were there.
The president, who spoke for nearly an hour, wrapped up shortly before 9 p.m. The last person got onto a bus about 11:50 p.m., Pecha said.
Rather than wait in the 31-degree weather, some people in the audience elected to walk to their cars, which were parked about 3 miles away. Officers gave rides to some elderly and infirm people who were walking, Pecha said, with some misjudging the distance to the parking lots.
Biden said Trump's supporters, including "older Americans and children," were left stranded in the cold for hours after the rally ended in Omaha.
"It's an image that captured President Trump's whole approach to this crisis," Biden said, referencing the health crisis caused by the coronavirus pandemic.
"He makes a lot of big pronouncements, but they don't hold up. He gets his photo op and he gets out," Biden said. "He leaves everyone else to suffer the consequence of his failure to make a responsible plan."
Trump campaign officials said that they had enough buses ready nearby to shuttle people back to their cars but that a larger-than-expected crowd slowed the buses' return.
Samantha Zager, Trump's deputy national press secretary, said in a statement Wednesday morning that the campaign cares about the safety of supporters.
"President Trump loves his supporters and was thrilled to visit Omaha last night. Despite the cold, tens of thousands of people showed up for his rally. Because of the sheer size of the crowd, we deployed 40 shuttle buses — double the normal allotment," she said.
Zager said that traffic congestion caused delays and that the campaign had tents, heaters, generators, hot chocolate and hand warmers available for guests.
During a press conference Wednesday, Omaha Mayor Jean Stothert said the logistics of the rally, including transportation to and from the event, were handled by the Trump campaign. She said the city doesn't have the authority to prevent any candidate from hosting political rallies in Omaha.
"This was not a city-organized event," she said.
The Omaha Police Department has a "mutual aid agreement" with the Secret Service to help with security during presidential visits, Stothert said.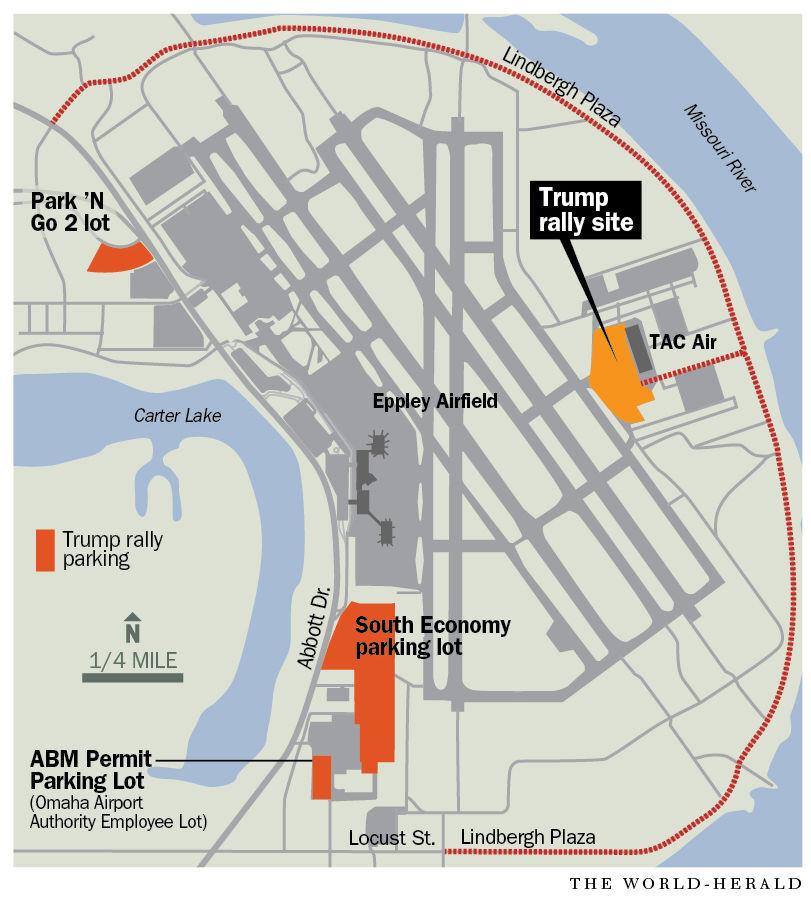 Walking out of the rally, a World-Herald reporter saw two people receive help from Omaha police — an elderly woman who was warming up in the back of a police cruiser and a boy to whom an officer lent a blanket.
Arrow Stage Lines, an Omaha-based charter bus company, had 40 coach buses taking people from the South Economy parking lot and two nearby lots to the rally site.
Alex Busskohl, Great Plains regional director for Arrow, said those 40 buses, each of which can hold 54 passengers, began taking people to the site at 10 a.m. and didn't stop operating until everyone had made it back to their vehicles.
Busskohl said he understood that some people were upset about how long they had to wait for a ride. The area became congested because of traffic and a large amount of people walking south along Lindbergh Plaza, a two-lane road that wraps around Eppley and provides access to the part of the airport where the rally was held.
That delayed empty buses from returning to the site for additional pickups.
"Unfortunately, our buses can't just float back to where they need to be," Busskohl said.
Busskohl said he didn't blame local officials or the Trump campaign, which hired Arrow for the event.
"I think everybody worked hard," he said.
Two Omaha Metro buses also helped transport people from the rally.
Sometime around 10 p.m., Omaha police made a request for buses because about 500 people were unable to walk from the rally site to their vehicles, said Lauren Cencic, executive director of Metro transit.
Cencic said it's common for Metro to provide transportation when there are public safety concerns, including freezing weather.
Tuesday's service cost Metro about $250, Cencic said.
Omahan Jason Heard said he got to the rally site at 4:45 p.m. His bus driver told him that by that point, 8,000 people had been bused over.
After the rally, Heard said, he could see it was "going to take forever" to get on a bus, so he decided to walk. It took him an hour and a half to go what he estimated was 4 miles. His cousin, who took a bus back, arrived about 30 minutes later.
"To me, it was more like people just leaving a concert and heading back to their cars," he said. "Anybody that was shocked by what happened at the end of the night wasn't really paying attention."
It would have been nice if organizers had had a plan for getting people with disabilities back to their vehicles, Heard said, but he didn't hear complaints from other people who were walking back.
Omaha police said buses were available for those with disabilities.
Kris Beckenbach of Lincoln volunteered to help at the rally. She said Wednesday morning that she finally made it back to her car at 12:15 a.m.
"We were all parked over at Eppley," she said. "We were 3½ miles through darkness to get there. There was no direction given. I expected at the end of the rally somebody will say, 'Go this way and there will be buses waiting.' "
Buses came, she said, but "they didn't come back for an hour and a half."
She didn't blame organizers, however. "How do you practice for that?" she said, noting the thousands of people who attended.
Jane Kleeb, chair of the Nebraska Democratic Party, said she hoped that "those responsible for the poor planning to feed Trump's ego will be held accountable and that fellow Nebraskans turn out to vote to end this chaos."
Some people weren't dressed for the cold, Beckenbach said: "For some people, it was really rough."
"When you go to a Husker game, when you go to any big event," she said, "you expect that you're going to have to take care of yourself and there's going to be waiting."
Beckenbach said she didn't hear anyone "talking inappropriately to anyone else. People were respectful. We all just got tired and cold."
The Trump supporter said she would do it all again.
"It was an adventure," she said. "It was absolutely an adventure."
Photos: President Trump visits Omaha