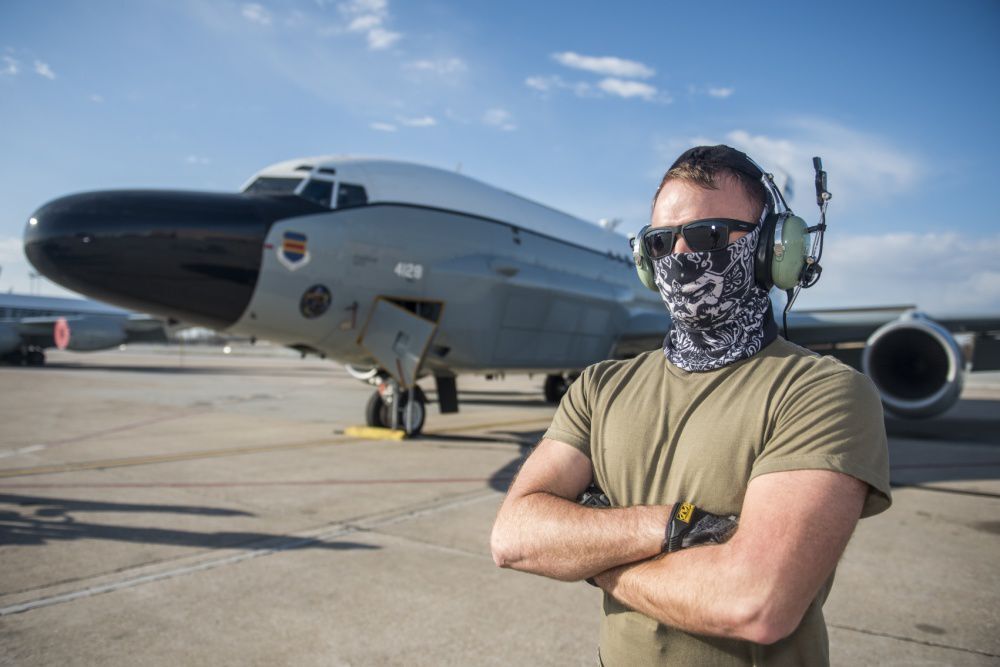 People who work at Nebraska's Offutt Air Force Base and Omaha's University of Nebraska Medical Center could benefit from Nebraska contributions to the nation's newest defense policy bill, passed last week over a presidential veto.
For Offutt, the bill provides funding to rebuild the nation's aging nuclear arsenal, upgrades equipment on the RC-135 reconnaissance aircraft and won't let the Air Force retire the Offutt-based jets without Congress' permission.
It protects military members who report sexual harassment from being punished for minor collateral infractions. The $740.5 billion bill also includes a 3% pay increase for military personnel and increases hazardous-duty pay for those serving in war zones by 10%.
For UNMC and Nebraska Medicine, the 2021 National Defense Authorization Act paves the way for it to partner with the Defense Department on a pilot project to help as a "surge hospital" after a natural disaster or pandemic.
Nebraska's congressional delegation claims credit for getting provisions into the final bill, including Sen. Deb Fischer and Rep. Don Bacon, who serve on the Armed Services Committee, Rep. Jeff Fortenberry on the Appropriations Committee and Sen. Ben Sasse on the Intelligence Committee.
The House and Senate passed the bill over President Donald Trump's objection, a veto override that requires large majorities in both houses and that has become exceedingly rare, said Randall Adkins, a political science professor at the University of Nebraska at Omaha.
Among the bill's highlights:
UNMC medical 'surge' facility
The bill directs the Defense Department to begin a pilot project for a medical response facility that could respond quickly in a major natural disaster or pandemic.
The language states that the Pentagon should give priority to those public-private partnerships that could be initiated with university medical centers capable of research and clinical care involving infectious diseases.
It's tailor-made for UNMC's proposed $2.6 billion NExT Project, announced in 2019. The Nebraska Legislature has pledged $300 million if the federal government and private donors come up with 50% of the cost.
UNMC Chancellor Jeffrey Gold said Fischer, Bacon, Sasse and Fortenberry all helped shepherd the provision through Congress. Fortenberry secured $15 million to begin planning for the facility in the last Pentagon appropriations bill and hopes to get more in the 2022 bill. He called it "a big win" and said it would help develop a hospital that "can respond to exceptional needs" of military members, including recovering from highly infectious diseases, mass poisonings and other war-related injuries.
Cybersecurity
The bill included 25 cybersecurity recommendations from the bipartisan Cyberspace Solarium Commission, a group that Sasse's legislation created.
One provision involves the creation of a new White House cybersecurity director position, the responsibilities of which would include coordinating a united defense against online threats among different federal agencies. Another provision would allow cybersecurity agents from other government departments to hunt for intrusions or weak points in computer systems as they do already in Defense Department networks.
The issue took on added importance after the revelation last month that hackers likely linked to the Russian regime had been rooting around in U.S. government computer systems for months, undetected.
Sasse described the government's weaknesses in cybersecurity as "life or death threats."
Nuclear upgrades
Fischer has championed the needs of the Offutt-based U.S. Strategic Command from her position as chairwoman of the Strategic Forces Subcommittee as a series of StratCom leaders have pounded the drum for upgrades to the country's aged nuclear arsenal.
Almost every U.S. submarine, plane, missile and bomb is at least 30 to 50 years old. Russia is rebuilding its own weapons and delivery systems, and China is building new ones.
"We've fallen behind our main adversaries, and we need to continue on the new platforms," Fischer said. "There's no more room for delays."
The bill authorizes $44.8 billion to maintain and rebuild the nuclear air/land/sea triad. That includes $4.8 billion to continue work on the new B-21 bomber and $2.8 billion for the Columbia-class submarine, as well as smaller sums for a new class of intercontinental ballistic missiles and a new submarine-launched cruise missile.
Some in the nonproliferation community say ICBMs are unnecessary and destabilizing. Tom Z. Collina, president of the Ploughshares Fund, a group dedicated to eliminating nuclear weapons, said in September that Americans would be safer without ICBMs.
Christopher Yeaw, research director for nuclear programs at the University of Nebraska's National Strategic Research Institute — which is funded by StratCom — described the need as "urgent across the board."
"Both sides of the aisle understand that nuclear deterrence has been the bedrock (of national security) for 75 years," Yeaw said. "Nobody wants that to change."
The Wall Street Journal reported last month the incoming Biden administration might scale back nuclear spending, which has been forecast at $500 billion over the next decade to both maintain and rebuild the arsenal.
RC-135 aircraft
This year's budget includes $191.3 million toward upgrading the mission systems for the 55th Wing's more than two dozen RC-135 jets, all of which are based at Offutt.
Bacon, a retired brigadier general who commanded the wing in 2011 and 2012, said he also worked to extend the provision included last year that prevents the Air Force from retiring RC-135s without congressional approval. It is meant to head off any possible move away from manned reconnaissance flights.
"They can't walk away from the RC-135," Bacon said. "They're irreplaceable."
'Safe to Report' policy
Bacon worked with Rep. Jackie Speier, D-Calif., to include a provision in the bill that requires each service branch to enact rules protecting service members who report incidents of sexual harassment from themselves being punished for associated minor misconduct.
Bacon's efforts on the "safe to report" law began several years ago, when Christina Portwine, an airman at Offutt, came to his office for help. She had reported an alleged sexual assault by another airman after a birthday party for someone in her medical support squadron during her first week at Offutt in 2015.
After a six-month investigation, her chain of command cleared the airman whom Portwine had accused. But she and two other female airmen were punished for underage drinking at the birthday party.
The black mark cost Portwine military pay and tuition reimbursement, and a chance at becoming an officer. It also meant that if she left the Air Force, she would receive an other-than-honorable discharge and lose some veterans benefits.
Portwine met with Bacon, who helped her to get a reduced punishment that granted her an honorable discharge and left intact her benefits.
Portwine, who graduated last month from the University of Central Florida, said she was "thrilled" to learn that the safe-to-report provision inspired by her case had become law. She said it removes a barrier discouraging women serving in uniform from reporting sexual assaults.
"I'm doing this so the next girl doesn't have to go through it," Portwine said. "It's a relief. It's a closing to my chapter."
---
Photos: Offutt Air Force Base through the years