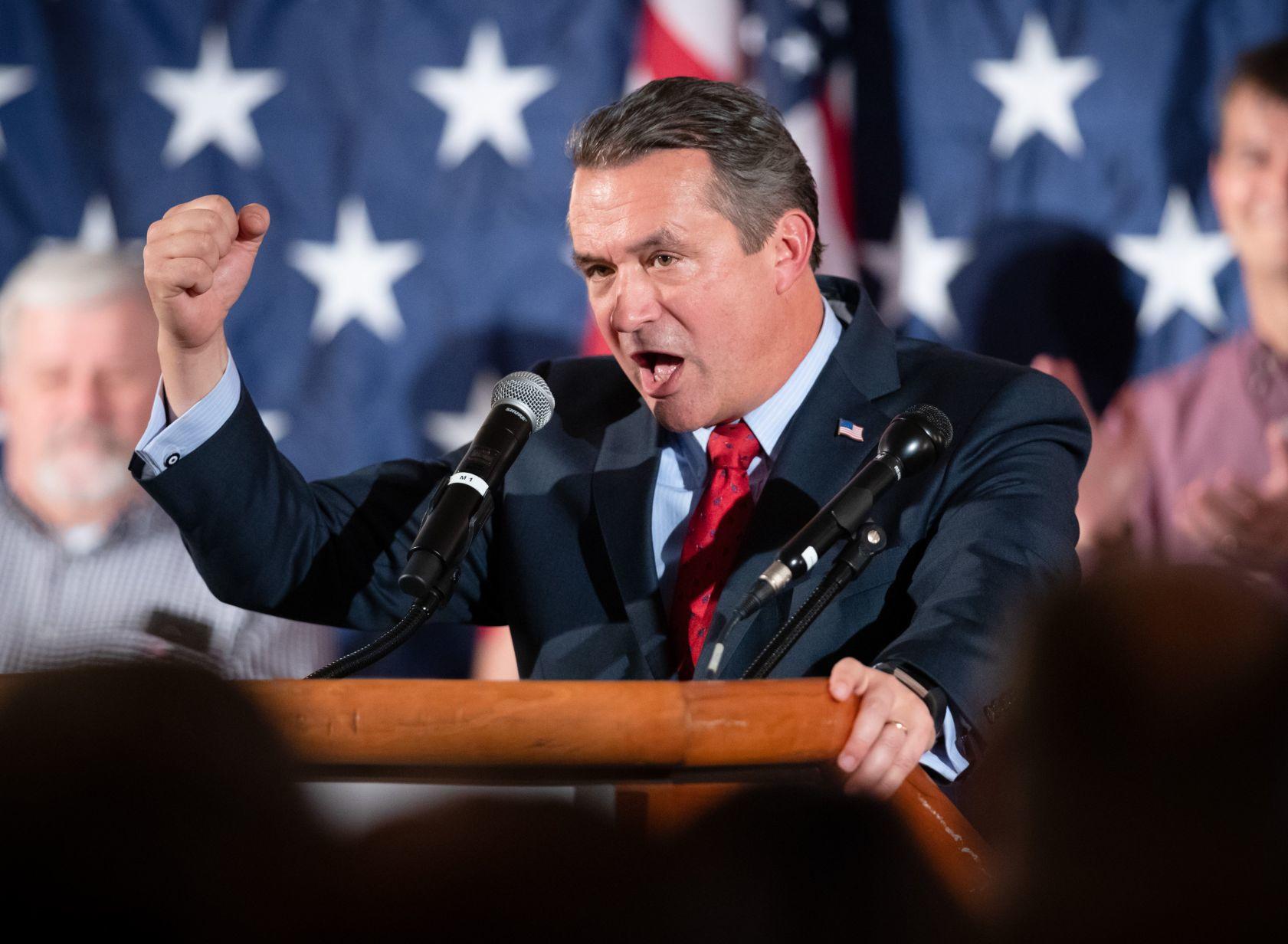 Under Democrats' proposal to redraw congressional districts in Nebraska, Rep. Don Bacon would continue residing in the Omaha-centered 2nd District — but not for very long.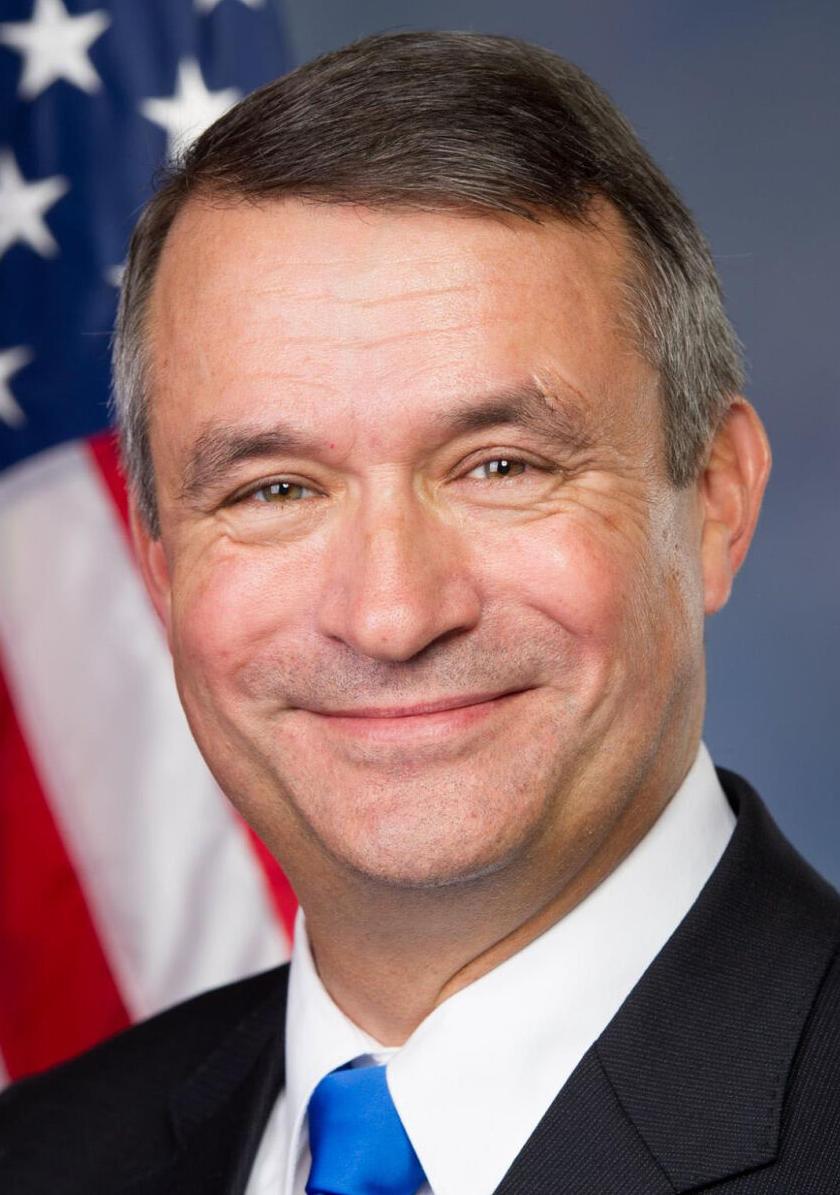 Bacon, who currently lives in Papillion, purchased an undeveloped lot in southern Sarpy County in July. He and his wife plan to build and move into a home on the land sometime in 2022, Bacon told The World-Herald.
The congressman's new home would be close to the current boundary line but still inside the 2nd Congressional District, which includes Douglas County and a portion of western Sarpy County.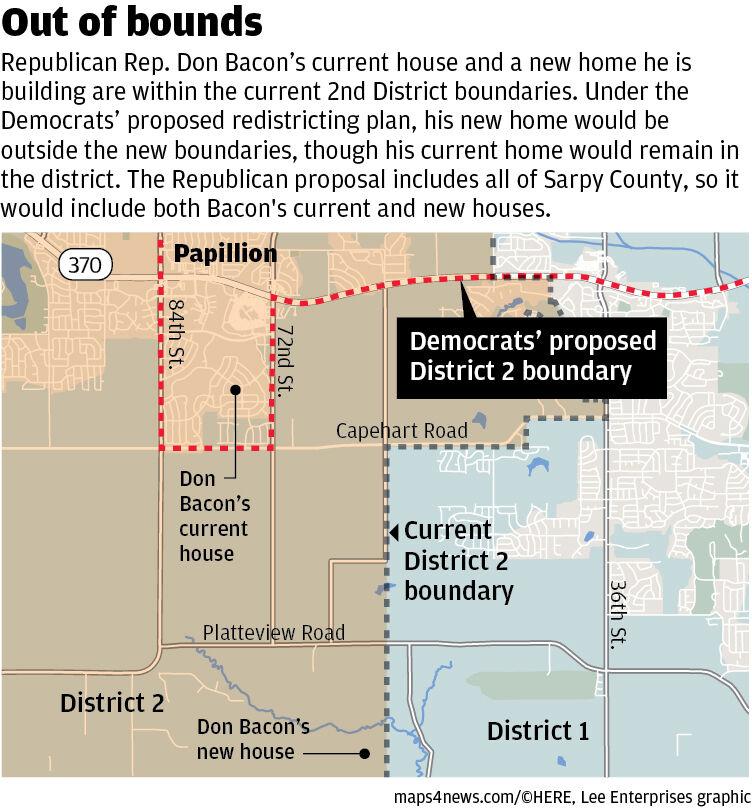 Bacon's new home would remain inside the district under the Republican redistricting proposal introduced in the Legislature earlier this month. But under the plan put forward by Democrats, Bacon's new home would fall into District 1, currently represented by Rep. Jeff Fortenberry of Lincoln, a fellow Republican.
Bacon, a three-term congressman, would not be barred from running for his current office even if he ultimately resides outside the district, though it could pose political problems for him.
In crafting their proposal, Democrats did not intend to draw Bacon out of his district — in fact, it was the opposite, said Sen. Justin Wayne, the vice chairman of the Legislature's Redistricting Committee. Wayne, of Omaha, introduced the proposal drafted by Democrats in the officially nonpartisan Legislature.
That initial proposal was actually drafted with the goal of keeping Bacon in the 2nd District. Wayne said he and others who worked on the proposal went out of their way to avoid excluding incumbents.
Wayne said he was unaware of the congressman's plans to move.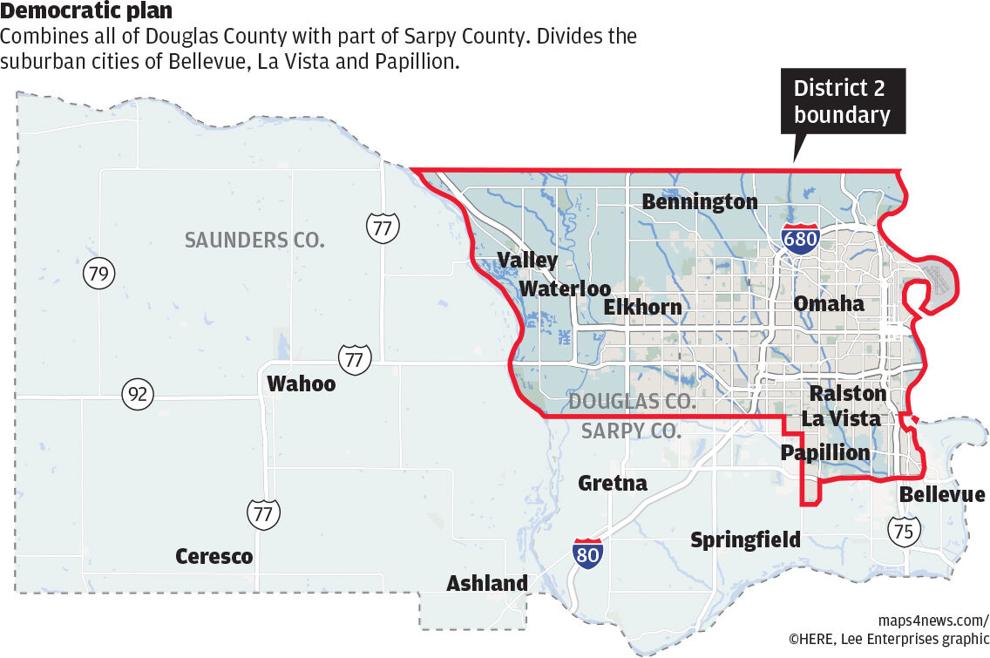 Sen. Lou Ann Linehan of Elkhorn, the chair of the Redistricting Committee who introduced the proposal crafted by Republicans, said she does not believe members of the committee intended to draw Bacon out of his district.
"Intent here matters," she said.
Though Linehan favors her maps, she acknowledged that there are political realities that will likely prevent either of the current proposals from being adopted by the full Legislature.
A minimum of 33 votes is needed to overcome a filibuster in the 49-member Legislature. Thirty-two senators are registered Republicans, while 17 are Democrats.
Linehan also pointed to the fact that some senators in Sarpy County, regardless of party, likely will receive input from constituents who are tired of seeing their communities divided.
The Republican proposal would divide Douglas County, while the Democrats' proposal would split Sarpy County.
A group of five mayors representing communities in Sarpy County recently penned a guest opinion piece in The World-Herald criticizing resistance toward splitting Douglas County. Redistricting has divided Sarpy County for the past 20 years, they noted.
"After 20 years of being on the receiving end of the Legislature's scalpel, our citizens, many of whom have made great sacrifices for our democracy, deserve no less," the mayors wrote. "In the end, the first two letters in 'Sarpy' don't stand for 'slice away' and the 'D' in Douglas County does not mean 'Divine.' "
The thought of being left outside the district is a concern, Bacon said, while noting that redistricting ultimately is a decision for the Legislature, and he will respect whatever final boundary lines it adopts.
"It's not for me to really worry about," Bacon said. "I've got to worry about things in my control."
The district became known as Nebraska's "blue dot" after its voters awarded an Electoral College vote to Democrat Joe Biden in the 2020 presidential race. Those same voters also gave Bacon a comfortable victory in his bid for a third term.
It is not unprecedented for a member of Congress to live outside their district. The Constitution only requires a representative to reside in the state that their district falls in, not the actual district.
A 2017 story by the Washington Post noted that at the time at least 21 members of Congress were registered to vote — voter registration is tied to place of residence — outside of their congressional district.
Though it is legal and does happen, living outside a district poses political challenges, said Richard Witmer, distinguished professor of government and politics at Creighton University.
It opens a candidate to accusations of being out of touch with their district.
"It's a political liability to not live in your district," Witmer said.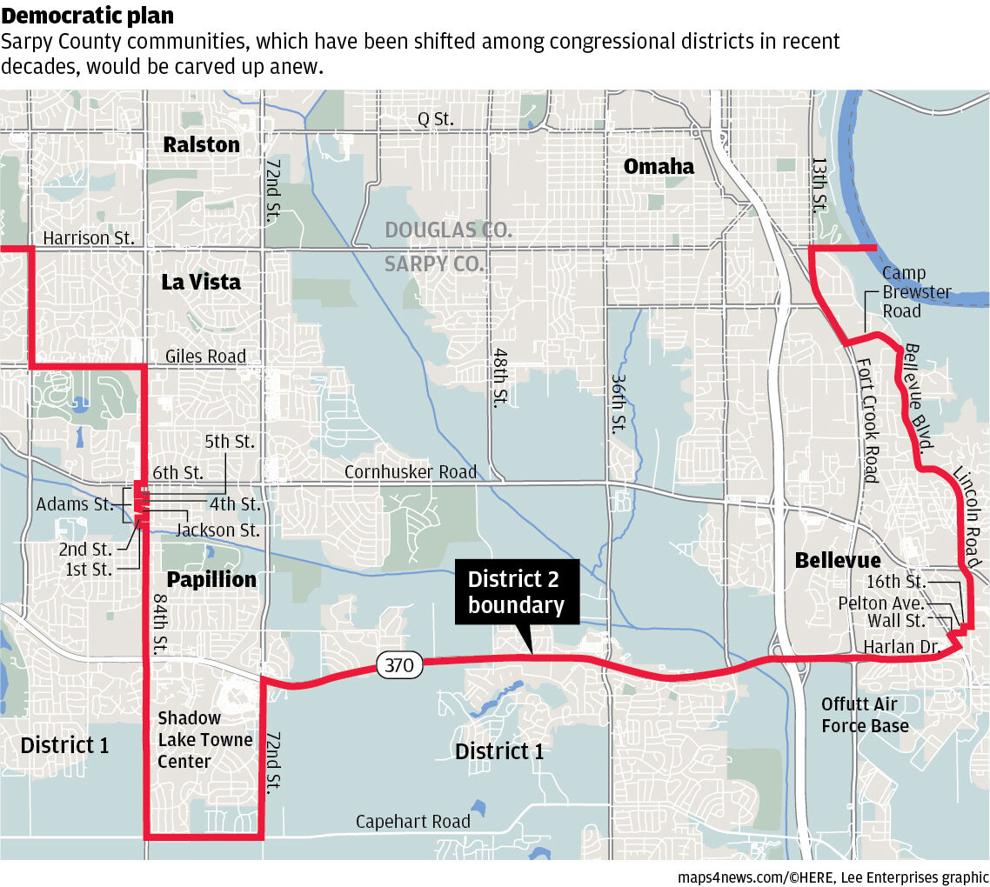 Bacon stopped short of saying he wouldn't seek another term if he ultimately ends up outside the district. But he said he would have a difficult time running to represent a district he no longer lives in.
"It's not in my heart to do that," he said. "I respect the voters, and I think you should live in the district you're representing."
It is unclear how the congressman's situation will be addressed by the Legislature.
After being informed of the general area where Bacon intends to build his new home, Wayne said there is "no way" he could fit Bacon's new home in the district. Wayne said his proposal needs to incorporate some of Sarpy County to hit the necessary population target. With that in mind, he prioritized including Bacon's current address.
But in order to incorporate Bacon's new home, Wayne said his proposal would likely need to include an incredibly narrow path south through most of Sarpy County.
Wayne said he and others did their best to keep Bacon in his district, but if he moves farther out then there's nothing they can do.
"I'm standing by my maps 110%," Wayne said.
Linehan, who said Bacon is loved in Sarpy County, sees little chance of the congressman ending up outside his district.
"That's not going to happen," Linehan said.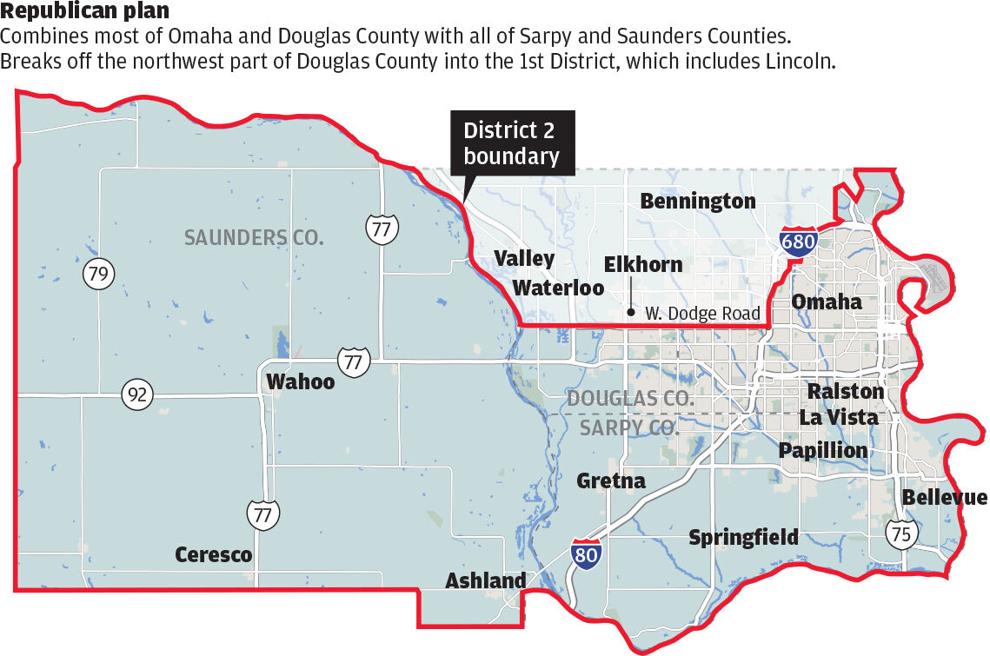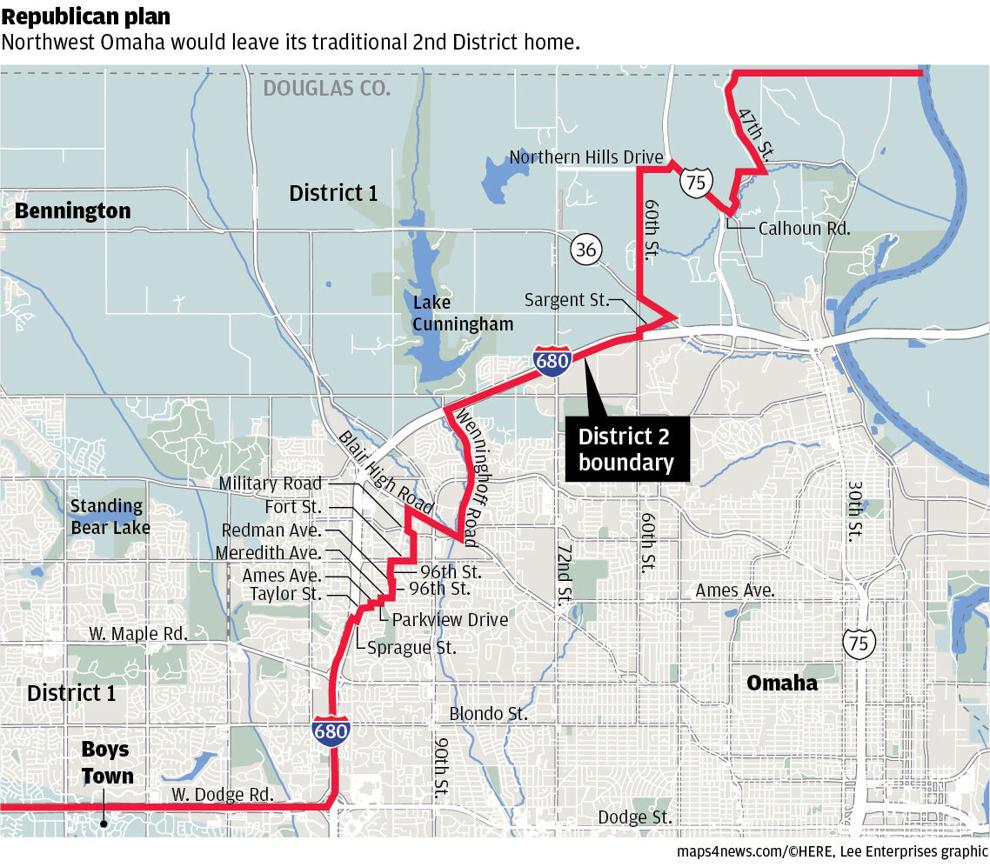 ---