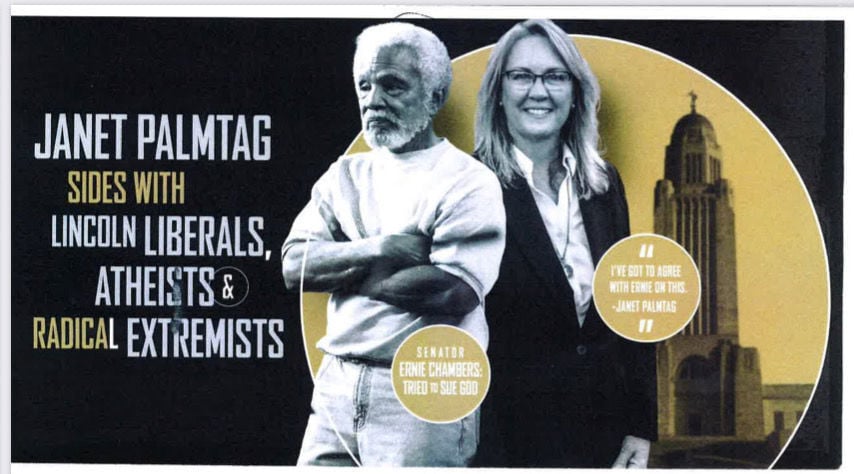 Nebraska first lady Susanne Shore criticized State Sen. Ernie Chambers on Saturday for comments he made about fellow Sen. Julie Slama.
On the floor of the Legislature on Monday, Chambers criticized Slama and Gov. Pete Ricketts for a campaign mailer that former Gov. Dave Heineman and Bob Kerrey, a former governor and U.S. senator, have called racist. The mailer juxtaposed a photo of Slama's opponent, Janet Palmtag of Nebraska City, with a photo of Chambers.
The ad said, in part, "Janet Palmtag sides with Lincoln liberals, atheists and radical extremists."
Chambers said the ad was an attempt to scare voters in District 1 into voting for Slama, of Peru.
He called the flyer dirty politics and called on Slama to respond to criticism of it and to apologize to Palmtag.
Slama has not commented on the flyer since it began drawing criticism.
He said if Slama wanted to engage in dirty politics, she should not be surprised if people repeat rumors about why Slama, whom he called a young woman with little life experience, was appointed by Ricketts.
Slama fought back, chastising Chambers for his comments. She also pointed to comments that Chambers made about the relationship between Thomas Jefferson, a slave owner and founding father, and Sally Hemings, the enslaved woman who bore him six children. Chambers likened that to him enslaving Slama and raping her.
"How dare you talk to a woman like that," she said.
"How are the young women of Nebraska to receive Mr. Chambers' message and the lack of response by most of the leaders of our state?" Shore wrote.
"I wonder how I can ask my daughters to make their home and build their careers in a state where that type of comment goes unchallenged? This comment isn't hurled at one woman — it's hurled at us all. But it is especially insulting to the smart, talented and amazing young women of our state."
Shore called on public and private sector leaders in the state to condemn Chambers' words.
On Tuesday, Theresa Thibodeau, the chairwoman of the Douglas County Republican Party and a former state senator, called on the Legislature to censure Chambers for his comments, which she called "sexist and outright disgusting."
Chambers, speaking on the floor of the Legislature on Tuesday morning, made no apologies and said his comments were being manipulated for political purposes.
Photos: Ernie Chambers through the years
Get Government & Politics updates in your inbox!
Stay up-to-date on the latest in local and national government and political topics with our newsletter.