Republicans in Nebraska's most populous and competitive political county fell short Tuesday on censuring U.S. Sen. Ben Sasse for his criticisms and votes against former President Donald Trump.
The effort by the Douglas County Republican Party to censure Sasse failed because of a technicality when a handful of the party's central committee members left Tuesday's meeting early. It looked like a strategic step by opponents of the measure, which angered several people in the crowd who were there to support Trump and rebuke Sasse.
The county GOP fell three people short of the quorum needed to vote on the resolution. Party organizers then made a last-ditch effort to add people to the central committee from the crowd to replace those who left. But each time they added someone to the central committee, the number needed for quorum climbed.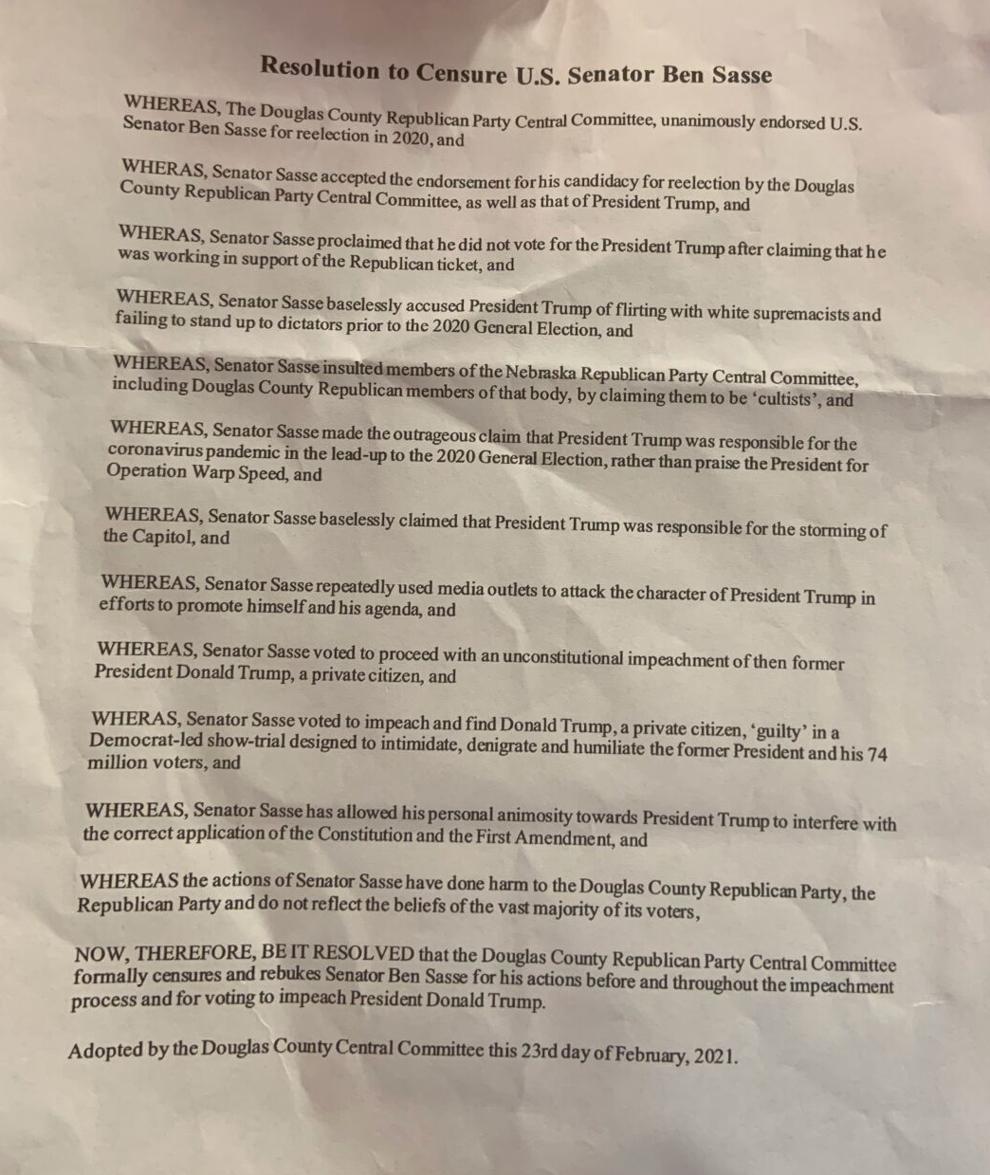 More than 50 central committee members who stayed voted to support a "sense of the resolution" rebuking Sasse, which means the majority of the people remaining backed a formal censure.
Robyn Cafasso, a committee member who supported censuring Sasse, said she was madder that Sasse insulted Republicans activists than his decision to buck the president.
"He does not have a right to get on national TV and make a mockery of us and our state," she said.
Sasse spokesman James Wegmann, reached after the vote, said: "After all the tough talk about censure for another week, the folks mad at Ben couldn't get enough Nebraskans to show up tonight. Ben's the only federal Republican candidate for any office to win (Douglas County) in a decade — Douglas County Nebraskans voted overwhelmingly for him again in November, and they voted with their feet tonight when they didn't show up for this nonsense resolution."
The county party resolution slammed Sasse for being one of seven Republicans and 57 senators who voted to convict Trump of inciting the Jan. 6 Capitol riots. The Senate fell short of the required two-thirds majority needed to convict.
The resolution cited his criticisms of Trump after receiving the former president's endorsement. It also said he was too critical of key party members.
Sasse has defended his statements about the president as truthful, including his belief that the president bears some responsibility for the Capitol mob because Trump repeated the lie that he won the election, when President Joe Biden did.
The measure almost died before the meeting began when the original sponsor, whose name was not provided, asked that the measure be pulled. But party members revived it on the floor.
One of the people who spoke against the resolution, Tim Heller told the crowd that censuring Sasse for disagreeing with the former president would make it harder to recruit GOP candidates.
Sasse was just re-elected to a second six-year term in 2020, earning more votes statewide and locally than Trump.
"I agree with your right to disagree here," said Heller, who was among committee members to step out of the room when they were counting for quorum. "You can't have a purely right-wing or left-wing majority. When we do that, we elect Democrats."
Many rank and file Republicans attended the meeting and said they came to make sure their voices were heard. 
Brad Kendrick, one of the Facebook administrators of the "Censure/Fire Ben Sasse Group," delivered a written statement critical of Sasse.
He wrote that he represents the views of more than 2,100 people and said they are frustrated that Sasse has not represented the will of Republican voters.
"President Trump graciously supported Senator Sasse, and Sasse turned around and not only undercut the man, but left us hanging when we needed him the most," he wrote.
Denise Bradshaw, a conservative independent who helps Republican campaigns, said she supported the censure resolution. The fact it failed on a technicality will keep her from working for Republican candidates this spring.
"What happened tonight was a strategic plan to prevent Sasse from being embarrassed," she said. "I believe Senator Sasse is trying to run for president in 2024, and any aspirations would be dashed if he can't keep his own party in line."
She said she hopes the state GOP makes the right decision on Saturday and censures Sasse during its regular state central committee meeting in Columbus.
GOP activists have passed resolutions rebuking Sasse in suburban Sarpy County, North Platte's Lincoln County, Scottsbluff's Scotts Bluff County and rural Keith and Hitchcock Counties.
---
Our best Omaha staff photos of February 2021