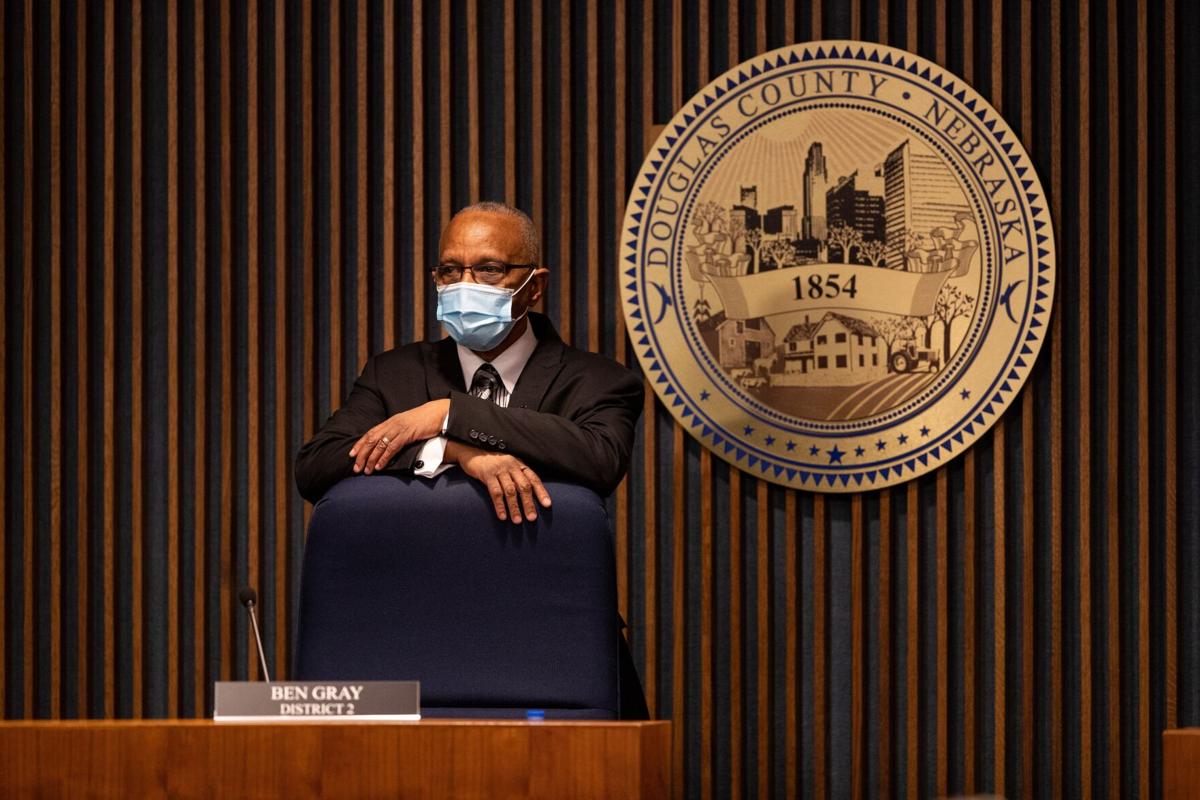 The Omaha City Council rejected Mayor Jean Stothert's appointment of Ben Gray to the Omaha Municipal Land Bank Board of Directors on Tuesday.
Stothert had sought to appoint Gray, who lost his City Council District 2 seat in May, to be the District 2 resident representative on the board. But council member Juanita Johnson, who defeated Gray in the May election, opposed his appointment. So did a number of District 2 residents who testified at a public hearing on the appointment earlier this month.
Council members Vinny Palermo and Danny Begley joined Johnson in voting "no" on Tuesday. The vote was 4-3 in favor of appointing Gray, but that fell one vote short of the supermajority required by city code.
"My reason for opposing it is because land banking can be used as a tool to help those in underserved communities have a leg up in purchasing property in the area," Johnson said. "In order for that tool to be effective, we have to be very mindful with who we choose to manage that."
The land bank board has seven voting members, one from each council district. The City Council recently appointed Johnson to the land bank board as a nonvoting representative of the council.
Johnson noted that Stothert had cited Gray's experience as a rationale for appointing him. But she said the mayor had not consulted her about the appointment. While not required to do so, the mayor should have, given the large portion of land bank properties that are in District 2.
"I was concerned again with the 'how' — how the process was determined to appoint him," Johnson said. "I was also concerned with my constituents in terms of their desire to see a change, and that change was to redirect their leadership in selecting me as their representative."
Palermo and Begley both said they have great respect for Gray and believe he is qualified to serve on the board.
"But I have to respect the wishes of the council member that I currently serve with," Palermo said, adding that he believes the land bank needs a shake-up. "She brought up some really great points."
Begley said Johnson told him that she wanted to see someone else from District 2 appointed who "is kind of a fresher, newer face."
"Ben's on the MECA Board," Begley said. "I just thought maybe the mayor could look in a different direction per council member Johnson's request, which I supported."
Gray said the testimony against him at the July 13 council hearing was the worst character assassination he had seen at a council meeting in 20 years as a journalist and 12 years as a member.
"I don't understand the vitriol that took place two weeks ago and the anger with that," he said.
He said he was well qualified.
"I did the work going to the cities to see which (type of land bank) would work best for Omaha," Gray said. "I got it through the Legislature. I helped write the ordinance to get it in the code of the city. ... I've been on the board as a nonvoting member the entire time."
Stothert said she had appointed Gray because he was the best candidate.
"It is disappointing that his qualifications and years of service on this board, and to City Council District 2, have been ignored," Stothert said in a prepared statement. She said appointments to city boards and commissions "should never be influenced by personal grudges or vendettas."
Council members Brinker Harding, Aimee Melton, Pete Festersen and Don Rowe voted in favor of appointing Gray.
"Mr. Gray has served the community honorably for many years and he is clearly qualified to serve on the land bank," Festersen said. "That's why I supported him. But I do think city government needs to do a better job of engaging more voices in the community with all of its board and commission appointments, and North Omaha in particular."
Asked if he had thought about withdrawing as a nominee, Gray said, "No. That's not in my nature. That's not what I do."