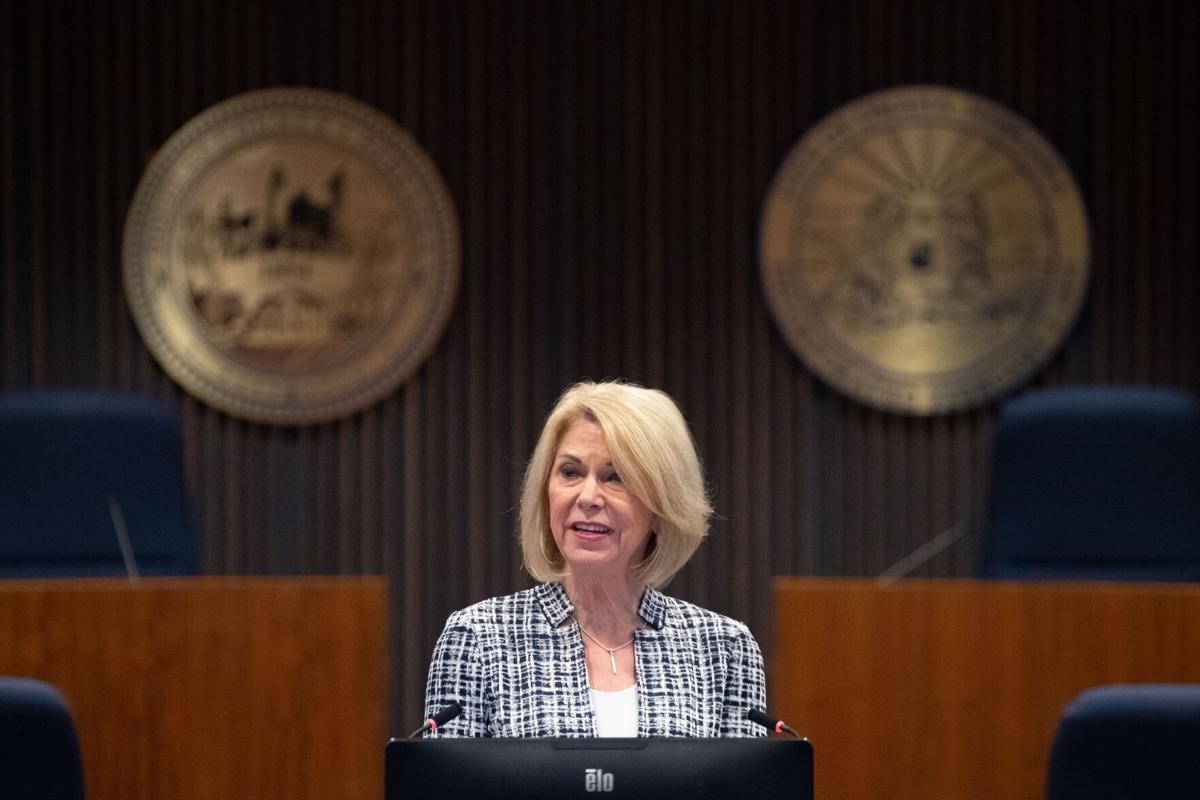 Omaha Mayor Jean Stothert on Monday skewered a weekend protest that featured severed pig heads wearing costume police caps, suggesting that Omahans "are fed up with hateful and divisive acts."
Stothert was responding to a Saturday evening gathering at Montclair Park. Attendees there condemned the Omaha Police Officers Association and its president, Sgt. Anthony Conner, for distributing a flyer targeting former independent City Council candidate Cammy Watkins as being anti-police.
Following a "pig roast" and speeches in the park, a group of 40 to 50 people walked to the nearby police union hall near 134th Street and West Center Road to leave copies of the Watkins flyer and the heads of three pigs that they had gotten from a packinghouse worker, an organizer told The World-Herald.
Police said four announcements were made over a 10-minute period, telling the protesters that they were trespassing on private property and must leave. A command officer eventually declared an unlawful assembly and ordered the protesters to leave.
Seven people were arrested on suspicion of various potential crimes, including trespassing, failure to disperse, disorderly conduct, obstructing, littering and unlawful assembly, a police spokesman said.
"The disgusting incident at the Omaha Police Officers Association headquarters Saturday night was intended to provoke conflict," Stothert said in a written statement. "The responding officers acted professionally and responsibly after repeated attempts to peacefully clear private property."
"What part of this is okay?" Conner, the union president, said in a Facebook post that included photos of the pig heads left near the union hall.
In a Monday Facebook post issued before Stothert's statement, the group that organized the event accused police officers of escalating "an entirely peaceful demonstration and (turning) it into a violent man hunt."
Members of the group spoke over megaphones for about 20 minutes to the crowd outside the union hall, police said. Social media video showed several police cruisers pulling into the north parking lot during a speech before officers eventually rushed the scene.
"We organized this demonstration to educate the community while combating these oppressive entities," read a post by the Revolutionary Action Party. "We organized this to hold these uncivilized, racists and misogynistic thugs accountable. But once again, and to no one's surprise, OPD showed their true white supremacist colors during our final peaceful demonstration of the night."
Stothert noted that the protest came just days after she and the Omaha City Council supported a resolution condemning discrimination and hateful speech, as well as "anti-government extremism."
"I am confident that our citizens share my support for the Omaha Police Department," she said in Monday's statement.
---
402-444-1127, @reecereports