MarQ Manner's home station is right across the street outside the Benson Post Office, and the dock after his bike commute is only a block from his job at Homer's Music in the Old Market.
Manner started riding Heartland B-cycles two years ago as he started losing weight and kicking some unhealthy habits.
Today, he commutes to and from work by B-cycle on its e-bikes — bicycles that give traditional pedal power a motorized kick.
But Manner also rides for fun, for errands or just for exercise. He has docked at every local B-cycle station and logged some 5,500 miles.
Manner is a power user in Heartland B-cycle's growing bike share program. Even as the pandemic slowed many parts of local civic life, Omaha's bike share program is flourishing.
The program is adding popular new models with its e-bikes, bringing in new riders with a free ridership program for low-income areas and expanding stations throughout urban Omaha and into the suburbs.
Electric scooters might be all the buzz. But the bike share program is the one riding steadily along, outpacing scooters in total trips last year and showing a strong connection with how people want to ride.
Benny Foltz, executive director of the nonprofit that runs the program, said the growth is continuing into this year. Just a few weekends ago, Heartland B-cycle had its busiest weekend in its 10 years of operation, Foltz said.
"We're definitely not going anywhere," Foltz said. "We're only growing."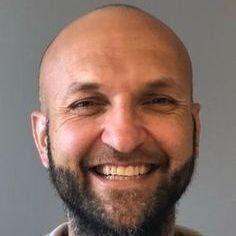 Public bike sharing programs were expanding around the United States leading up to the pandemic. Between 2010 and 2019, the number of trips from shared bikes docked at a station — like Omaha's system — rose from 321,000 nationally to about 40 million, according to figures from the National Association of City Transportation Officials.
But the concept of publicly available, rentable bikes has not found sustainable footing nationally. In 2019, the number of station-based bike sharing programs dropped to 72 nationally, then others shuttered in the pandemic, according to the transportation group. Denver and Wichita saw their bike sharing programs end, and had to restart with new operators.
In Omaha, the program started in 2011 through the organization Live Well Omaha and Omaha's Community Bike Project with five stations in Aksarben. It incorporated as a separate nonprofit in 2016.
Today, the parent Heartland Bike Share nonprofit operates programs in metro Omaha, Council Bluffs, Lincoln and Valentine — at what Foltz calls the nation's must rural bike sharing station located off the Cowboy Trail.
While about one-fourth of the program's $1 million budget is supported by rental fees, the nonprofit relies on grants and donations from the philanthropic community and sponsorships. And Foltz is always looking for new station sponsors.
Julie Harris, executive director of Bike Walk Nebraska and a Heartland Bike Share board member, said e-bikes were the game changer to spark higher ridership, as people realized they could get around by bike faster but with less exertion.
Omaha's program also benefited from people's pandemic push to get outside, where bike riding overall and trail use have seen huge increases.
Harris said the program has done a great job expanding stations beyond downtown.
Downtown and Aksarben may be the program's staples. But Heartland B-cycle now has stations in North Omaha and Council Bluffs, will be expanding into Bellevue, is looking at La Vista and has a third Papillion station under discussion.
The suburban Sarpy County station at Chalco Hills Recreation Area is the program's third-busiest station since the pandemic.
Tony Gowan, parks director for the City of Papillion, said the bikes have taken off in Papillion with visible stations at downtown's First Street Plaza and at the Papillion Landing community center.
Both are within a quick turn onto the West Papio Trail.
In the heart of Papillion's downtown, Gowan said, visitors often see the bikes and "take it as a challenge to get on and give it a try."
Outside North Omaha's Culxr House, the station is often empty as families and groups go for bike rides, said Marcy Yates, Culxr House's founder and executive director.
Some people ride the b-cycles for wellness, Yates said, but others use them for transportation around the city or trips to the grocery store.
As more people ride, the interest spreads to new riders.
"I think that they're excited about being able to use them on their own," he said.
Foltz said he considers the bike share program part of Omaha's broader public transportation system. While recreational rides are popular, Foltz said about half of all trips are considered to be for transportation as people ride from one place to another.
Last fall, the nonprofit and City of Omaha agreed to a three-year agreement to support each other, which led to the city purchasing a van for the organization. Foltz called the agreement a huge step forward.
The program is experiencing increases in walk-up users, memberships and e-bike usage, Foltz said. Now when his staff is out in the community, he said, they're excited to see people on b-cycle bikes around downtown, midtown and all over the city.
"All these things together has just been moving the needle to increasing ridership," Foltz said "And it's not super unique to Omaha, although I do think my team has done an amazing job."