Now pulling into Omaha: The bus transit system of the future.
After years of preparation and months of construction, Metro transit will launch Omaha's new rapid transit bus line Wednesday.
ORBT's arrival will be a milestone achievement for a transit system that has long taken a back seat in a growing, car-bound city.
With a rapid bus line running between downtown and Westroads Mall, Omaha is taking a step toward a big-city transit system with an approach that's expanding around the country.
This is just the start. Metro and the Greater Omaha Chamber of Commerce already are looking at how to expand the system off the ORBT backbone and connect the bus line and future routes into better park-and-ride stops, sidewalks and trails.
Still, the debut of Omaha's big upgrade comes at the most difficult time — during a raging pandemic that discourages people from sitting in closed spaces like a bus while causing many office workers to skip the daily commute and work from home.
Even so, transit advocates call ORBT a game-changer that can reshape how people get around Omaha. The project, advocates say, even has the potential to boost the city's development and set the tone for the future Omaha, post-pandemic.
"We're incredibly excited about it," said Jay Lund, chairman of the Metro board and an Omaha real estate developer. "I think it's just the tip of the iceberg."
Omaha has long studied ways to improve its regular transit system, often with an eye toward starting a streetcar. But in 2014, Omaha started down another route.
That year, Omaha wrote and won a $15 million federal grant to start a BRT line. BRT, or bus rapid transit, has been growing in popularity around the globe and around the United States by building on the best of the regular bus system, adopting aspects of light rail but avoiding the steep cost of a rail line.
Today, bus rapid transit has spread to cities including Cleveland; Indianapolis; Kansas City; Fort Collins, Colorado; and Eugene, Oregon, catching on for its speed and reliability.
The ideal rapid bus line has dedicated lanes to skip around traffic, fewer bus stops and technology allowing bus drivers to hold a green light longer. The buses are sleekly styled to resemble the look of an urban rail line. They take advantage of ticket technology and rider platforms that speed up trips. A traditional bus schedule is unnecessary because buses arrive in a regular rotation.
Omaha branded its line as ORBT, playing off the Rapid Bus Transit acronym, and is debuting modern orange-and-black-styled buses that look different from Metro's normal blue and white buses.
Along the downtown loop (east of 30th Street on Dodge and Douglas Streets), ORBT buses will have a dedicated transit lane. ORBT buses also have some signal control.
The raised platforms will load like a train station. Although fares are free through mid-March, ORBT stations will offer ticket kiosks for later.
Omaha's version won't be a complete implementation of the concept — ORBT buses still will contend with Dodge Street traffic. Still, an end-to-end trip is estimated to take 24 to 27 minutes on a route that easily can be a 20-minute drive, and a bus will arrive at any given stop every 10 minutes, from 7 a.m. to 7 p.m. on weekdays.
"It will be an experience unlike any that they've ever had if they've ridden an Omaha bus," said Daniel Lawse, a Metro board member, a soon-to-be ORBT rider and principal at sustainability consultant Verdis Group.
Metro chose the Dodge Street line as a kick-starter because it will cover half the city, run on the main city artery and closely connect with major employers, hospitals, the arts, shopping and Omaha's most densely populated neighborhoods.
In all, it cost $37 million to plan and build the project.
Already, conceptual long-range transportation plans have sketched out a future metrowide bus rapid transit system: connecting the Dodge Street line into Council Bluffs; running a line north up 30th Street and south along 24th Street to connect with Fort Crook Road in Bellevue; expanding along 72nd Street through Douglas County and 84th Street in La Vista and Papillion; and stretching west along West Center Road to 144th Street and Maple Street out to Interstate 680. Beyond that, enhanced express lines could connect to the rapid bus lines.
In a sign of the support for bus rapid transit, two people who worked on the original federal grant have risen to influential transit positions in Omaha.
Lauren Cencic, who was the grant administrator for Omaha's proposal back in 2014, is now Metro's executive director.
"ORBT is a great first step in the right direction," said Cencic, whose career took her to the Los Angeles County Metropolitan Transportation Authority before she returned to lead Metro transit in September.
Stephen Osberg served as a consultant on the original grant. Now, he serves as director of transportation development for the Omaha chamber, which is developing a transportation strategy for metro Omaha.
"This is really about thinking about the future," Osberg said, "what we're going to become and where we're headed."
Over the years of preparation for the project, Cencic said Metro has talked with thousands of people in the community about the project and all kinds of groups with a stake in it. She said officials hear enthusiasm and excitement for ORBT.
Metro will be looking at priorities for its next projects but will listen to the community before it sets any plans.
"It's really the right time for us to be thinking about where we go," she said.
Julie Harris, executive director of Bike Walk Nebraska, said her organization, which promotes active transportation, is thrilled to see ORBT launch. Bus rapid transit has proved popular in other cities, she said, and she suspects people will start clamoring for what's next in Omaha.
Harris said she's particularly excited about ORBT's on-board bike racks and Heartland B-cycle bike-share stations going in next to 15 ORBT stations by spring.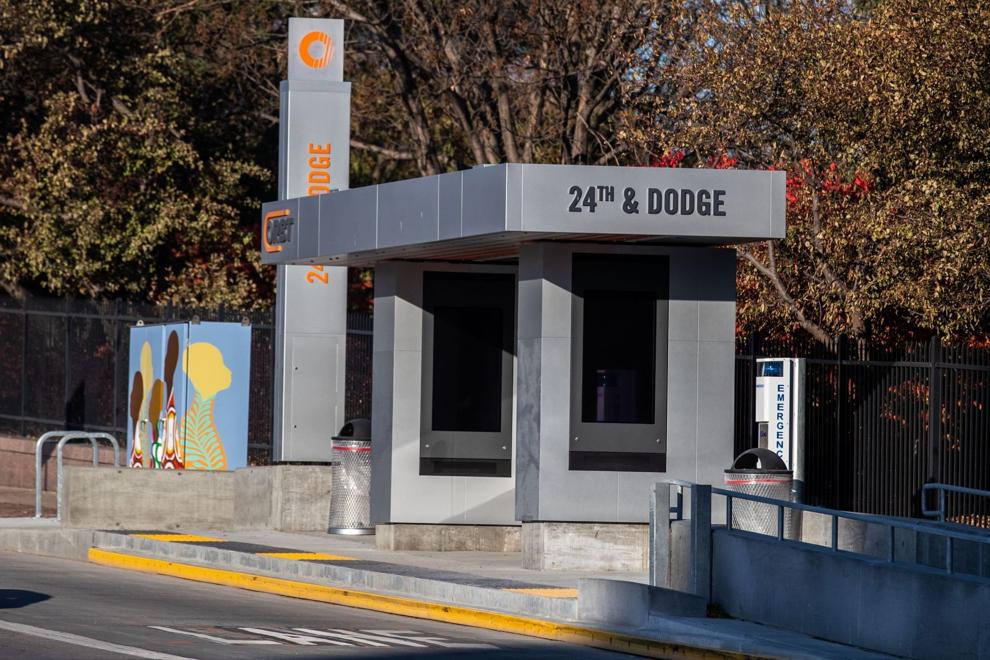 "There's a lot of exciting things happening," Harris said, "and we are all for it."
Jesse Harding, who lives near Memorial Park, has been keeping an eye on the project and is ready to start riding.
Just a few weeks ago, Harding sold his car in anticipation of riding ORBT for running errands, getting groceries or commuting downtown to the Commerce Village coworking space when he's not working from home.
"You shouldn't have to have a car to get around easily," he said.
Alex Liekhus, who lives south of the Old Market and manages Commerce Village nearby, said she's excited for ORBT's launch. She said she's ready to use the line as long as buses have space to reasonably distance and riders are wearing masks. (Masks are required on city buses.)
Liekhus said she's looking forward to the convenience and frequency of the new line. She said she could see using ORBT to run errands, grab carryout, visit Elmwood Park, play tennis at Dewey Park, visit the new Topgolf facility at Westroads or take her bike to access the Keystone Trail.
Ben Boeckman, a history teacher at Central High School, said he'll hold off riding ORBT until the pandemic is more under control. But when he starts riding, he said he could take ORBT a couple of times a week for his commute between Central and his home south of Midtown Crossing. Otherwise, Boeckman still drives what he calls a "gas guzzler" pickup to work.

"It's just a great way to save the environment a little bit and even save a little bit of money," he said.
Metro officials know ridership will be down from pre-COVID-19 projections of 2,740 riders daily. Pre-pandemic, the existing Dodge Street route, which will be phased out in favor of ORBT, drew 1,500 riders per day.
In the pandemic, Metro ridership overall has dropped by half, which might sound like a lot but also underscores how important the bus system is to the remaining riders — often essential workers who rely on the city bus system to get around.
Cencic said Metro would do no one a favor by waiting to start ORBT.
"There's still the need for this type of service," she said.
Lund said he's optimistic about opening in the pandemic. Longer term, he said he thinks ORBT absolutely will succeed and become the catalyst for improving the entire system: "It's our job to continue to change the perception of what transit is and what it can be for a city the size of Omaha."
---
Omaha's 10 busiest intersections