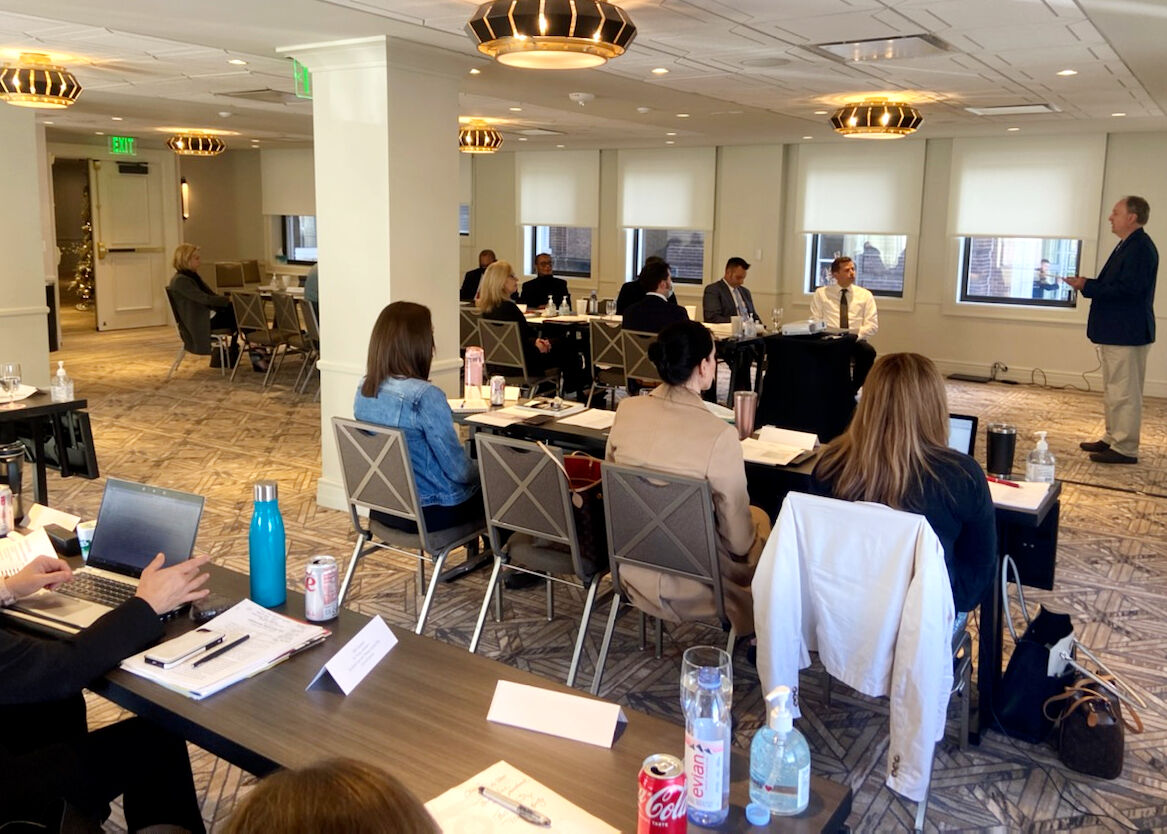 The first electric buses in the City of Omaha's fleet will hit the street in the opening months of 2022 just as the city begins work on a climate action plan.
The announcement came Tuesday during a joint meeting between Omaha and Lincoln city officials and elected leaders at the Cottonwood Hotel in Omaha's Blackstone District. 
During a wide-ranging discussion — which touched on affordable housing, federal COVID-19 money, legislative priorities and more — much of the conversation focused on the future. 
For Omaha's Metro Transit, that future includes an introduction of the city's first three electric buses in early 2022. 
The buses cost about $800,000, an increase compared to those in the city's current fleet, which run roughly $600,000, noted Lauren Cencic, chief executive director of Metro Transit.
"There should be a reduction in maintenance costs and fuel costs," Cencic said, "but really we're looking at the environmental benefit and the benefit to neighborhoods. These will be much quieter both on the road and for riders."
The city's first electric buses come as Omaha initiates its first climate action plan — a fact that puts the city behind some of its peers and even some smaller municipalities, including Lincoln. 
The planning process will be guided by public-private partnerships, something Omaha "does extremely well," said Kevin Andersen, Mayor Jean Stothert's deputy chief of staff for economic development.
"We get the question of why start now," Andersen said. "It's in large part because of the work of our partners out there in the metropolitan area. This all came about largely at the invitation of OPPD."
The Omaha Public Power District has spent the last two years developing a decarbonization plan targeted at 2050. The plan will be made public next month.
Andersen also pointed to higher education institutions, including Creighton University, which, as part of a new sustainability plan, is undertaking a significant revision to the climate plan it developed in 2013. Creighton's new plan, which aims to reduce greenhouse gas emissions as much as possible, is due out in April.
Lincoln finalized its own climate action plan earlier this year and City Council approved it in March. Work on the plan started in 2019 after the devastating floods in Nebraska.  
Tuesday's meeting also hit on the need for more affordable housing. 
Omaha City Councilman Pete Festersen kicked off the discussion by acknowledging a recent study that found Omaha is about 80,000 affordable housing units short of the city's need. 
"This is a big issue in Omaha. All of our council members agree that this should be a top priority, I believe," Festersen said. 
The city is working on an affordable housing action plan, according to David Fanslau, director of the Omaha Planning Department.
Community engagement will be sought on the plan in early 2022, with an online survey launched in February and public meeting planned for March. 
Affordable housing has been identified as a priority for money received through the American Rescue Plan Act, another topic at Tuesday's summit. 
Congress passed the $1.9 trillion act in March with the goal of counteracting the economic damage caused by COVID-19. The package included $350 billion for eligible state, local, territorial and tribal governments.
Jurisdictions that accepted the money have until 2026 to spend it and are required to regularly report their spending to the Treasury Department. Failure to spend the money according to guidelines would require a local jurisdiction to return the money to the federal government.
ARPA allocated about $56 million to the City of Omaha in May. Another $56 million is expected in early spring 2022.
Plans for the funds are still in the works, said City Finance Director Steve Curtiss, but priorities for the funds include public space improvements, affordable housing, community programs and aid to tourism.