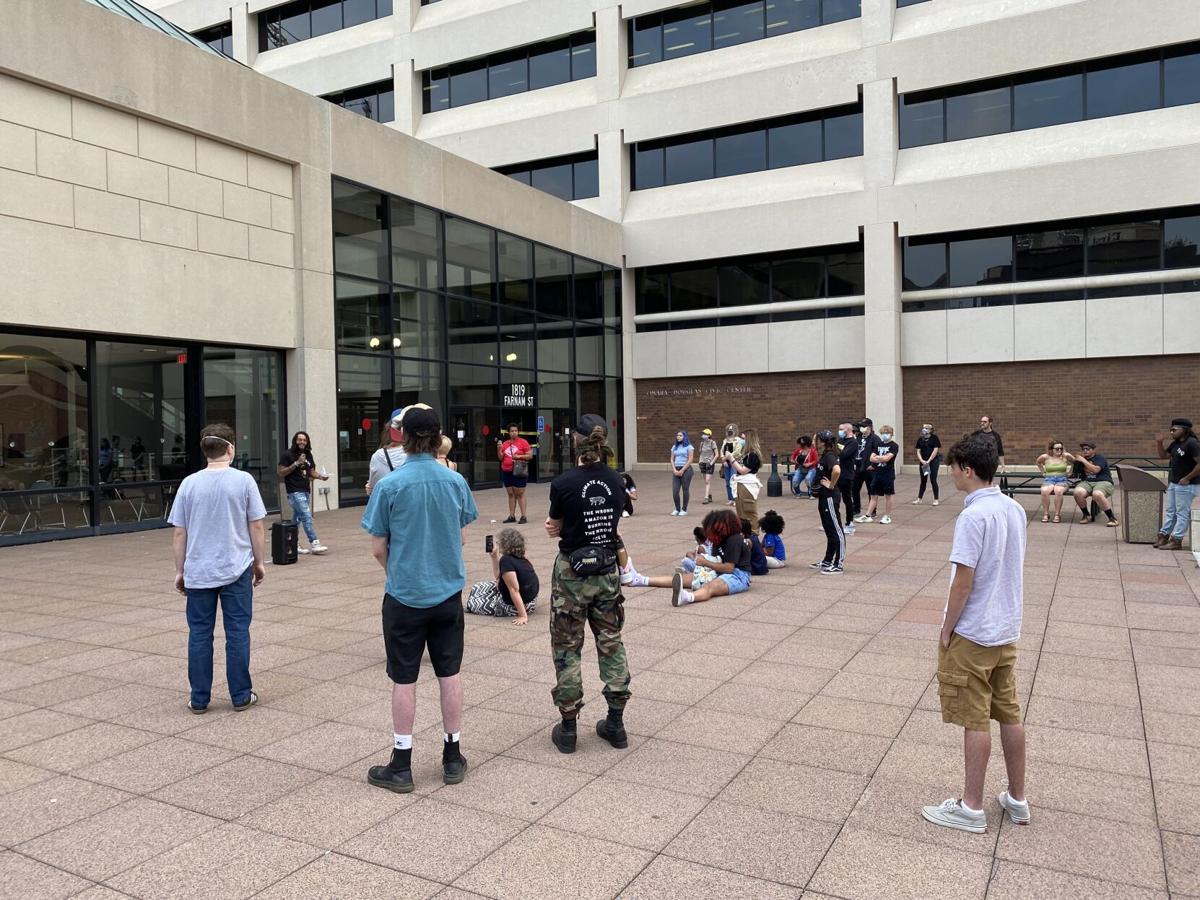 Critics of the Omaha Police Department banded together Tuesday to voice their frustration over another city budget proposal that gives more money to the police.
Much of an hours-long public hearing on Omaha Mayor Jean Stothert's proposed 2022 budget was filled with testimony from dozens of people who balked at a proposed 3.25% increase to the Police Department's budget.
That increase, which would bring the police budget to $169.9 million, should be used for more mental health services, affordable housing, job-seeking services and education, many opponents said.
Community organizer Jaden Perkins summed up some of the opposition when asking council members why the Police Department is set to receive a $5.3 million raise "at a time when the community is suffering from economic anxiety, a health care crisis, a housing crisis, rising crime and ongoing racial disparities when it comes to traffic stops."
As the public hearing played out inside the City-County Building downtown, community groups like the Revolutionary Action Party gathered outside for speeches, chants and chalk-drawing.
Earlier Tuesday, during a police budget discussion between Police Chief Todd Schmaderer and the City Council, Council President Pete Festersen asked the chief what the consequences could be if the department failed to receive its $5 million bump.
The impact would be heavy, Schmaderer said, because 89% of the department's budget is dedicated to personnel costs. The department also is contractually obligated to pay officers more because of the city's recent negotiations with the police union.
The proposed police budget keeps the number of budgeted police officers at 906. Schmaderer said about 50 of them could lose their jobs if the department lost out on millions of dollars.
"Any decrease," the chief said, "affects the level of service we could provide."
While many of the opponents spoke of a general need to devote more money to social services, others came prepared with specific proposals.
Apollo Bythrow said the department's mental health co-responder program is flawed because it forces interaction between police officers and the public. Bythrow called for the diversion of $5 million from the police budget for a new mental health response team completely separate from the Police Department.
That model, Bythrow said, would reduce public interaction with armed officers.
"I'm asking you to be imaginative in the way we can support our community," Bythrow said.
Stothert, Schmaderer and other police leaders have stressed that the department puts a priority on the mental health of residents and officers.
The budget proposal includes money to hire a mental health coordinator, at $95,000 a year, to oversee the co-responder program, and teach recruits first aid related to mental health. It also includes money to expand the department's peer support group program, more crisis intervention training and inclusivity training.
Last year's calls to reallocate police funding found some support among council members, but ultimately failed due to lack of support and a veto by the mayor. Then-City Councilman Chris Jerram had proposed that $2 million be taken from the Police Department's budget and given to employment and health services. He had already announced that he would not seek reelection when he made the proposal.
Testimony by critics of the police budget dominated the hearing as of The World-Herald's deadline. The hearing lasted about another hour.
Not all of Monday's opposition to Stothert's budget was focused on the police budget.
Sarah Johnson, a former City Council candidate who advocates for modes of transportation other than vehicles, questioned why the proposed capital improvement program includes $129 million for vehicle-related infrastructure like parking garages and none for protected bike lanes. The city's first such lane, which has signage and posts separating cyclists from cars, recently opened along Harney Street in downtown and midtown.
Johnson said the city needs to think further down the road.
"You can't widen your way out of traffic congestion," Johnson said.
One Central High School student said she has begun to frequent the Harney Street bike lane because it is safer than pedaling on the streets. She said she has heard similar sentiments from other cyclists, and she called for more protected lanes.
"I love biking on it — it makes me feel protected," she said.
The public hearing began with testimony from three supporters of Stothert's budget proposal, including representatives of the Siena Francis House homeless shelter and the Set Me Free Project human trafficking program, both of which are set to receive city money.
Doug Kagan of Nebraska Taxpayers for Freedom had a few minor budget cut suggestions, including that the city cut funding for programs that can be supported through private donations.
But Kagan praised Stothert's proposed 2% tax reduction for the City of Omaha's levy.
The tax group, Kagan said, regards the 2022 proposal "as taxpayer-friendly, strong and stable."
The council is scheduled to vote on the proposed budget at its Aug. 17 meeting. The public still can comment on the budget by emailing their City Council member or calling the Mayor's Hotline, 402-444-5555.
---