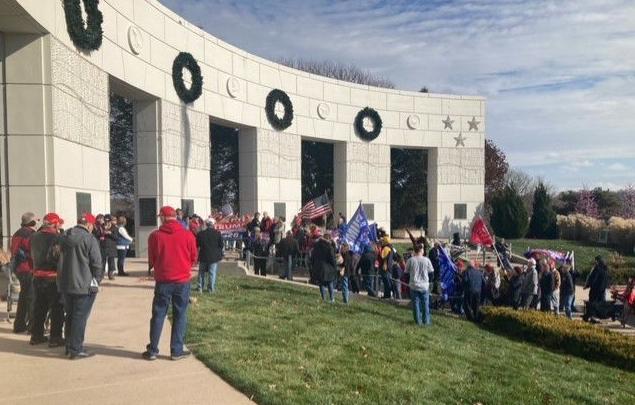 More than a week and a half after Election Day, Nebraskans on both sides of the political spectrum still were raising their voices Saturday about the vote counting process.
A "Stop the Steal" rally held by conservative groups at Omaha's Memorial Park attracted the attention of a liberal counterprotest organized by the Omaha group ProBLAC. The Omaha Police Department was on hand to monitor the event.
Omaha Police Sgt. David Volenec said that at its peak, the crowd grew to between 100 and 120 people, of which two or three dozen were liberal activists.
Although words were exchanged and tempers flared, Volenec said no one was injured.
"Our ultimate goal here is just to keep everyone safe," he said.
People from both groups used loudspeakers, drowning one another out at times. The pro-Trump group alleged voter fraud and election irregularities across the country. The counterprotesters chanted back about Trump's conduct in office and controversial statements.
Tim Davis, president of the Nebraska Log Cabin Republicans, was one of the rally organizers. Nebraska's first such rally was held at the Nebraska State Capitol last weekend, he said, and the group hopes to continue holding them for the immediate future.
"We're going to keep pushing until the inauguration every Saturday across the state of Nebraska," he said.
A large pro-Trump rally was also held Saturday in Washington, D.C.
Davis said the goal of the Omaha rally was to call for a free and fair election in which every legal vote and only legal votes are counted. He said he thinks that area election officials did good work but said there are places across the country where there were allegations of voter fraud.
Last week, the U.S. Department of Homeland Security's Cybersecurity and Infrastructure Security Agency called the election "the most secure in American history." The Trump campaign's allegations of widespread election irregularities have not been proven.
Bear Alexander, an organizer for ProBLAC, said the group received notice of the event Friday and decided to attend because such rallies should not go unanswered.
"We strongly believe that these Trump rallies are in disguise white supremacist rallies," he said. Alexander said Trump supporters used racial slurs toward ProBLAC members at the event.
Alexander said he has no quarrel with recounts and audits across the country to ensure that each vote is counted fairly.
"What I do have a quarrel with is them spewing a rally for Trump," he said.
Alexander said he chalks up the anger among some Trump voters to the fact that their candidate lost.
"These people are sore losers," he said. "Four years ago, they were calling liberals snowflakes."
---
Our best staff images from November 2020
Get Government & Politics updates in your inbox!
Stay up-to-date on the latest in local and national government and political topics with our newsletter.