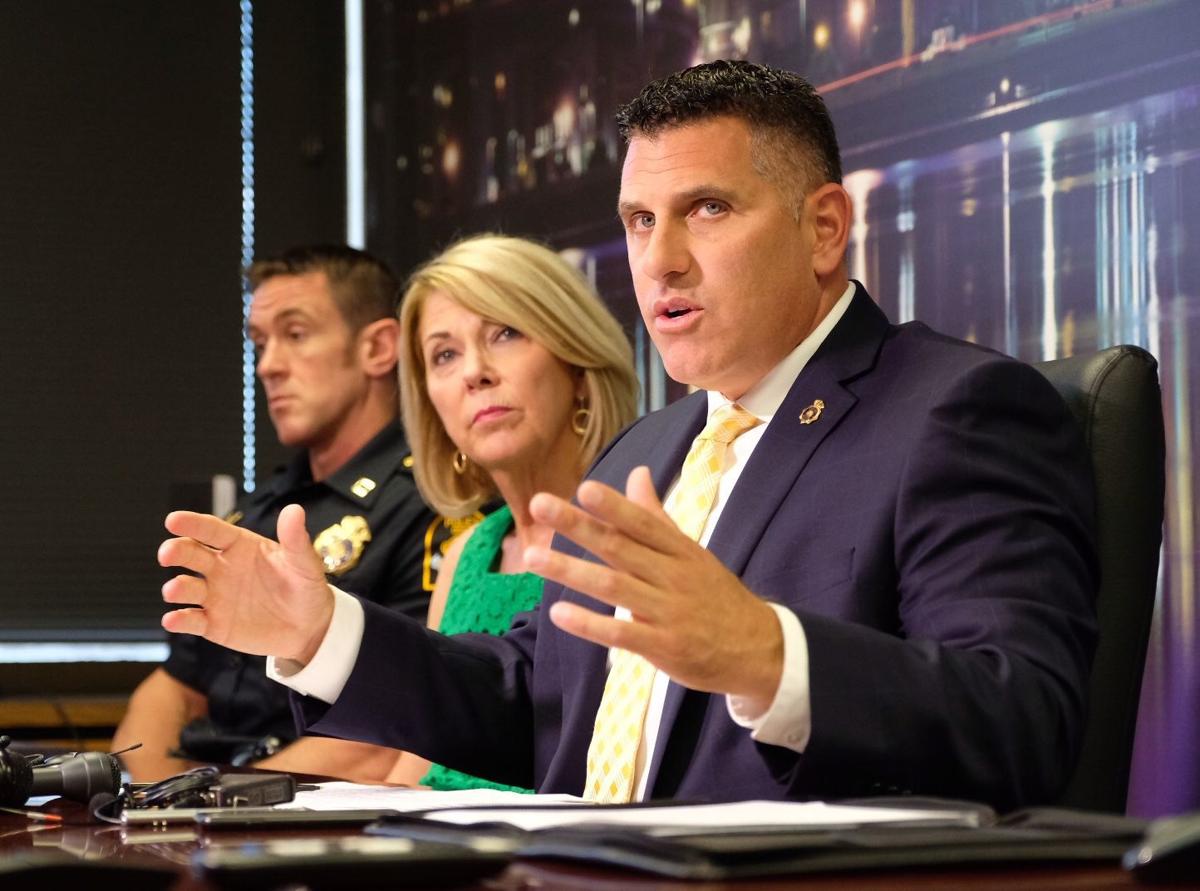 Omaha Police Chief Todd Schmaderer endorsed Mayor Jean Stothert for reelection Wednesday, attempting to draw a line between his official role as a public servant and as a private citizen.
Schmaderer stood with Stothert at a press conference at her campaign headquarters. Wearing dress clothes, not his police uniform, Schmaderer said he had taken time off work and was not there in an official capacity.
Asked if he could really separate Todd Schmaderer the citizen from the police chief, Schmaderer said, "I can, and I do."
Schmaderer is registered to vote outside the Omaha city limits, according to election records. That makes him ineligible to vote in the Omaha city election or for Stothert, who will face challenger RJ Neary in the May 11 general election.
Schmaderer said "everything that I've done here today" was vetted and approved by the City Law Department.
Omaha city ordinance prohibits city employees from "actively" participating in any political campaign or soliciting or contributing funds for any political purpose. But the ordinance specifies that employees can "exercise his or her right as a citizen to express his or her opinion."
Interim City Attorney Matt Kuhse told The World-Herald that Schmaderer and other city employees must follow certain rules, including not appearing at a city facility, not wearing a city uniform and taking time off work.
Schmaderer appeared "as Todd Schmaderer, private citizen" and "100% followed the rules," Kuhse said.
"If people who see it don't make that distinction ... that's not for me to answer," Kuhse said.
Originally appointed by Mayor Jim Suttle, Schmaderer has served as Omaha police chief since 2012, making him the second-longest serving police chief in the city's history. Schmaderer is a civil servant, which gives him protection against any mayor firing him.
Schmaderer made a salary of $216,923 as of February and in March entered the city's deferred retirement program.
Schmaderer will accrue $14,796.45 per month in pension benefits in the deferred retirement program. If he remained chief for five more years, Schmaderer would receive a lump sum of that accrued total, $887,787, at the end of that time — essentially earning a monthly pension while working but receiving it at a later date.
Once he officially retires, he then will receive the nearly $15,000 per month in pension benefits for life.
In the mayoral election four years ago, Schmaderer did not make an endorsement. When the police chief became a subject in a mayoral debate, Schmaderer said: "The Omaha Police Department and myself, in particular, work for the citizens of Omaha."
At an Omaha Police Department promotional ceremony in March, Schmaderer, then in full uniform, spoke highly of Stothert. He said then that a city needs to have a leader who can be a troubleshooter, have a researched, strategic plan, be confident and strong, weather the pressure of the job but also have passion to help people in need.
"I am proud to say that I witnessed those qualities for the last eight years with Mayor Stothert," he said. "That's why the Omaha Police Department stands behind you."
Schmaderer's remarks Wednesday echoed his comments from the March police ceremony.
He said Wednesday: "The City of Omaha needs an experienced executive who has implemented successful strategic plans, is a seasoned troubleshooter, who is confident and strong to weather the pressures of this job, but also someone who has sympathy, empathy and passion for those in need."
"I'm proud to say that I've witnessed all of those qualities with Mayor Stothert over our eight years together."
The Omaha Police Union already has endorsed Stothert this election.
While Schmaderer said he was speaking in his personal capacity, everything he said in support of Stothert involved his observations from his work as police chief.
Schmaderer said that Omaha is on a "positive trajectory" in reducing homicides and shootings and that "I want to keep that momentum going."
He said the country is at a unique time for policing, and Stothert's experience "cannot be exchanged." He said that Stothert has supported him as he has moved the department forward and held officers accountable, and that she supports the Omaha Police Department overall.
Stothert called Schmaderer "one of the best police chiefs in the nation."
Said Stothert, "I'm honored to have your endorsement and to work with you every day to make Omaha a safer city."
World-Herald staff writer Alia Conley contributed to this report.
---