Metro Transit will study 24th Street through South and North Omaha for a possible new ORBT bus rapid transit line or other major upgrades in bus service.
The study also will consider 30th Street as an alternative to 24th Street for the portion of a potential ORBT line north of Dodge Street.
Agency officials announced Thursday that they had selected 24th Street as their next transit priority corridor. They've been analyzing bus ridership, public transit connectivity, equity and community needs and desires for several months as part of their wider MetroNEXT strategic planning and public engagement process.
Metro leaders chose 24th Street from among 15 earlier identified corridors to be the focus of the next major transit project in Omaha.
Metro CEO Lauren Cencic called 24th Street a "critical community connector, linking services, jobs, housing, recreation, education and a multitude of other destinations."
"Based on community feedback and engagement, numerous virtual public open house meetings we had and a pretty rigorous screening process we had, we've identified that next corridor for us to focus on," she said.
The main corridor to be studied stretches on 24th Street from Q Street in South Omaha to Ames Avenue in North Omaha. It extends to Metro's North Omaha Transit Center near 30th and Ames and to the Metro Community College South Transit Center near 30th and Q.
The 30th Street alternative goes north from Dodge Street to the Metropolitan Community College Fort Omaha Campus after traveling 24th Street south of Dodge Street.
Metro officials working on the project are including a North 30th Street alternative in the study area, "knowing that there are some constraints on 24th, especially when it comes to bus lane potential," Metro Senior Transit Planner Evan Schweitz told the board Thursday.
North 24th Street will see transit improvements in either case, said Jason Rose, communications and community relations manager for Metro.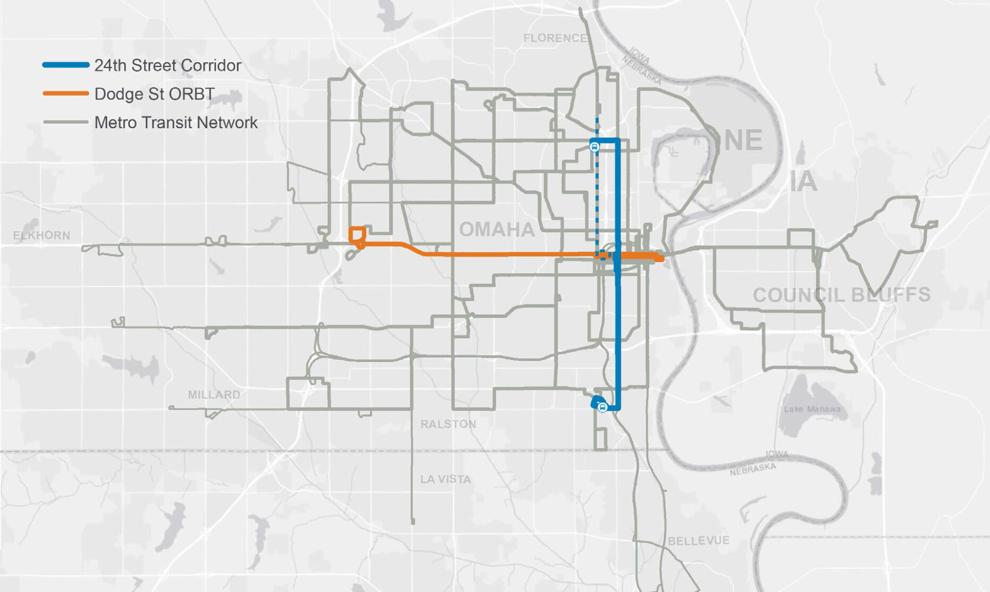 ORBT launched in November. It travels between downtown and Westroads Mall. Specially designed and equipped orange stretch buses come every 10 minutes to sheltered stations with platforms and information kiosks.
An ORBT expansion will be considered for the 24th Street corridor, but it is not a formal proposal at this point. Metro officials said they will consider other options in the corridor based in part on what's feasible and on what people in the neighborhoods say they want and need.
The other options could include "enhanced bus service," with more frequent buses with more passenger amenities, and better stations with shelter, route information and other features.
"We're going to be doing a lot of planning studies and a lot of community engagement along that corridor to figure out what that solution exactly looks like," Cencic said. "But we've identified it as a region, as a corridor with significant need for enhancement in transit access, in transit amenities."
She said it's a vital region in which a lot of people already ride the bus.
"And it's a key part of our overall transit network that connects to 16 routes in our system, would connect with the Dodge Street ORBT line," Cencic said. "It's the next spine of our system that we want to work on improving service on."
Besides residential neighborhoods and downtown offices, the 24th Street corridor includes the historic South and North Omaha business districts; such educational institutions as South High School, Metro Community College's South Omaha Campus, Central High School and Creighton University; and such cultural attractions as El Museo Latino, the Great Plains Black History Museum, The Union for Contemporary Art and Joslyn Art Museum.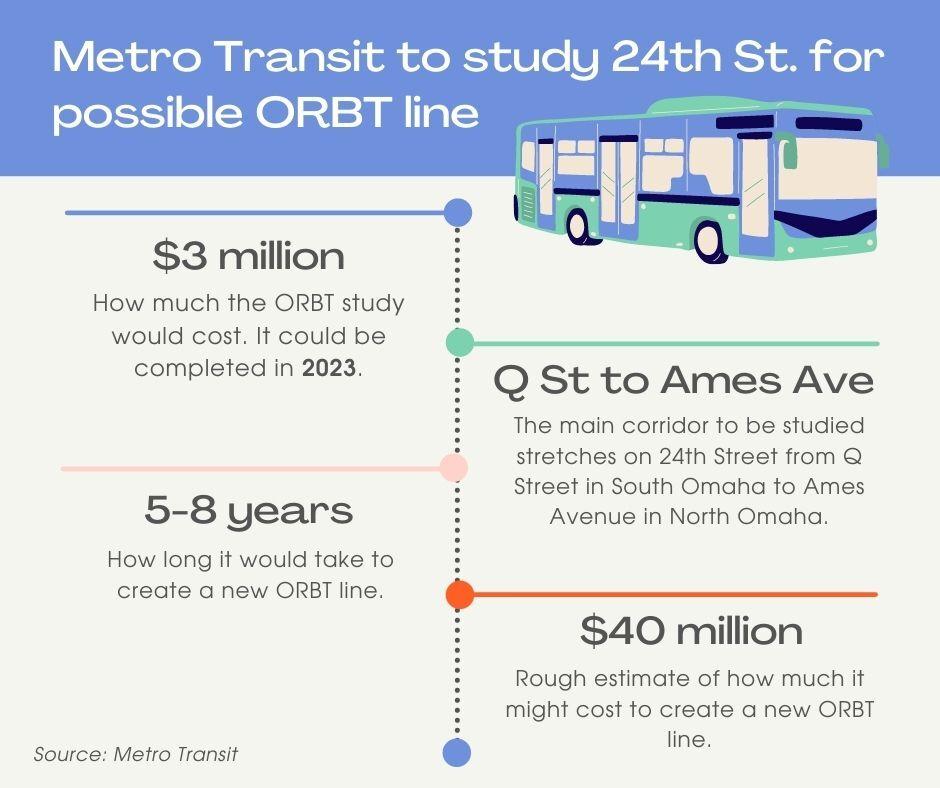 It traverses areas where significant business and residential redevelopment is under way, and more is planned.
"Anyone familiar with the community knows there are so many organizations and groups that are along that line," Schweitz said. "So we're really excited about the collaboration potential, and what this will mean for the community."
The agency is seeking funding to contract with an outside firm for an in-depth study of the corridor, including potential designs, environmental assessment and community engagement. The study would cost about $3 million and could be completed in 2023.
It would take at least five years to create a new ORBT line, agency officials told the Metro Board of Directors Thursday. They gave a preliminary cost estimate of $40 million, although Cencic called that a "very rough estimate."
The agency would pursue federal grants to pay for the project, as it did for the bulk of the original ORBT line's cost. The actual timing will depend on funding.
The selection of the 24th Street corridor is a part of the overall MetroNEXT five- to 10-year strategic plan to improve existing bus service and expand transit in Omaha and the region. Metro is coordinating that effort with the City of Omaha, the Metropolitan Area Planning Agency and the Greater Omaha Chamber of Commerce's ConnectGO initiative.