More than 3,600 Omaha households facing financial hardship during the pandemic have been able to pay their rent or another crucial bill from a pot of federal assistance money.
And soon, more rent and utilities assistance should be on the way.
As of mid-August, Omaha's Metro Area Continuum of Care for the Homeless had distributed more than 75% of the $22 million the city received from round one of the U.S. Treasury Department's Emergency Rental Assistance Program.
About $16.6 million had been distributed as of earlier this month. The money has helped tenants pay rent and stay in their homes and helped landlords make mortgage payments. The money has also gone toward electricity, gas and internet bills.
MACCH, which is managing and distributing the money for the city, has been accepting applications since the first week of April.
"We are working as fast, as diligently as possible to get people approved and get the money out the door," said Randy McCoy, MACCH's executive director. "We understand how stressful it can be to be behind on your rent."
Eligible households include those with an income at or below 80% of the area's median income, or where one or more people has faced unemployment, income reduction or other financial hardship because of COVID-19.
McCoy said the bulk of the money has gone to homes where families earn 50% or less of the median income.
Omaha residents can learn more about the program and find out if they're eligible by calling 211 or visiting macchconnect.org.
At the current rate of disbursement in Omaha, remaining funds are expected to run out in early September, "which is right around the corner, and of course, we're greatly concerned about that," Bill Lukash, a city planner, told the Omaha City Council last week.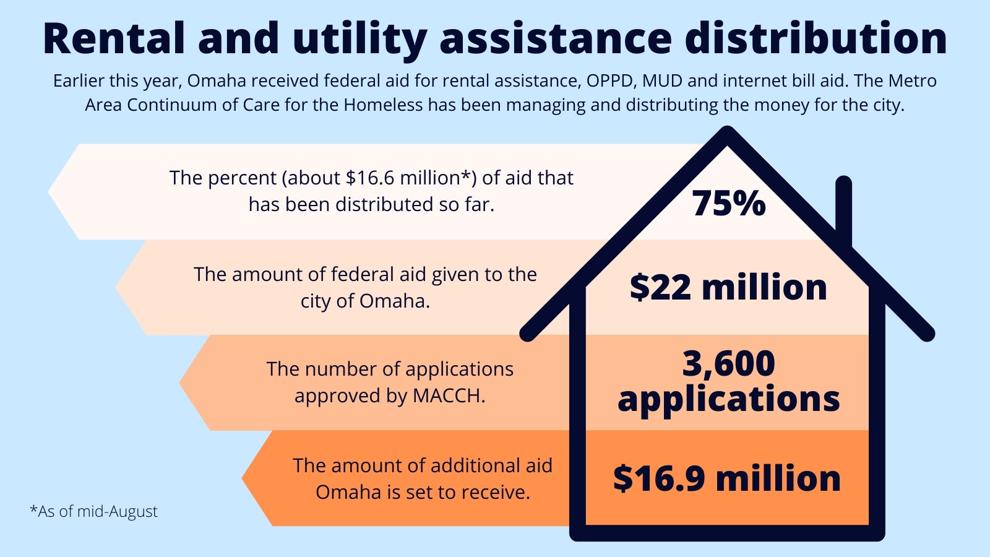 A second round of emergency rental assistance should become available in coming days, and Omaha is set to receive $16.9 million this time. The City Council on Tuesday is expected to approve another agreement with MACCH to manage that money.
The agreement says up to 10% of the money can be used for delivery costs incurred by MACCH, whose workers and volunteers are walking potential applicants through the application process, reviewing and verifying documentation submitted by tenants and landlords and distributing the funds.
MACCH has partnered with four community organizations to help with that undertaking: the United Way, Lutheran Family Services, Community Alliance and Together Inc.
Omaha may also receive additional money left over from the first round of assistance, Lukash said. The federal government has said it will recoup money from local governments across the country that have not distributed 65% of their rental assistance by Sept. 30 and redistribute it.
City and MACCH officials say the rental assistance program has so far been a success.
Omaha has outpaced many of its national peers in distributing the rental funds, Kevin Andersen, a deputy chief of staff to Mayor Jean Stothert, told the council last week. In total, the more than 300 government entities that received rental assistance had disbursed less than 30% of available money as of mid-August, Andersen said.
"I think that speaks to the City of Omaha's deployment, its partnership and MACCH's efforts ... getting it into the hands of folks who need it," he said.
More than 92% of the money distributed as of mid-August was used for rent, according to the city, with more than $1.1 million going to utilities and internet bills.
The bulk of applications came from five ZIP codes in east Omaha.
More than 500 applications representing almost $2.2 million were approved in 68111, which is bounded by Hamilton Street, North 24th Street, Redick Avenue and North 45th Street.
That was followed by 390 applications representing $1.7 million in 68104; 338 applications and $1.4 million in 68134; 158 applications and $693,000 in 68105; and 151 applications and $631,000 in 68102.
Requests for assistance have come from every ZIP code in Omaha, said McCoy, of MACCH.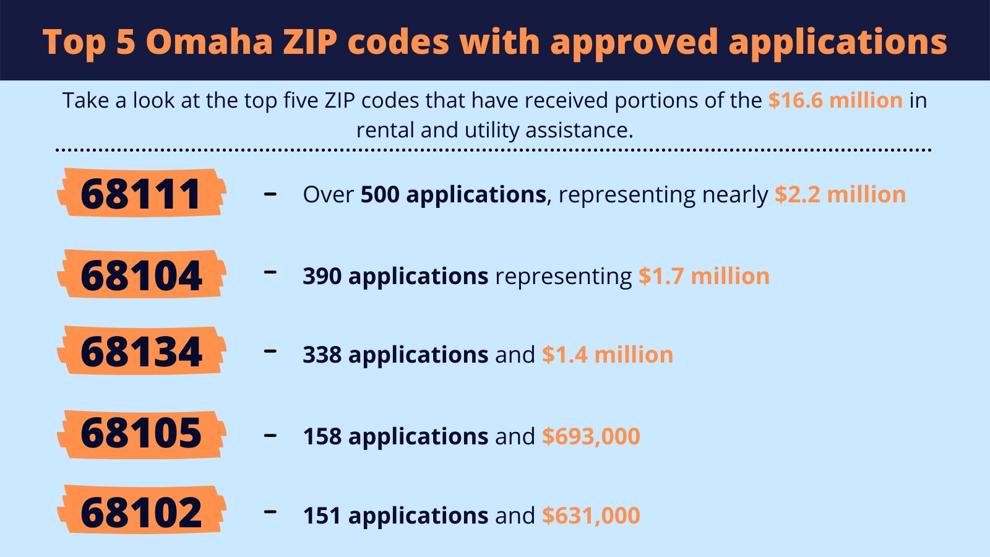 Legal Aid of Nebraska said last week that the decision "will have a devastating impact on thousands of Nebraskans struggling to pay rent and at risk of eviction."
Councilwoman Aimee Melton, a family law attorney, said during the council meeting that she has seen firsthand how the rental assistance program has helped both tenants and landlords.
In recent weeks, Melton has joined other area lawyers in volunteering to represent people facing eviction, and she said she and others have been able to educate tenants and landlords about the program.
McCoy encouraged landlords who have tenants behind on rent to talk with their tenant about the assistance. A landlord can start the application process on behalf of a tenant.
"Our goal here is to prevent homelessness," Melton said.
---