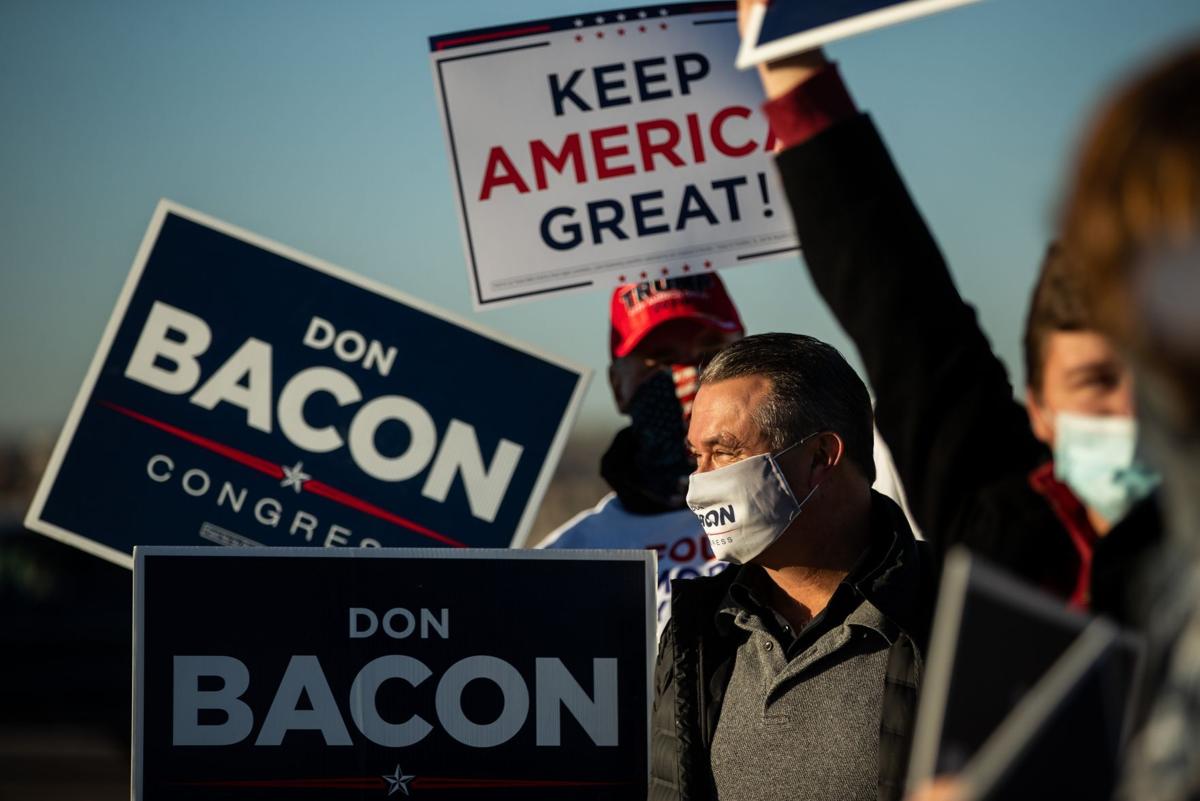 WASHINGTON — Rep. Don Bacon, R-Neb., took the podium early Wednesday with some fist pumps and a little grooving to Bachman-Turner Overdrive as he celebrated his victory over Democratic challenger Kara Eastman.
"Heck yes!" Bacon exclaimed to the aides and family members gathered before him.
That was a sly reference to his statement several years ago that he was a "hell yes" vote for Republican proposals to repeal and replace the Affordable Care Act. Political opponents seized on the quote and hammered him with it time and again. As Election Day approached, Bacon was considered the most vulnerable GOP incumbent in the country.
Bacon secured a third term by winning his rematch with Eastman, whom he also defeated in 2018. Virtual fireworks exploded on the screens behind him at his victory party, which was restricted to members of the inner circle in order to comply with pandemic safety measures.
In his remarks, Bacon spoke about the importance of tackling that pandemic.
"We've got to defeat COVID so we get people back to work," Bacon said. "We want to get our economy back to where it was in March."
He said he will work hard to establish the University of Nebraska Medical Center as a central hub for pandemic response. He also pledged to work across the aisle on issues where bipartisan agreement exists, from health care to immigration. He stressed the importance of Republicans addressing racial inequality in employment, education and incarceration.
"Our party should take the lead," Bacon said. "We are the party of Lincoln."
Eastman, meanwhile, addressed her supporters via a Facebook Live feed, saying she had set out to run a campaign that put integrity ahead of winning.
"We did that," Eastman said. "We fought for working people. We fought for those of us who feel like our voices aren't heard in politics."
She also encouraged her supporters to continue their work for change.
"We don't have time to be despondent, we don't have time to be upset tonight," Eastman said. "We don't have time because there is so much work to be done."
Eastman was inspired to run for Congress after losing her mom to cancer and seeing how her medical bills piled up. She scored a surprise upset in the 2018 primary over former Rep. Brad Ashford, D-Neb., with a campaign focused on relentless door knocking to familiarize voters with her background and platform.
Bacon, a retired Air Force brigadier general, was able to hang on that year and secure a second term despite a challenging national environment for Republicans.
The Bacon-Eastman sequel was far different from the original, however, as both candidates saw their 2020 campaign operations disrupted by the ongoing coronavirus pandemic.
Bacon paused, then later resumed, in-person campaigning, accompanied by masks and social distancing. Eastman, meanwhile, relied more on phones and virtual events to safely deliver her message to district residents.
Both candidates made plays for voters on the other side of the aisle, touting their bipartisan endorsements in dueling high-profile ads.
Eastman's campaign showcased the support of GOP State Sen. John McCollister as it sought to attract Republicans and independents turned off by President Donald Trump.
Bacon, meanwhile, celebrated the endorsement of Ashford, the man Bacon defeated in 2016, as it appealed to "Biden-Bacon" voters who are unhappy with Trump but also wary of seeing the Democratic Party go too far left.
Bacon called the Ashford endorsement ad a "game changer" in moving independents his way down the stretch.
With the stakes high, the messages of both candidates were reinforced, or in some cases maybe replaced, by a drumbeat of negative advertising funded by outside groups that spent more than $13 million on the race.
Randall Adkins, political science professor at the University of Nebraska at Omaha, said that flood of outside money makes it harder for candidates to define themselves.
"They have been completely drowned out by the outside money," Adkins said. "It's just drowned out everything."
This 2020 contest also had the backdrop of an intense presidential race that saw both President Trump and Democratic nominee Joe Biden competing for the 2nd District and its one electoral college vote.
Trump came to town for a closing argument rally while Biden put money into the district.
"Biden made the investment in terms of his advertising dollars that we haven't really seen since 2008," Adkins said.
Instead Bacon will represent the Omaha area for another term thanks to "Biden-Bacon" voters.
He said in an interview that he had to show Omaha area voters that he had worked across the aisle to deliver results to the district.
"This is a center-right district," Bacon said. "They want people working together."
Bacon said he worked the race like nothing before in his life.
"I've given it everything I had," Bacon said.
World-Herald staff writers Jessica Wade and Aaron Sanderford contributed to this report.
---
Nebraska on Election Day 2020