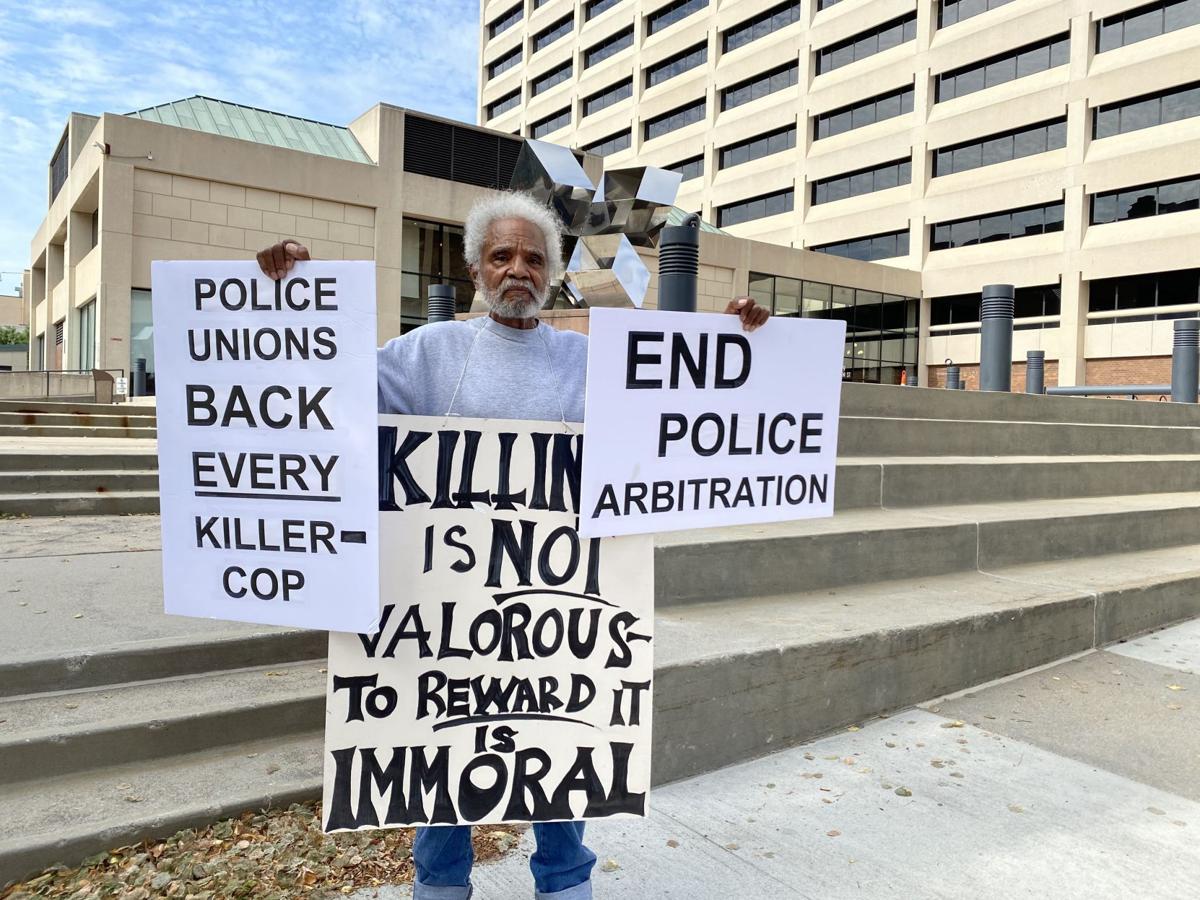 State Sen. Ernie Chambers staged a one-man protest in downtown Omaha on Friday to object to Mayor Jean Stothert's decision to remove a member of a city advisory board over comments he made about a man who killed five police officers in 2016.
Stothert said Friday that Marty Bilek, her chief of staff, told Ja Keen Fox on Thursday that he was no longer a member of the city's LGBTQ+ Advisory Board. Fox recently tweeted "Rest in Power Micah X Johnson," who fatally shot five Dallas police officers.
In an interview Friday, Stothert said she would have made the same decision if someone on another city board, such as the Planning Board or Omaha Airport Authority, had made a similar comment.
She called Fox's statements "egregious," saying that if he felt that what happened in Dallas was acceptable, "I'm going to assume Ja Keen feels that it's OK to do the same in Omaha."
Stothert had asked Fox to resign, but he refused.
On Thursday, Fox compared his statements on Johnson to the respect white Americans have for the Founding Fathers.
"If it's appropriate to pay tribute to a country that, during its formation, killed millions upon millions of Indigenous, Black and Brown peoples, then surely I can pay tribute to Micah X," he wrote in a statement.
Chambers, who said he doesn't know Fox, questioned why Fox should be punished for exercising his First Amendment rights when police officers who assault or kill people of color are "praised generally."
"Mere words result in a man being kicked off this (advisory board), but cops are not punished when they kill people? When they brutalize people? When they make false arrests?" he said.
The longtime state senator arrived at the City-County Building at 18th and Farnam Streets about 9:30 a.m. Friday.
Chambers carried signs that said "Police unions back every killer-cop," "End police arbitration" and "Killing is not valorous — to reward it is immoral."
He criticized instances in which police officers who had been fired for using excessive force, or whose actions resulted in someone's death, were reinstated to their jobs because of third-party arbitration.
Chambers pointed to the case of Zachary Bear Heels, an American Indian man who died in 2017 shortly after he was shocked multiple times with a Taser by an Omaha police officer. Police Chief Todd Schmaderer fired four officers who interacted with Bear Heels, but in April, arbitrators ruled that three of the four officers should return to the force.
"They invariably come down on the side of the police," Chambers said of arbitrators.
Members of city boards created by executive order, such as the LGBTQ+ board, serve at the pleasure of the mayor, who has the power to appoint and dismiss members.
Stothert said she has been having daily conversations with community members about racism, policing and other issues related to the protests that have erupted this summer.
---
Our best staff images from July 2020
Get Government & Politics updates in your inbox!
Stay up-to-date on the latest in local and national government and political topics with our newsletter.