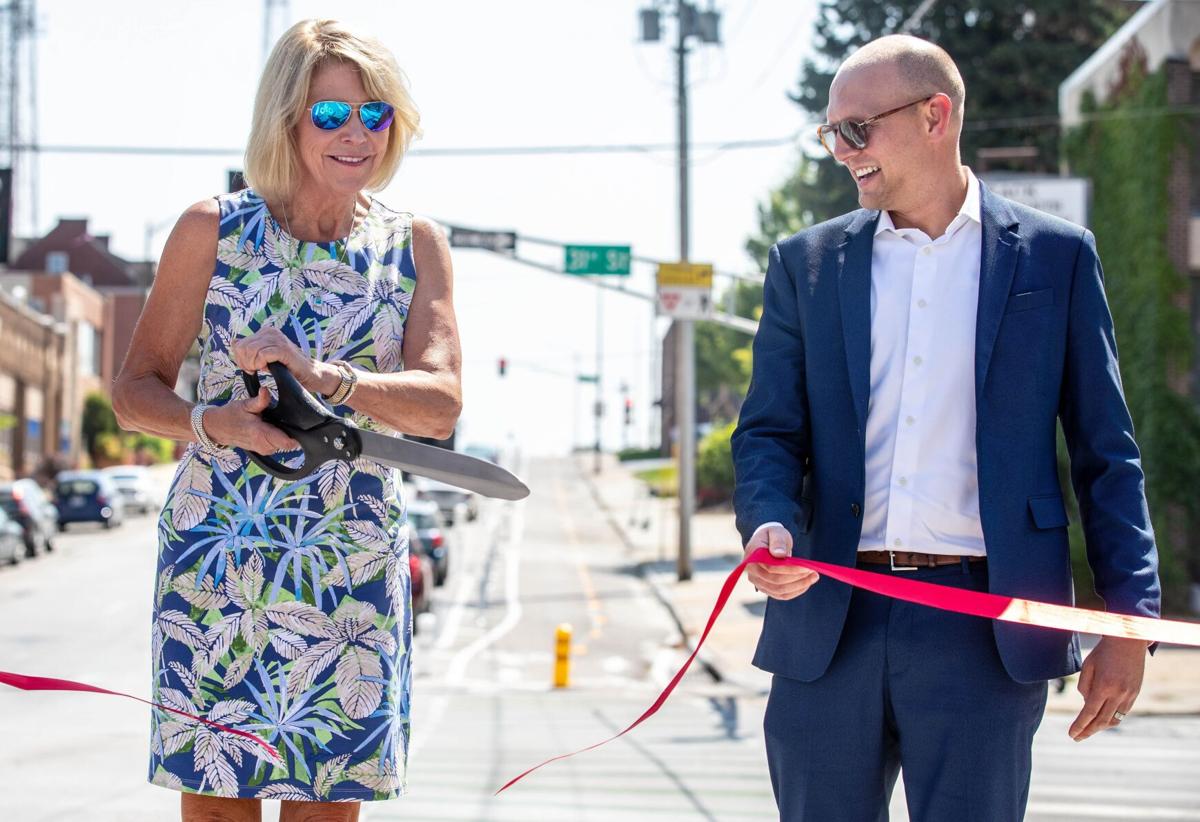 The Omaha City Council didn't have the votes Tuesday to override Mayor Jean Stothert's vetoes of amendments to Omaha's 2022 city budget and capital improvement plan.
Council members had attempted to add money to permanently fund a protected bike lane, incorporate recommendations of a future bicycle/pedestrian master plan, make improvements to a section of North Saddle Creek Road and create a website for Councilwoman Juanita Johnson.
Stothert last week vetoed those proposals, broadly arguing that they were being prematurely funded or were not needed.
On Tuesday, the council's four Democrats — Pete Festersen, Vinny Palermo, Danny Begley and Johnson — voted together to attempt to override the mayor's vetoes.
But five votes were needed to do so, and the council's three Republicans, Aimee Melton, Brinker Harding and Don Rowe, voted against the overrides.
Three of the amendments, introduced by Festersen, would have added projects to the 2022-27 capital improvement program. One of them would have provided permanent funding for the city's first protected bike lane along Harney Street that opened last month.
It was developed as a pilot program to run through September 2022 and is being paid for through private dollars. Stothert had called the addition of permanent funding "premature" until the city completes the pilot and evaluates how the lane was used.
Another vetoed amendment to the CIP would have added money to implement recommendations of a forthcoming bicycle and pedestrian master plan, which the city is working with the Metropolitan Area Planning Agency to develop. Stothert, again, said she wants to know more about what the recommendations will be.
Festersen said Tuesday that he's confident the bike lane will be a success. And unless the city plans ahead, it will be another year behind in developing good bike infrastructure, he said.
A third CIP amendment would have committed some city money to pay for streetscape improvements along North Saddle Creek Road from the Northwest Radial to 50th Street, an area Festersen said has great anchoring businesses, such as Saddle Creek Breakfast Club and The Homy Inn, but is "badly in need of new infrastructure."
The amendment would have reallocated money from a fund used for urban design projects, but that money already is attached to other projects further along in the design phase, Stothert said.
Stothert also vetoed a $15,000 budget amendment sought by Johnson to create a webpage for her northeast Omaha council district. Johnson said the site could have been used to post job opportunities, bids by the city and other information to spur economic growth in North Omaha.
A few other council amendments were not vetoed. Those amendments will direct $90,000 to a mental health program, $40,000 to a skilled trades program, $40,000 to a small and emerging business program and $15,000 to support the planting of trees lost to the emerald ash borer and a powerful July windstorm.
The council voted 7-0 to adopt the 2022 budget.
---